With a touch of spice, create delicate sweet or savory crêpes without the use of eggs or butter.
By Sasi Balaraman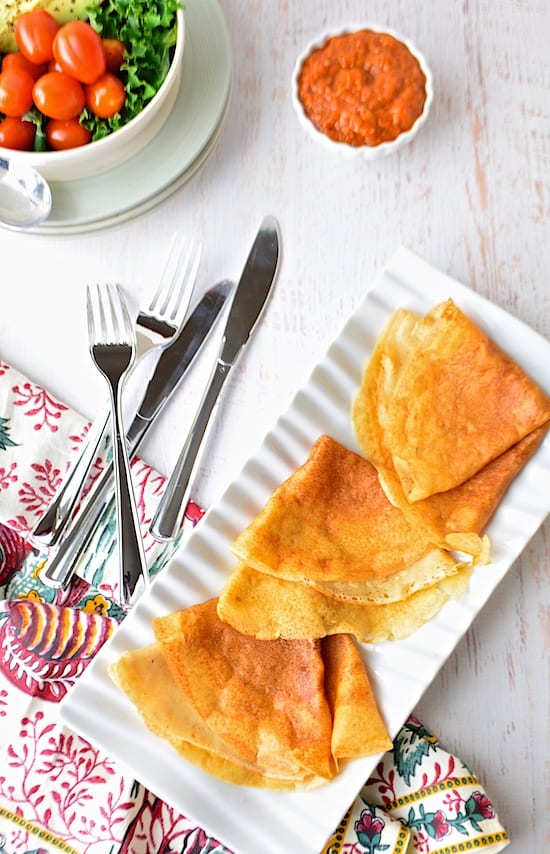 Yes, this recipe is VEGAN! No eggs, no butter and it works with all kinds of milk – almond/soy/regular. The texture of the crêpe also is just like the original – delicate, thin, soft center and crispy edges. This recipe is just a beginning but with endless possibilities of stuffing combinations. With this recipe, you can make sweet/savory crêpes, whatever your family asks for.
Making crêpes is an art. The batter has to be lump-free, smooth and of right consistency. Use a good quality 8″ non-stick saute pan and the pan has to be heated to right temperature for perfect, golden-brown crepes. Wait for the crêpe to be completely cooked and the edges to be browned before turning over. Trying too soon will only break the crêpes. I loosened the edges with a spatula and used my hands to turn over the crêpes.
See Also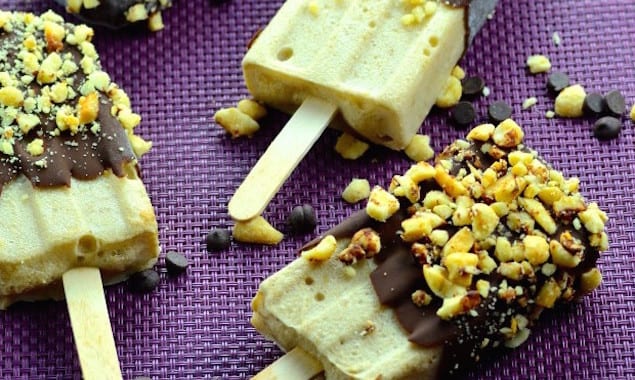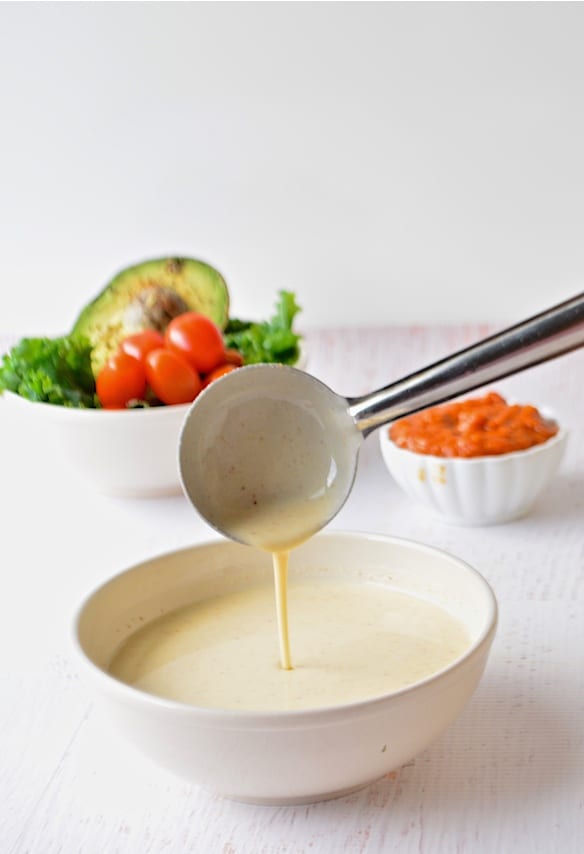 I used nutmeg powder to flavor the batter. While you can also use cinnamon, cardamom etc, nutmeg complements both sweet / savory crêpes. Don't add too much filling, otherwise the crêpes will break. As soon as the crêpes are stuffed-up, serve them right away. Sautéed spinach, mushrooms, artichokes, tomatoes, cheese (feta, parmesan, brie, cottage cheese etc), all types of pesto, chutneys are few other 'savory' stuffing options for you.
Print
Vegan Savory Crêpes
With a touch of spice, create delicate sweet or savory crêpes without the use of eggs or butter.
Author:

Sasikala Balaraman

Yield:

9

1

x
Category:

Breakfast

Cuisine:

French
1/2 cup

whole wheat flour / whole wheat pastry flour, I used regular Indian chakki atta

1/8 cup

rice flour

1/8 cup

all-purpose flour/ maida

1/4 cup

chickpea flour/ besan

1/2 tsp

salt

1/2 tsp

sugar
a pinch of nutmeg powder

1 tbsp

olive oil

3/4 cup

water

3/4 cup

milk (can be any milk – soy/almond/regular)

1/4 tsp

baking powder

1/2

bunch kale, de-stemmed & roughly chopped

2

ripe avocados
Any pesto/chutney of your liking
Instructions
Using a wire whisk and mix all the dry ingredients except baking powder. I refrigerated my batter overnight, and so, mixed in baking powder in the morning just before making crepes.
Now slowly pour all of the wet ingredients, 1/4 cup at a time and whisk well until the batter is smooth and free of lumps. Use more or less water/milk until you reach the right consistency (see pic above).
Refrigerate until use. If making crepes right away, mix baking powder evenly into the batter.
Heat the saute pan on medium heat. To test if the pan is hot enough, sprinkle little water and it should sizzle right away. Slightly grease the pan with a folded kitchen towel / oil brush.
Move the pan away from the stove and pour about 1/4 cup of batter in center of the pan. As you pour the batter, you have to simultaneously rotate the pan so that the batter spreads out even & thin. You have be really quick before the batter gets cooked.
Return the pan to the stove and let the batter cook on medium heat. Cook until the top is completely dry and the sides are evenly browned. Use a spatula and go around the crepe to loosen the edges. Now, using your hands, gently pull the crepe out and turn it upside down. Cook for another 10-15 secs and slide the crepe away onto the serving plate.
Repeat for the rest of the batter.
Heat a tsp of oil and sauté roughly chopped kale with a pinch of salt until the leaves wilt.
Spread sautéed kale, 1/4 sliced avocados, chutney along the centre line of the crepe and fold it from both the sides. Serve immediately and enjoy!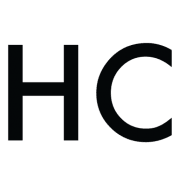 Sasi Balaraman
A south-Indian food enthusiast turned blogger started 'Sasi-Samayal-Kurippu' in an attempt to record and pass-on some of her family's old and traditional recipes. Now, spreading her experimental wings in trying other international/fusion cuisines too. Her idea of recipes are always simple, easy & healthy home-style cooking. Her passion and interest towards cooking, blogging and photography has always gotten the best out of her!