On a houseboat in Copenhagen harbor, in front of noma, they have turned gastronomy into science. The Nordic Food Lab is working to discover new flavours and they are trying to find a more sustainable, a more delicious way of eating – and preserving – nature.
By Kasper Fogh.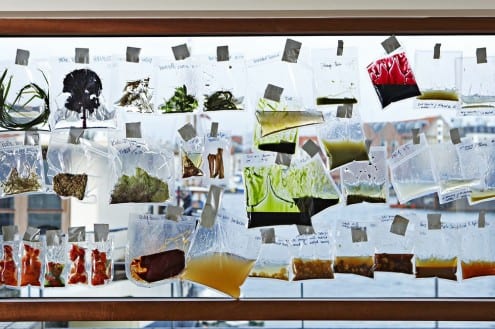 Entering the Nordic Food Lab is like entering a new world. Shelves are packed with herbal vinegars, extractions, infusions, while bags of teas from different kinds of wood occupy the fridges. The vacuum machine constantly seethes and hisses. A massive pharmaceutical centrifuge stands in the corner used for all sorts of weird and wonderful decontructions. When opening the polished steel cupboards of the houseboat it reveals the herbal and floral collection of a small natural museum.
The Nordic Food Lab is best described as a radical innovation scheme coupling sciences such as botany and zoology with gastronomy. Here chefs (or scientists) are working to discover new flavours and trying to find a more sustainable, more delicious way of eating – and preserving – nature.
Ben Reade is the new head of Nordic Food Lab. He is inspired by the golden age of natural exploration, the age of Darwin and the era where the great natural collections were assembled. "Speaking from a culinary point of view we are nowhere near having an understanding of what in nature we can use and how. But that's what we are trying to discover here and what the Nordic food movement is about – redirecting everybody's attention to nature", Ben says.

"When I came here, it was like tumbling down a rabbit hole, finding the world I wanted to be in", Bens says and continues: "I was always interested in developing new flavors, new food – the exploration of the tasting experience", Ben explains. Having a foot in both the world of the chef and that of a scientist, This is one of very, very few places he'd fit in: "The science world is very slow, and often deprived of the sensory emphasis of working with quality food – all the fantastic and constant sensory experiences that a chef has". After having graduated he returned to Noma and the Nordic Food Lab, helping among other things, with 'MAD Symposium' the annual event which has become a gathering of the worlds top food minds.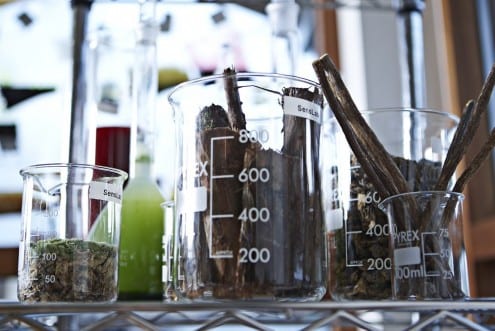 At the food lab they do fundamental flavor research – meaning the pursuit of new flavor, and documenting techniques that pursue perfection. Unlike other food labs associated with other high-end restaurants the job of the Nordic Food Lab is not to develop dishes or foods for noma. The restaurant has its own R&D-lab – run by the former head of the Nordic Food Lab, Lars Williams. Even though some of the work from the food lab swims across the narrow basin separating the lab from the restaurant, the purpose of the lab essentially is to do that long, demanding research work, that can add substantially to the food culture, but which often takes too long in a restaurant. And then give it freely to everyone interested in building on the Nordic ambitions of creating a terroir-based food culture in the Nordic region.
"One of the things you find here is an extremely collaborative environment of food innovators". In the old regime, chefs would keep their recipes to themselves, protecting tricks and techniques. Not here; "All the chefs working here with this regional cuisine, share freely. You can call it co-creation, or open innovation – but we are very much a part of a movement. And everyone who wants to know what we have come up with can just tap into us" Ben says.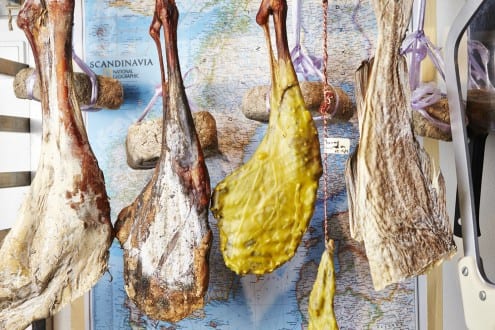 Ben is pointing out how much he and the lab tries to integrate sustainability concerns into food research: "Likewise we have started a project using the leftovers from fish markets to ferment a modern, Nordic "garum"; a rich on flavor fermented fish sauce similar to the one the Romans used to make. Let's see if we can't make waste taste". He also explains that "while we do not focus on sustainability intentionally we invariably find that the healthy ecology and best agricultural practice are intrinsically linked to good flavor qualities.
But Ben's own heart lies very much in fermentation, which he looks at from both a humanistic and also a microbiological perspective. This is where he believes there are buried treasures when it comes to the production of new deliciousness. In a make shift cupboard behind him hangs grapes and berries infested with "noble rot" – the benevolent fungus that grows on grapes in Northern Europe and that are essential to the production of many rich and sweet wines. "What this microculture does is producing many tiny holes in the skin of the grape, allowing for a controlled dehydration that also gives a great flavor. Now what I am trying to do is to apply it systematically to other fruits and berries at first – maybe later to other kinds of produce", Ben says, pointing also to the dried meats that are hanging around the lab: "One of the shortcomings of Nordic foods is the charcuterie, the cold meat. Much of the traditional stuff is heavily smoked and salted so it will last through the winter – which is fine, but also extremely dominating to the palate" Ben adds.
About the Nordic Food Lab
Noma's founders René Redzepi and Claus Meyer created the Nordic Food Lab in 2009 to shape the Nordic Food Culture, and spread the knowledge obtained through a scientific and methodological approach to new, natural foods. Very quickly the Nordic Food Lab, situated on a houseboat in the canals of Copenhagen, has become a factor in the movement to cultivate a new, locally based food culture. This has been realized by working with universities, producers and industry to expand the culinary horizon of the entire food community, funneling the knowledge and cultural ideology of this food movement.