Hailed as the queen of Indian cooking for introducing it to the West, Madhur Jaffrey has just debuted a stunning Instant Pot cookbook.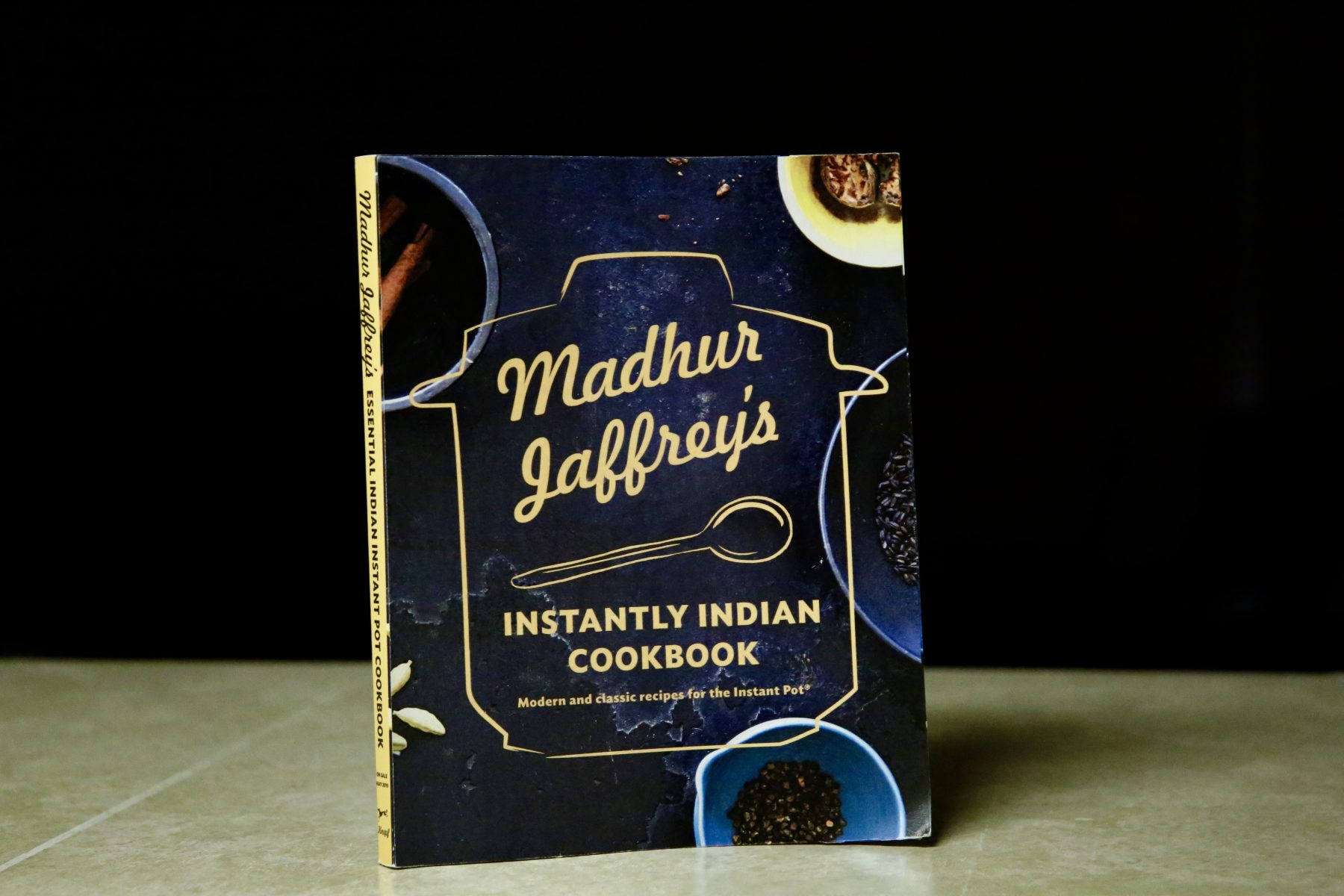 Images by Malvi Mehta
For the last year or two, every other post in my Facebook has been about the Instant Pot. Reading all the oohs and aahs in these posts, one would believe that food gets cooked just by looking at the Instant Pot (IP). Most of these posts are about IP's magical powers and how you can make unthought of dishes with it – cheese cake, bread pudding, strawberry jam and so on and so forth. The only burning question of life now is what the IP cannot make.
So when I learned that my favorite cookbook author has capitulated to the charms of this appliance, I was very keen to get my hands on Madhur Jaffrey's (MJ, she's a rock star for me, like the other one) new book as well as the IP.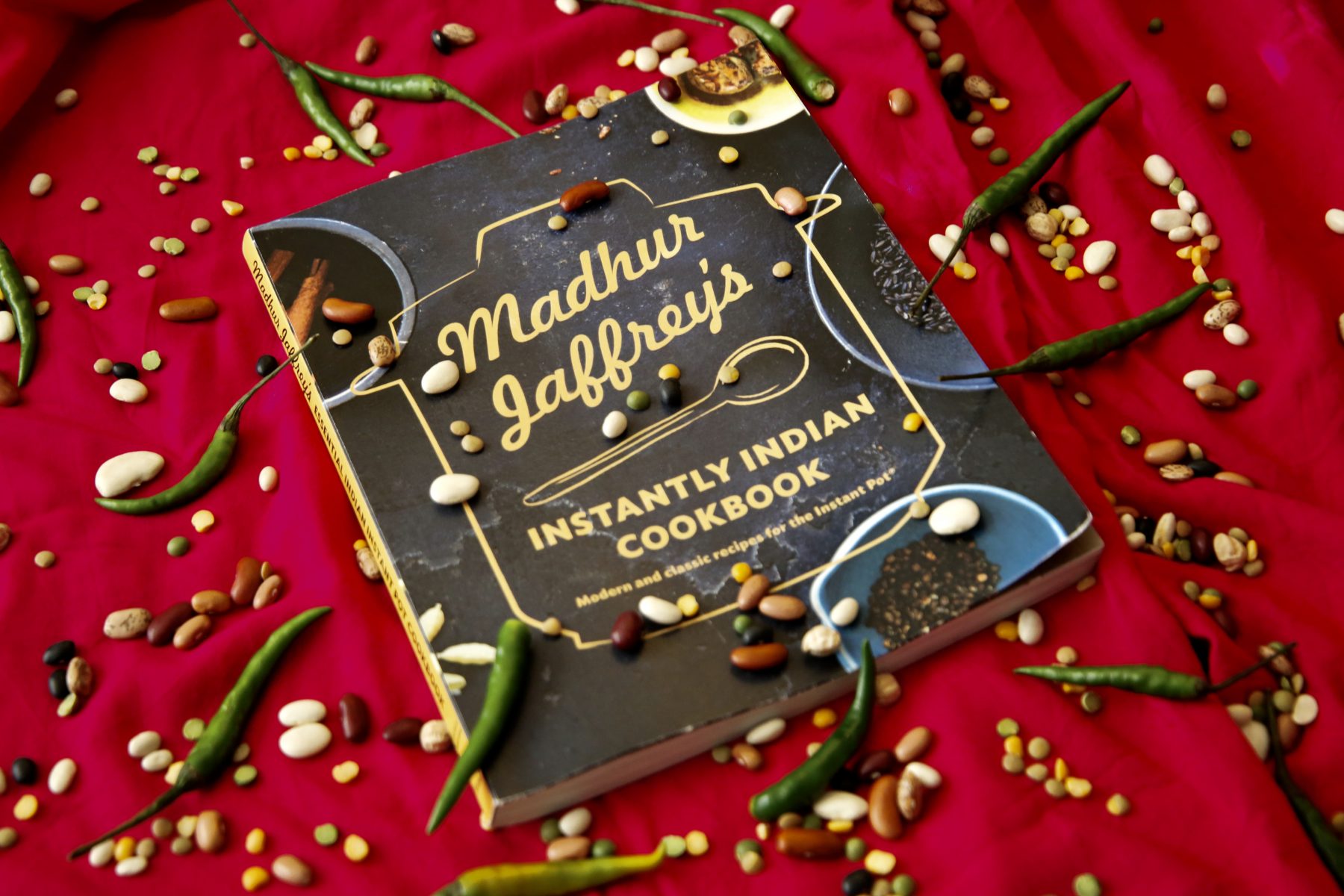 I am thankful to Instant Brands Inc for sending me an IP-DUO60 V3, the 6 qt Instant Pot, the same version that MJ used in her book "Madhur Jaffrey's Instantly Indian Cookbook," as well as Penguin Random House for sending me an advance copy of the book to cook through the recipes from the book.
Hailed as the queen of Indian cooking for introducing it to the West, MJ wrote her first book Invitation to Indian Cooking in 1973. A BBC TV show Indian Cookery followed which made her famous. You will be surprised to find out that MJ became an ambassador of Indian food by accident. Aspiring to be an actress, MJ was not interested in cooking till she left India for the UK for further education. She shares this late entry into the field of cooking with the other doyen of cooking, Julia Child. And I find it fascinating that both did not know the "c" of cooking till they reached adulthood. As they took the first step, they dived into cooking wholeheartedly, MJ out of sheer homesickness in the UK as a drama student and Julia Child out of being awestruck with French food and flavors. But despite this late entry, or maybe because of it, they changed cooking and the perception of cooking forever.  MJ has written thirty books about Indian cooking, vegetarian cooking of India as well as the world, the last one being Vegetarian India, my personal favorite, in 2015. For this book, MJ traveled throughout India gathering traditional, regional recipes from home cooks, families and community kitchens.
With the Instantly Indian Cookbook focusing on IP, MJ has found another way to make Indian food accessible to home cooks in America. She is also riding the wave of the times and staying contemporary with a new trend that has captured attention of the immigrants and the Indian Americans.
IP is a monster hit amongst Indian Americans. In essence a smart pressure cooker, IP's strongest pull for the Indians is that it does not require any attention and nursing. To understand the reason for IP's popularity in this immigrant group, you have to understand the importance of a pressure cooker – stovetop one – to Indian households. One often wakes up to sound of whistles of pressure cookers – a shrill, siren-like sound – that permeates inside your brain and forces you to get up. No need of an alarm clock! The use of pressure cookers is so intrinsic to the Indian way of cooking, that recipes or cooking instructions are exchanged in terms of number of whistles (A pressure cooker releases pressure by whistles).
Dal, or spiced lentils, are a crucial part of an Indian meal across the country, despite its immense culinary heterogeneity. And lentils are cooked in pressure cookers. Though India uses a wide variety of lentils, one of the most common ones are pigeon peas also known as toor dal. Without a pressure cooker, toor dal would easily take 45 min to an hour to cook. But in a pressure cooker the cooking happens in half that time. Kidney beans, black eyed peas, garbanzo beans – the other popular beans – are also perfect for pressure cookers. Indian women have also collected a repertoire of pressure cooker tips and tricks over the years. When my mother-in-law cooks pigeon peas, she lets the pressure cooker take three whistles and then turns down the heat to the minimum for about ten minutes. I normally cook my pigeon peas with three-four whistles on my stovetop pressure cooker. Though peas end up soft and fully cooked, they still remain disparate. But when I followed my mother-in-law's tip, the peas come together into a beautiful mush (important as you want your dal creamy with a soupy consistency). All this requires you to be around and pay attention to the cooking process of the pressure cooker.
So Indians have the culinary baggage of a pressure cooker. And here comes a device that takes the pressure off the pressure cooking (sorry, could not resist), no need to count the whistles and no need to nurse it. Just tinker around with the settings or follow the instructions meant for rice, beans, porridge, soup or meat.
Or MJ has it all figured out for you.
Devoid of the embellishments accompanying recent cookbooks like personal story and denouement, the Instantly Indian Cookbook is a highly functional ready reckoner for harried, time-crunched home cooks. Armed with an IP and this book, a home cook is set to weather any culinary storm, cook for a crowd, impress guests with an Indian spread and even cook only from pantry ingredients. Most of the fifty-nine recipes are from MJ's vast repertoire, that are adapted for the IP – jeez, what do you expect, hasn't she written so many books already. There are side dishes too which do not require IP but are present to round out offerings in the book.
I started by cooking recipes from this book one by one and what struck me the most about each and every recipe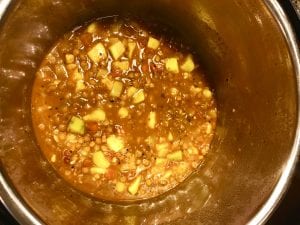 was the creaminess and silky smoothness of the dish. Brown Lentils with Zucchini was my favorite in the beans section. The instructions were clear and the ingredients were precise resulting in just the appropriate amount of sauce surrounding the beans. I did not have to let the sauce thicken – something that I have to do often in a pressure cooker.
See Also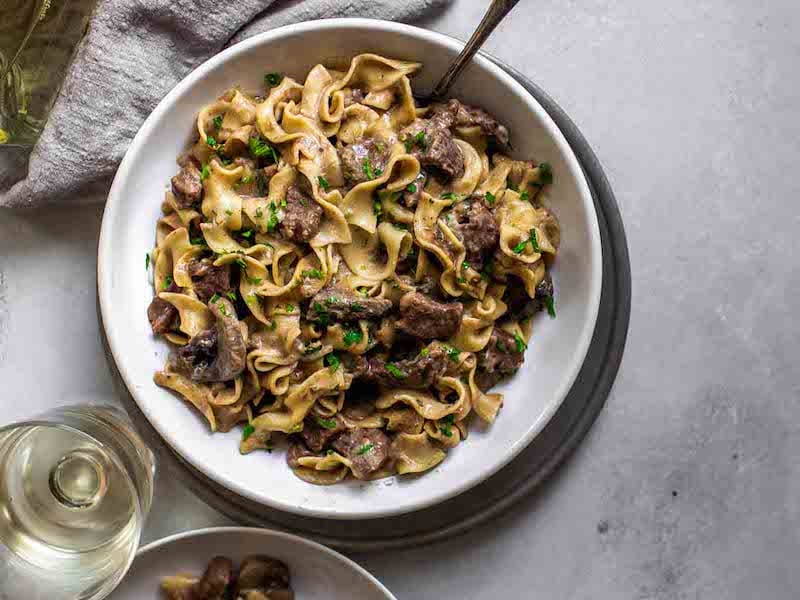 However for the Gujarati Hot, Sweet and Sour Red Kidney Beans I had to follow the beans setting on the IP – 40 min – and not the 30 minutes specified in the recipe for the beans to mush down.
One of the reasons I'm such a fan of MJ is because she is a superlative teacher, anticipating the stumbles of the novice cooks and oops-I-strayed-from-the-recipe-and-now-in-a-fix pitfalls of the home cooks. In every recipe in the Beans section, she gently prods and nudges and mentions that beans thicken as they sit. Here's a classic head note "All dals thicken as they sit. Do thin this out with water, as needed. It should have an easy-flowing consistency and never be like lava."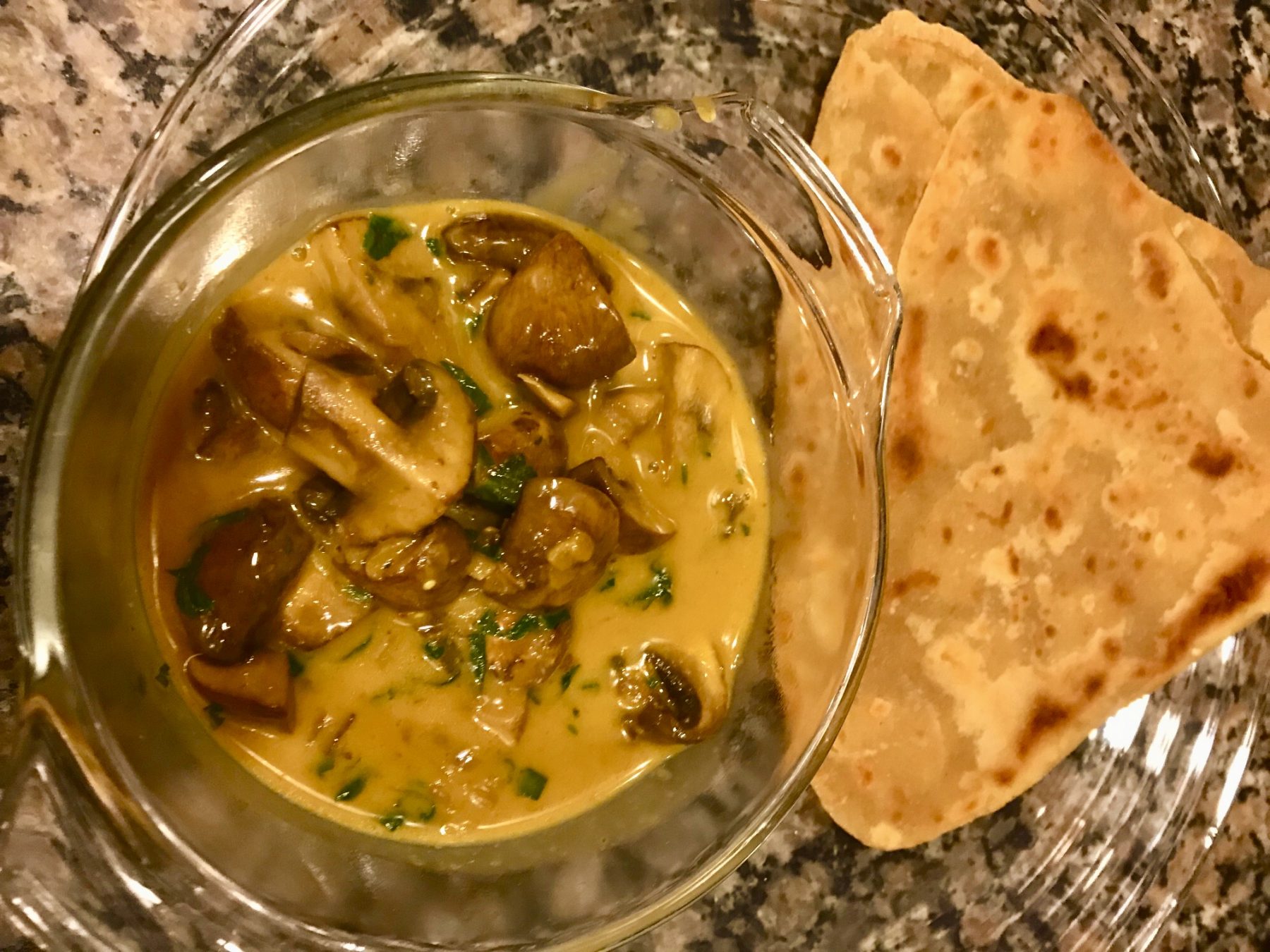 Another noteworthy highlight of recipes in the vegetables section is the resulting texture of the vegetables. They were al dente, holding their shape but still cooked perfectly.  My favorite in the Vegetables section was the Southern-Style Mushrooms Cooked in a Creamy Coconut Sauce, the flavor was subtle, coriander powder being the only spice and just slight heat from green chile pepper with the hint of an onion. The South-Indian Mixed Vegetable Korma was also a hit in my family.
Most of the ingredients in the recipes are pantry ingredients – spice powders like coriander, cumin powder, chili powder, spice mixes like garam masala and whole spices like cumin seeds, mustard seeds.
Though I did not try each and every recipe in the book, I made sure to read every head note and found out the most interesting vignette in the Buttery Dal recipe. It is Punjabi farmers – originally from the north Indian state of Punjab – who tend to the cows producing the milk that goes into the production of world-famous Parmigiano-Reggiano cheese in the Parma region of Italy. Farmers of Punjab are known for their hearty outlook towards life and love of dairy rich food like ghee-lathered parathas and fresh butter atop Dal Makhani.
This book is perfect for those who love Indian food but are intimidated by the spices, their infinite permutations and combinations and the perception that cooking Indian food is time consuming. MJ's expertise and IP's technology take care of both issues for you. And if you are a seasoned cook, MJ's Instantly Indian Cookbook just gives you a chance to buy another Instant Pot.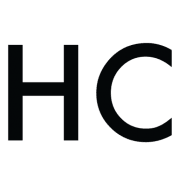 Annada Rathi
I am Annada Rathi and I specialize in bringing Indian flavors to everyday food, be it your humble pasta, quick sandwich or an ordinary green salad. A food writer and cooking instructor, I write about and teach how to whip up an Indian meal as well as incorporate Indian favors in your meal.