Careful when sourcing your salmon for this classic Swedish snack, gravlax is cured but still raw.
By Julia Mueller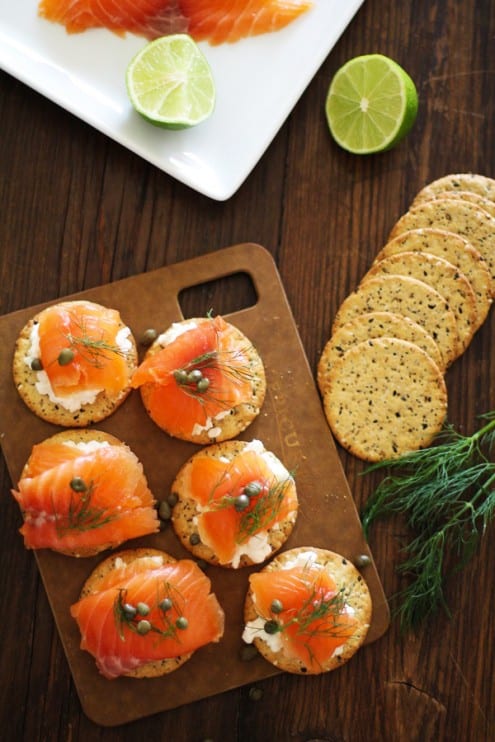 Gravlax is cured raw salmon. You want to use a sushi-grade or a previously frozen (at -10 degrees F) salmon filet for gravlax in order to ensure there are no funky critters (parasites) in the salmon…because it stays raw. And the only funky critters you want to eat should be dead. Unless they're probiotics. Moving right along.
You take your awesome salmon fillet, pack it with salt, sugar, and dill, wrap it up all tight like you're swaddling a baby, then let it sit in your refer for two days. If you're using a uuuuuuuuge piece of salmon, you can cut it in half, pack the top with the salt/sugar/dill and lay the two pieces on top of each other (with the flesh touching) before wrapping it.
And that's it! That's all it takes for an 1. Swedish-inspired appetizer 2. Delicious raw recipe and 3. Brownie points for being utterly completely awesome for curing your own fish.
Swedish Gravlax
Careful when sourcing your salmon for this classic Swedish snack, gravlax is cured but still raw.
Ingredients
2 tablespoons kosher salt
2 tablespoons sugar
½ teaspoon ground black pepper
1 bunch fresh dill, stems removed
1 lb frozen salmon filet, thawed
For Serving
Fun cracker or rustic crusty bread
Cottage cheese (or your favorite soft cheese)
Fresh dill
Capers
Lime slices
Instructions
In a small bowl, mix together the salt, sugar, and ground black pepper.
Rinse and pat dry the salmon fillet and lay it on a long piece of plastic wrap.
Sprinkle all of the salt/sugar/pepper mixture on top of the salmon fillet.
Lay the fresh dill on top and tightly (but gently) wrap the salmon so that there is no air inside.
Place the salmon on a plate and refrigerate for two days.
Unwrap the salmon and rinse off the salt and sugar and pat the fillet dry. Discard the dill.
Using a sharp knife, slice the fillet diagonally so that you end up with the widest and longest cuts. Serve these slices by themselves, or on a cracker with capers, dill, and cheese.
Julia Mueller
As a fitness and nutrition enthusiast, Julia writes a food blog called The Roasted Root, where she share recipes that are mostly vegetable and meat based along with stories of her travels and day-to-day activities. Julia loves enjoying fresh home cooked meals with her friends and family, and the process of developing recipes, photographing, and sharing them.