Summer brings with it thoughts of warm evenings, picnics, barbecues and of course sunflowers.
By Alisha Randell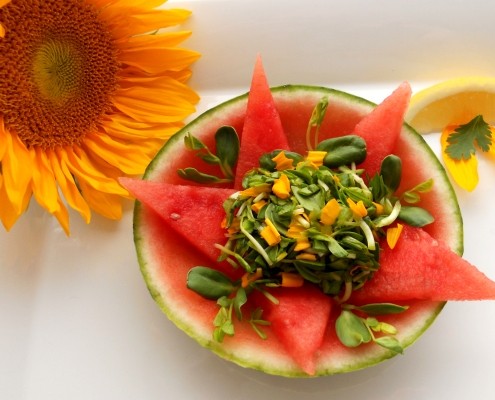 I have a vice and I mean a hardcore habit type of vice. This vice or habit comes in the form of a small seed encompassed within a hard little shell. While others munch happily on popcorn during a movie or while curled up with a favorite novel, I happily and obsessively pop one after the other of these nutty little treasures into my mouth. You may have guessed by now that these little jewels are non other than the sunflower seed.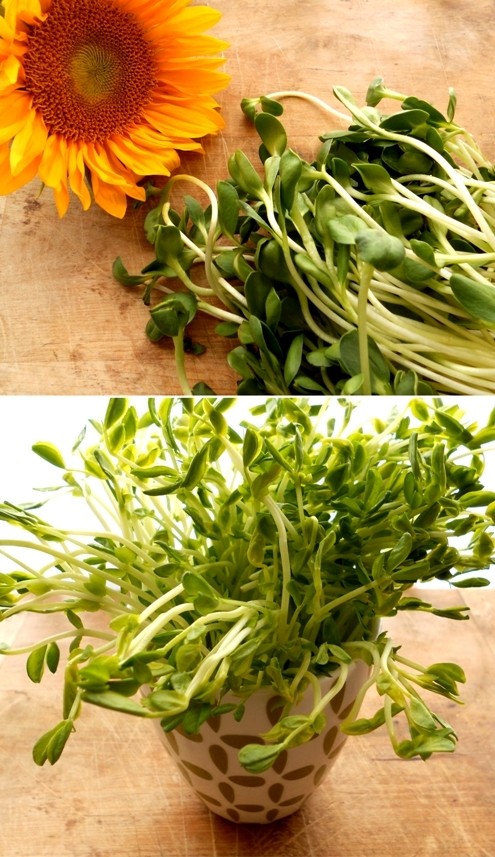 Why you may be asking yourself, exactly is she rambling on about these seeds. Clearly there are no sunflower seeds here in the recipe. Sure there is a sunflower in the photo and its bright yellow sunny petals here, but clearly no seeds.
A few months back I discovered a new obsession in the form of Sunflower Greens. These are as addictive as my beloved seeds, with a nutty crunch and flavor to match. And as with many baby greens or sprouts they are an excellent source of  protein, vitamins and minerals.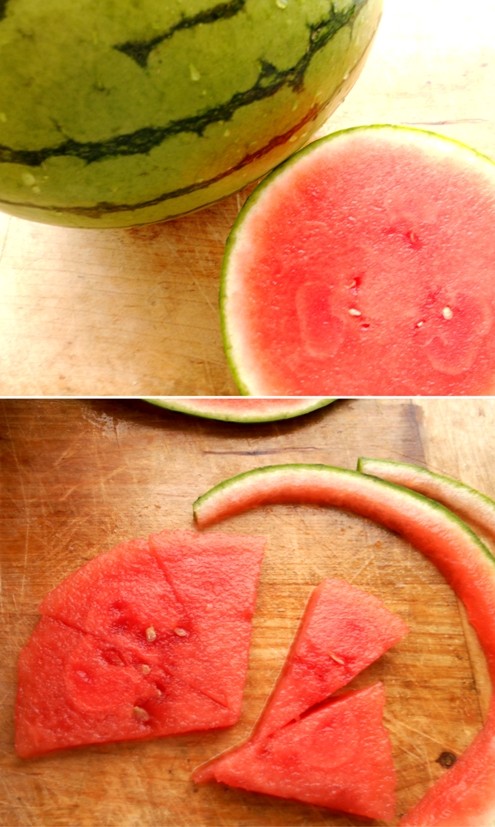 Fresh summer fruits are another classic delight that showcase their beauty all through the season. Watermelon is of course among the most classic of summer delights.

Summer Sunshine in a Bowl
To assist you with a bit of summer seduction we are going to prepare a chopped greens salad with sweet watermelon. Adding a bit of fresh snappy cilantro and a sweet but slightly peppery dressing
Ingredients
For the salad:
1 baby seedless watermelon, slice and reserve juice
4 oz (113 g) sunflower greens
4 oz (113 g) pea shoots or greens
½ small bunch cilantro leaves
1 small bunch edible sunflower petals
For the dressing:
1 fresh lemon, juiced
½ cup (118.5 ml) sunflower oil, or other light oil
2 Tbs ( 30 ml) reserved watermelon juice, or to taste
¼ tsp (1.25 ml)fresh ground pepper
Pinch of cayenne pepper
1 Tbs (15 ml) honey, or to taste
Instructions
Begin by slicing your melon (down the center if using the shell as a bowl) then chop of slice melon fruit to desired shapes.
Take both sunflower greens and pea shuts, cutting of stems about ⅛th of an inch from leaves, then chop leaves.
Then takes sunflower pedtals and tear into smaller pieces.
Add all ingredients into a blender or small food processor, slowly add oil while blending until completely incorporated. Add additional honey and pepper to taste if desired.
Once your dressing is complete toss greens with dressing, then add watermelon and lightly toss or layer as I did.
Notes
When using flowers as an ingredient please make sure they are grown for consumption as the types of pesticides used for flowers will very between edible and non-edible.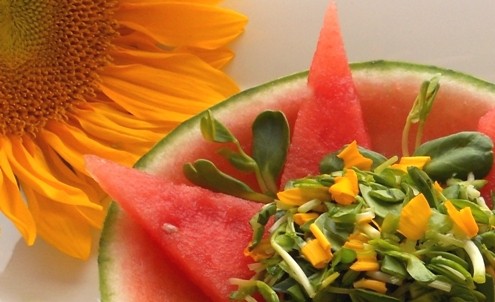 Alisha Randell
Alisha Randell is a former Executive Chef turned Private Chef and Culinary Instructor. She is the Co-Creator/Author of The Ardent Epicure blog "An Ode to the Pleasures of Food". Growing up with a dad as a culinary guide, whom was as well an executive chef, food and seeing food as an art form has been a lifelong passion and exploration.