Enjoy this super-tasty stuffed potato shells recipe from Anamika Sharma. A truly delicious summer dish.
By Anamika Sharma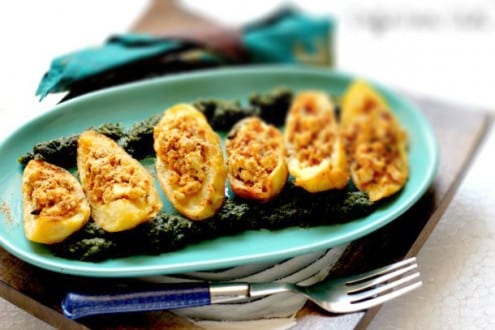 Stuffed Potato Shells
Enjoy this super-tasty stuffed potato shells recipe from Anamika Sharma.
Ingredients
- Potatoes - 4 medium size
- Paneer - 50-75grams (Crumbled Indian Cottage Cheese)
- Roasted cumin seeds powder- ¼ teaspoon
- Chopped mint- 1 tablespoon
- Lemon juice-1teaspoon
- Oil-1 tablespoon
- Salt to taste
- Chaat masala to sprinkle
- Oil for frying
Instructions
Boil the potatoes - pressure cook to give 2 whistles or microwave in a polythene bag for 6 minutes, sprinkle some water over it.
If boiling in a pressure cooker please do not over boil, drop the pressure immediately after the second whistle.
Now peel and slice the potatoes lengthwise into two halves.
Scoop out the potatoes to get a hollow with a tiny scooper or a small spoon.
Make outer shell quite thin.
Next heat oil in a kadai and deep fry the potatoes.
Keep the flame to medium heat and fry till light brown and crisp.
Remove then on a kitchen paper napkin and sprinkle some chaat masala and keep aside.
For the filling - mix all the ingredients of the filling and then fill the hollow shells.
Just before serving - heat oven to 210 degree C and grill the potatoes for 3 -4 minutes and not more than that.
Cut each potato pieces into half lengthwise.
Serve hot.
Anamika Sharma
Anamika Sharma is a passionate foodie, a food blogger with a background in aviation and telecom industry for good 15 years. Her mission is to spread the love for Indian cooking to all those who wrongly think it's too difficult. She loves to cook for her family, specially her kids. Besides cooking she also enjoys photography and traveling. MAD – making a difference is a word she chose to describe her Indian cooking site. Cooking always meant to her to be maddening and now she is mad about cooking.