Roasted Sunchokes with Pumpkin Seeds, Pickled Red Onion and Shaved Parmesan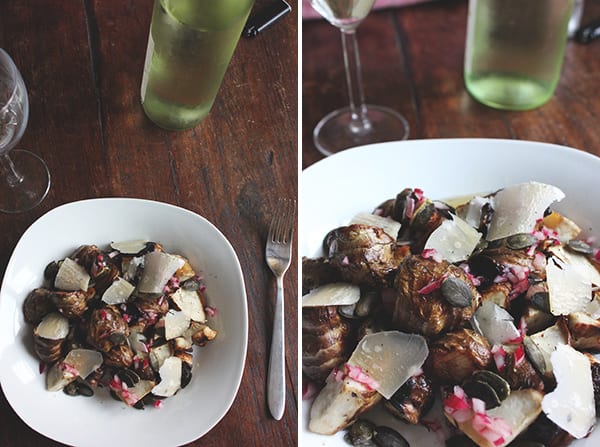 Warm, roasted sunchokes make a perfect combination with the nutty crunch of pumpkin seeds, the pert little bursts of cold, crisp, piquant pickled onion, and the creamy shavings of Parmesan.
By Bowen Close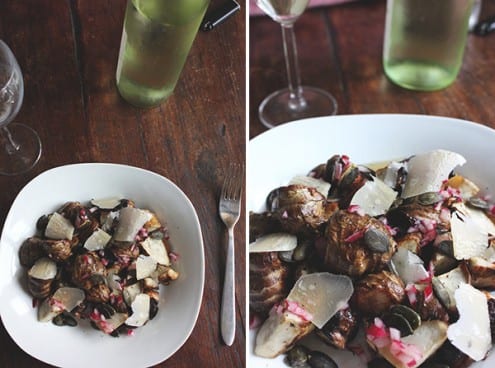 I'm really into the idea of this dish for a special-occasion dinner party, since the ingredients, flavors, and look of the whole thing are a little unique. You could pair this with something else pretty basic and still have an exciting and interesting meal.

Roasted Sunchokes with Pumpkin Seeds, Pickled Red Onion and Shaved Parmesan
Warm, roasted sunchokes make a perfect combination with the nutty crunch of pumpkin seeds, the pert little bursts of cold, crisp, piquant pickled onion, and the creamy shavings of Parmesan.
Ingredients
4 large sunchokes or the equivalent (enough to fill two open hands held wide)
Olive oil for roasting and finishing
Salt and pepper
¼ red onion, peeled (this will probably still give you leftovers – I did a full ½ onion and used only a few teaspoons for this dish)
A few taablespoons vinegar for soaking (I prefer white wine or apple cider vinegar, but others work too)
A few tablespoons pumpkin seeds (raw or toasted, salted or unsalted – anything works)
Parmesan cheese to shave for the top
Optional: A splash of pumpkin seed or other rich, flavorful oil
Optional: 2 poached eggs for serving
Instructions
- Roast the sunchokes: Preheat oven to 425F. Clean sunchokes by rinsing under cold water and scrubbing with a brush or loosening any spots of dirt with your fingertips. Cut into bite-size pieces – I cut off the knobs first, then cut the remaining rectangular middle piece into large cubes. Lightly coat the pieces with olive oil, salt, and pepper, and roast until tender and browning at the edges, about 25 minutes (or more, depending on your sunchokes and your oven – some may be as tender inside as a fully cooked potato, and some may have a little more crispness; roast until you enjoy how they taste).
- Pickle the onion: Finely dice the red onion quarter and put in a small glass or bowl; pour over vinegar to soak. Let this sit at least 15 minutes before using.
- Assemble dish: Add salt and/or pepper to the sunchokes if needed. Add a splash more olive oil, if they seem a little dry. Toss together with a small spoonfuls of pickled red onion, pumpkin seeds, and pumpkin seed or other oil if using (and adjust quantities of all to taste). Spoon into serving or eating dishes and top with pieces of shaved Parmesan, made with a vegetable peeler. If adding a poached egg, place those on top before serving and top with black pepper and/or a drizzle of oil (olive or pumpkin seed).
Bowen Close
Bowen Close believes that food should make people happy and healthy, and loves bringing together people with creative, delicious food made from the heart. She loves making farm-inspired, flavorful dishes with sustainable ingredients - whether that's a big plate of roasted veggies, a towering chocolate layer cake, or a cocktail utilizing backyard ingredients - and collects recipes and other food-related stories on her website, Bowen Appétit. She is a chef, cooking instructor, and food writer living in Southern California with her husband and fully stocked pantry.