Joan Nova creates a recipe that eventually turns out to be Italian.
Text And Photo By Joan Nova

The recipe is mine. I created it in my English language-thinking brain and, as usual, without much forethought. However, as I started pulling ingredient after ingredient out, the dish took on a life of its own and it began to sing to me…songs like "O Sole Mio" and "Funiculi, Funicula".
Yes, all the ingredients are commonly found in an Italian kitchen. So to authenticate the decision to call a simple stuffed chicken breast "Italiano" (and for my own amusement), I decided to write the ingredient list in Italian. It was interesting to see how many words I knew (not a lot) before resorting to google translation services. [I don't know how I lived before google. Amen.]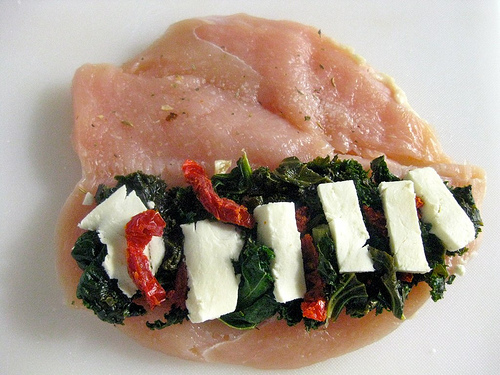 Print
Stuffed Chicken Breast Italiano on Pumpkin Puree
petto di pollo (chicken breast)
cavolo riccio (kale sautéed with garlic, olive oil and finished with a squeeze of fresh lemon juice)
mozzarella (fresh)
pomodori secchi (sun-dried tomatoes)
nocciolo (crushed hazelnuts)
essiccati condimento (dry seasoning blend)
prezzemolo (parsley)
farina (fava and garbanzo bean flour)
pepe nero (black pepper)
formaggio grattugiato (grated Parmigiano Reggiano)
Instructions
Roast pumpkin or butternut squash till tender.
Puree and season to taste.
Split and season chicken breast.
Create coating by blending mix of ground hazelnuts, parsley with fava bean and garbanzo flour, and grated cheese.
Layer kale, sun-dried tomatoes and mozzarella.
Close up, drizzle outside with a little olive oil and dust with coating.
Bake in 350 degree oven.
And, as often happens in the FOODalogue kitchen, the next day the leftover vegetables were tossed with p-a-s-t-a…and the pureed butternut squash sauced it all together. Delizioso!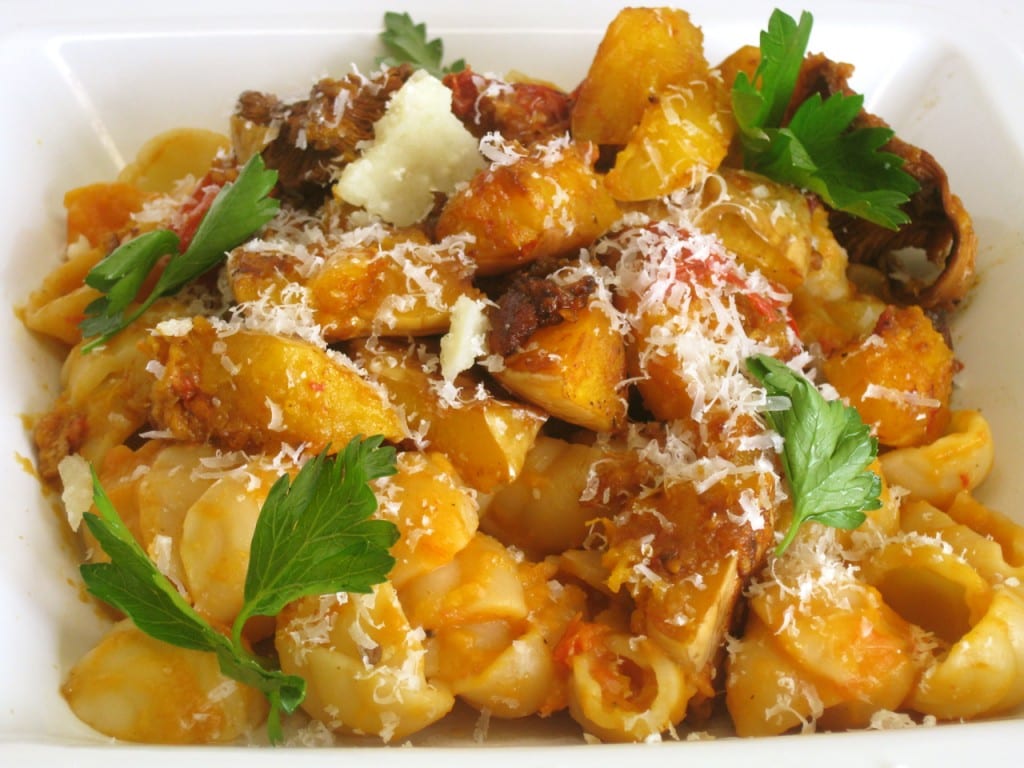 Joan Nova
Joan Nova is the publisher of FOODalogue: Meandering Meals, Musings + Travel which melds her lifelong passions for food, travel, photography and publishing. Her culinary style is bold and colorful with finishing touches that take each dish to the next level. She is an active participant in many online food organizations.