These fanciful treats are fit for a party tray and can be mostly prepared ahead of time.
By Tania Cusack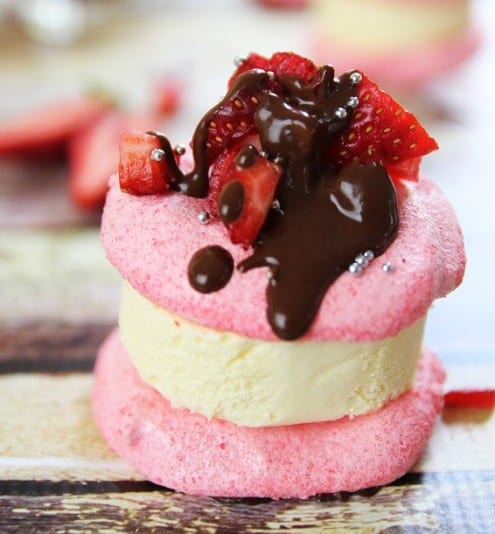 Print
Strawberry Meringue with Vanilla Semifreddo
---
Author:

Tania Cusack

Total Time:

6 hours
Description
These fanciful treats are fit for a party tray and can be mostly prepared ahead of time.
---
Meringue
2

egg whites

2

packets of low sugar/ sugar free jelly (about 26gms each x 2 (52 gm approx) or just under

2 ounces

)

6 Tablespoons

of sugar
Semi Freddo
4

large eggs ( if very small use 6)

1 cup

of caster sugar

4 tablespoons

of water

½

vanilla bean

600

ml cream beaten to soft peak

½ cup

chocolate sauce and berries
---
Instructions
Strawberry Meringue
Mix the jelly crystals and sugar in a bowl and set aside
Using a clean bowl, on a stand mixer, beat the egg whites till soft peak. Gradually add the sugar mixture a bit at a time letting the sugar dissolve between each addition until the mixture is glossy and firm like pink shaving foam.
Prepare a baking tray with parchment paper. Spoon into a piping bag and pipe into individual circles keeping even and flat. I draw a circle onto the paper so that I make a perfect circle.
Bake at 120 degrees for about 1½ hours.(check by touching, they should be firm but not quite finished) Turn off the oven and leave till cool.
Vanilla Semifreddo.
Beat the cream to soft peak put into a medium sized bowl and refrigerate till later
Clean the bowl and add the eggs . Beat till the eggs are tripled in volume and are light and fluffy
Meanwhile , put the sugar split vanilla pod and the water into a small pot and melt. Let the mixture come to the boil without reducing. Remove the vanilla and gradually add the syrup to the eggs while beating. Keep beating till the eggs are cool. The mixture will be glossy and light .
Fold the eggs ½ at a time gradually into the cream.
Spread onto a tray 5-6cm deep or a muffin tin. Freeze overnight (or a loaf tin if you prefer)
Tip the ice cream onto a bench on a piece of parchment and cut out rounds with a round cutter and refreeze as you go or Release from the muffin tin (sit the base on a warm cloth and run a hot knife around the diameter before turning out. You can make the little rounds ahead of time and refreeze till you need them.
Serve sandwiched with the meringue just before you serve with chocolate sauce & strawberries
Prep Time:

6 hours

Category:

Dessert
Tania Cusack
After completing Culinary School in Sydney, Tania travelled the world working as a Chef in restaurants, doing catering and cooking on road for a travel company in Europe and the US. Once back at home, the birth of her son meant a change, and during his small years, she enjoyed jobs in wholesale food, buying Artisan food products, testing and recipe writing as sales and educational tools. Tania is now back to what she loves, working as an in house Chef for a large retailer, conducting Cooking Classes and writing recipes for her blog.