Roasted Plums with Thyme and Maple Syrup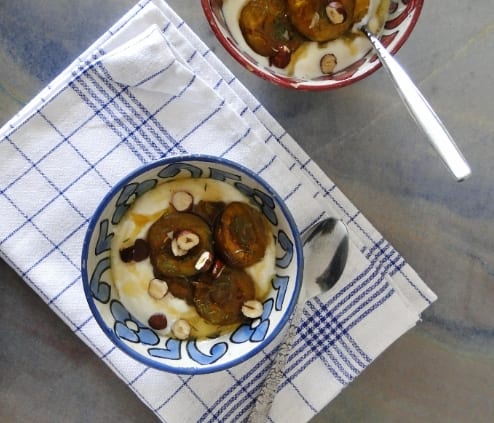 This is barely a recipe, more accurately it is a suggestion of how to best celebrate the incredibly sweet Reine Claude plums as the seasons change.
By Sasha Gora
I grew up eating plums with great enthusiasm. Red plums, black plums, and yellow plums. However, it wasn't until I moved to Europe that I discovered that the sweetest plums are green: Reine Claudes plums. They are the medjool dates of plums. They are a convincing argument that fruit is the best candy there is. So sweet and so tender, Reine Claudes are plums at their finest. It is no coincidence that they wear the name of a queen.
Come plum season, I normally just eat Reine Claudes as they are. Coming from France, they have a larger price tag than the prune plums that firmly reign over Germany. They're also so naturally sweet that they don't need sugar or butter or flour to make them more appealing. This makes them the ultimate sweet snack. Quite frankly, I would have difficulty making a tart or pie with Reine Claudes and that is simply because I doubt that I could resist eating them raw, meaning by the time I've chilled the pie dough there probably won't be enough left for the filling.

However, roasting them is another topic. You can simply roast as many or as few as you wish, with no pressure to fill a certain quota for a pie or tart. Since roasting concentrates flavours, it brings out the best in pretty much most produce. Reine Claudes are no exception. And although nothing beats these green plums in their raw and untouched form, roasting Reine Claudes is a close match, especially when thyme, maple syrup, olive oil, and sea salt are involved.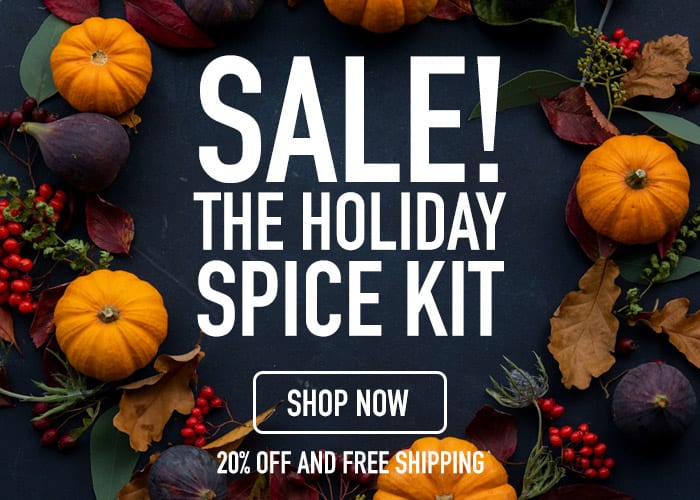 This recipe (if you can even call it that) is as simple as they come. You can of course use other plums (which I've done too), but I highly recommend the green plums with the royal name. The plums are irresistible, making them best served right away. However, you can also make a large batch, store them in the fridge, and use them to make anything from oatmeal to granola and from yogurt (as pictured) to ice cream all the happier. Call it breakfast, a snack, or dessert.
Regarding the cooking time, I like to roast my plums until they are juicy and tender but are not yet collapsing completely. I like it when they keep their shape so that you can easily lift one with a fork, but then when you pierce a plum with said fork the juices ooze effortlessly and yield great temptation.
Roasted Plums with Thyme and Maple Syrup
This is barely a recipe, more accurately it is a suggestion of how to best celebrate the incredibly sweet Reine Claude plums as the seasons change.
Ingredients
6 Reine Claudes plums
½ tbsp dried thyme (or 1tbsp fresh)
1 tbsp olive oil
1 tbsp maple syrup
pinch of sea salt
Instructions
Preheat the oven to 350F / 176 C / gas mark 4.
Wash the plums, cut them in halves, and remove the pits. Place them cut side up in a baking dish. Drizzle the olive oil and maple syrup on top and evenly sprinkle the thyme and sea salt over the plums.
Place the dish in the oven and roast for 15-17 minutes, or until the plums are tender, the juices run off and bubble slightly.
Serve immediately with yogurt (with a few toasted hazelnuts), vanilla ice cream, granola, oatmeal, or just as is. Store leftovers in an airtight container in the refrigerator for a couple of days.
Sasha Gora
By day Sasha works in art and by night she beats up her pans by baking too much, or over-packs her suitcase with edible souvenirs. She takes breakfast very seriously and rarely turns down the opportunity to add maple syrup to a recipe. She is from Canada, but has lived in France, Denmark and Sweden. She is currently based in Munich. Sasha writes the food and inspiration blog Paper Doll Parade.