These popovers get a double dose of dill in both fresh form and in the Danish cheese.
By Yuliya Childers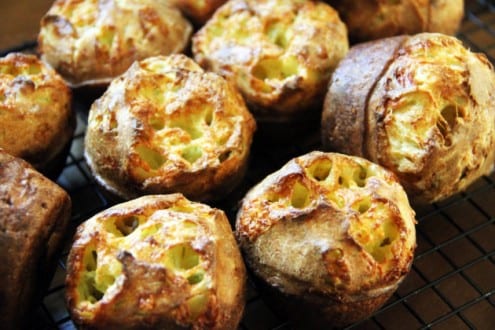 Dill is one of my most favorite herbs, and I use copious amounts of it in my daily cooking. If you open my fridge on any given day, rest assured, you'll find a bunch or two of dill somewhere in there. I like dill sprigs, I like dill seeds, and I like dill stems. Is it any wonder then, that I like almost anything that's dill flavored? Up until a few weeks ago, if you asked me, I would tell you that I pretty much tried anything that can be done with dill…but things started to get really interesting when I met this beautiful head of dilly Danish cheese by Castello.
Turns out I am not the only one who likes dill. Come to find out, in Denmark they like their dill very much. They put it on everything — from their gorgeous cured salmon, to their famous open face sandwiches, to savory pies, to cheese. I wasn't exactly sure what to expect, but believe the dill junkie when I tell you that it turned out to be quite a pairing: indulgently creamy brie infused with dill flavor and coated in aromatic dill seeds. The cheese I got to try was Krondild (Dill) by Castello.
Today I tried something quite different with this wonderful cheese. I decided to amplify the whole dilly experience and made delicious popovers with both dilly cheese and fresh dill added for a good measure. I absolutely loved my popovers. The effect was quite what I was hoping for — steam from the popover dough created very noticeable flavor burst, the creamy delicate cheese melted and produced slightly gooey strands inside the firm shell of the popover, and fresh dill did wonders to both visual appeal and the flavor boost. All of this miracle was done within minutes with minimal effort.
I have to warn you that I do not own a popover pan. True popover connoisseurs claim that a proper pan creates most blown up, most crusty, most popoverish popovers, but I am not big on single-purpose items in the kitchen, so a trusty heavy muffin tin did just fine in this case. Feel free to experiment with both to compare results.

Cheesy Dill Popovers
These popovers get a double dose of dill in both fresh form and in the Danish cheese.
Ingredients
1 cup all-purpose flour
1 cup whole milk
3 eggs
½ tsp salt
4 oz creamy dill cheese, I used Krondild (Dill) by Castello
1 small bunch fresh dill weed, finely chopped
cooking fat for greasing the tins
Instructions
Preheat the oven to 400°F. Place muffin or popover tin into the oven to heat up.
Whisk flour, milk, eggs and salt together until smooth throughout
Creamy cheese won't crumble easily, so the best way to deal with it is to shred it using the large hole shredder. Add cheese and chopped dill weed to the batter and stir until well distributed.
Remove the muffin tin from the oven carefully. Coat the bottom and the sides of the muffin cavities with grease. I used beef tallow, but butter, bacon grease, oil or even roast drippings will do just as well.
Pour the batter into the tin quickly, using a ladle. Fill the cavities only half full or just slightly above.
Bake for 20 minutes, or until puffed up and start to brown. Reduce the temperature to 350°F and bake for another 15 minutes, or until fully firm and well browned.
Remove from the tin immediately using tongues or a reliable oven mitt.
Enjoy warm.
Yuliya Childers
Yuliya Childers is a self-proclaimed cooking and writing addict born and raised in a cosmopolitan city of Odessa on the Black Sea coast. She started cooking at quite an early age and learned most of her skills by watching others and reading cook books. Made-from-scratch naturally grown food is her passion. Yuliya believes that truly good food either creates or invokes memories. Her blog Eat Already! is focused on everyday creative yet un-pretentious cooking that anyone with basic skill can replicate. Yuliya's recipes are usually accompanied by childhood memories or family stories related to the dish in some way. Her recipes are honest, eclectic, multi-cultural, imaginative, and often outside the box. Currently she's into artisan breads, traditional cooking, and everything fermented… Yuliya is cooking and writing about it from Alabama.