If you can't find yellow rock candy just use caster sugar and defrosted frozen prawns will work in place of fresh ones.
By Tania Cusack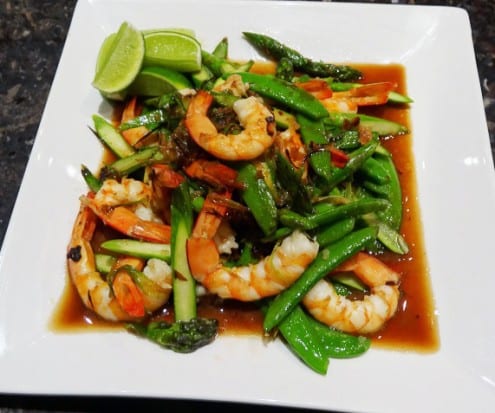 Stirfried Prawns with Asparagus and Ginger
If you can't find yellow rock candy just use caster sugar and defrosted frozen prawns will work in place of fresh ones.
Ingredients
¼ cup peanut oil
½ teaspoon sesame oil
2 cloves garlic crushed
2 teaspoons grated ginger
6 sliced green onions
1 bunch asparagus chopped into large pieces
150 gm (5.3 oz)
1 kg medium green prawns shelled
1 lime quartered
Sauce
¼ cup shao xing Chinese cooking wine
¼ cup of chicken stock
1 tablespoon light soy
1 teaspoon powdered yellow rock sugar
Instructions
Combine the sauce ingredients and set aside
Heat a large wok (or fry pan) and when hot add the oils garlic, ginger & green onions and toss for 1 minute.
Add the asparagus, sugar snap peas and toss till coated and warmed through.
Add the prawns stir frying till starting to colour
Add the sauce and cook till the prawns are pink. Scoop the ingredients out leaving the sauce behind. Reduce this a little before pouring over the dish and serving
Tania Cusack
After completing Culinary School in Sydney, Tania travelled the world working as a Chef in restaurants, doing catering and cooking on road for a travel company in Europe and the US. Once back at home, the birth of her son meant a change, and during his small years, she enjoyed jobs in wholesale food, buying Artisan food products, testing and recipe writing as sales and educational tools. Tania is now back to what she loves, working as an in house Chef for a large retailer, conducting Cooking Classes and writing recipes for her blog.