Coconut Pistachio Chocolate Candies
Dark chocolate and coconut is a classic pairing. Learn to make these crunchy-on-the-outside and chewy-on-the-inside candies at home.
By Zerrin Gunaydin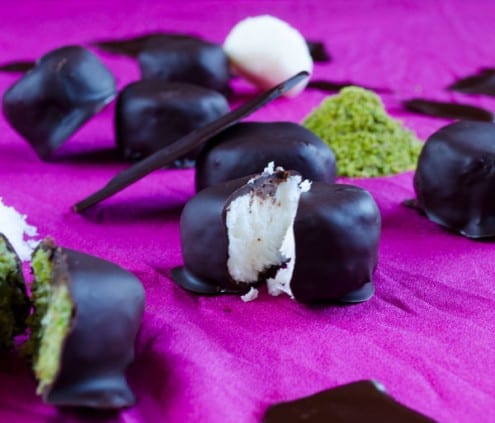 Coconut Pistachio Chocolate Candies
Dark chocolate and coconut is a classic pairing. Learn to make these crunchy-on-the-outside and chewy-on-the-inside candies at home.
Ingredients
2 cups grated coconut
40g butter, at room temperature
½ cup heavy cream
½ cup powdered sugar
200g dark chocolate
½ cup pistachio powder
Instructions
In a bowl, mix coconut, butter, heavy cream and powdered sugar well.
Seperate ¼ cup of it into another bowl and mix that with pistachio powder.
Make small balls from these.
Line a pan with parchment paper and place the coconut balls on it.
Chill them in the reefrigertor for 30 minutes.
Meanwhile melt chocolate over a boiling water and let it cold.
Dip coconut balls into this melted chocolate with your hands or with two spoons not to damage the texture of chocolate and put them back on the parchment paper.
Wait them in refrigerator for 1 hour and serve cold.
Zerrin Gunaydin
Zerrin Gunaydin is a food blogger living in Turkey. She loves to share recipes mainly from Turkish cuisine on her blog Give Recipe. Zerrin is trying to inform people around the world about Turkish cuisine, which has a very large repertoire with its various kind of dishes.