At their simplest, smørrebrød are open-faced sandwiches on a thin layer of rye bread  (rugbrød). The name of the sandwich itself comes from the words for butter (smør) and bread (brød). According to several sources, smørrebrød was first developed by farmers. They would pack leftovers from dinner the night beforehand and place them on a 'plate': a slice of bread.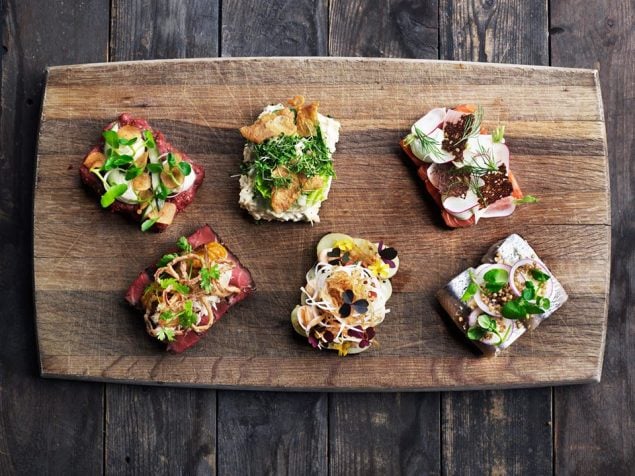 From there, a gastronomic tradition was born. Adam Aamann inspired a rediscovery of smørrebrød and received the 2007 "Gastronomic Academy Honorary Award" for his efforts to make open sandwiches into a culinary craftsmanship.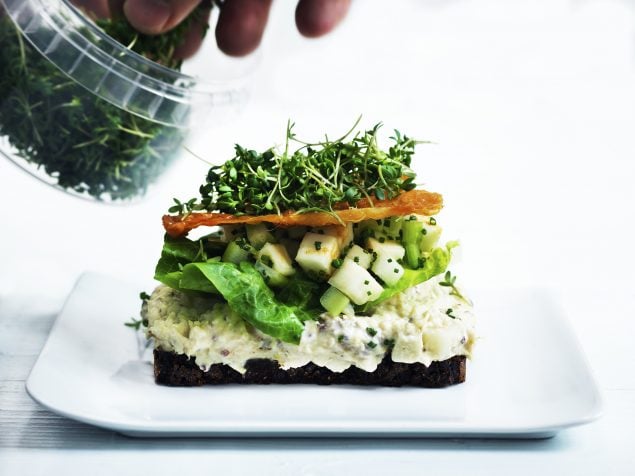 Here's one of Aamann's favorites.
Happy Cooking!
Print
Smørrebrød: Chicken salad, Potato and Grilled Sirloin
Author:

Adam Aamann

Category:

Appetiser

Cuisine:

Danish
MEAT
7

,5 kg. Breast on bones

7

,5 kg. Boneless upper leg
Yields around

8

kg. Cooked and pickled chicken
DRESSING
2.5

liters crème fraiche (38%)

2

liters yoghurt (10%)

3.5

kg. mayonnaise

650 g

whole grain Dijon mustard

450 g

liquid honey (e.g. acacia)

2

deciliters Fresh lemon juice

100 g

salt

20 g

. freshly ground black pepper
FILLING
LITTLE GEM SALAD
PICKLED CELERIAC
10

kg celeriac

8

liters Pickle brine (base)
APPLE DICES
CELERY CRUDITE
OTHER
ARRANGING CREAMY CHICKEN SALAD
1

slice of rye bread

80

–

90

g of chicken salad

1

leaf of little gem (

2

if smaller)

1

table spoon of topping mix / 15g.

1

–

2

slices of bacon
Cress
COTTAGE CHEESE –
Cottage cheese
Cottage cheese 4.5%
Flake salt
Black pepper
Chopped lovage leaves
LOVAGE EMULSION –
60 g

lovage leaves

200 g

past. Egg yolks

40 g

Dijon mustard

100 g

. apple vinegar

1

,75 l. neutral oil (cooler cold)

50 g

honey

60 g

fresh lemon juice

35 g

flake salt

½

clove of garlic
PICKLED ONIONS –
Pickled onions
Red onions (or, Zittauer, salad, scalottes, pearl etc.)
Pickle brine base
Mustard seeds

8g

./l pickle brine base
Salt
CRISPY SHREDDED POTATOES –
Crispy shredded potatoes
Baking potatoes
Water
Salt

30g

/l water
Neutral oil
Hungry for more? See also:
Natalia Bohórquez Rodríguez
Colombian based in Barcelona • Master in Marketing / Gastronomy • PR & Culinary Liaison • Food writer • @nataliabhqz