This shoofly pie has all the flavors of a molasses ginger cookie mixed with a buttery streusel in a flakey pastry crust. The rich, spicy, sweet filling just melts in your mouth bite after bite (slice after slice).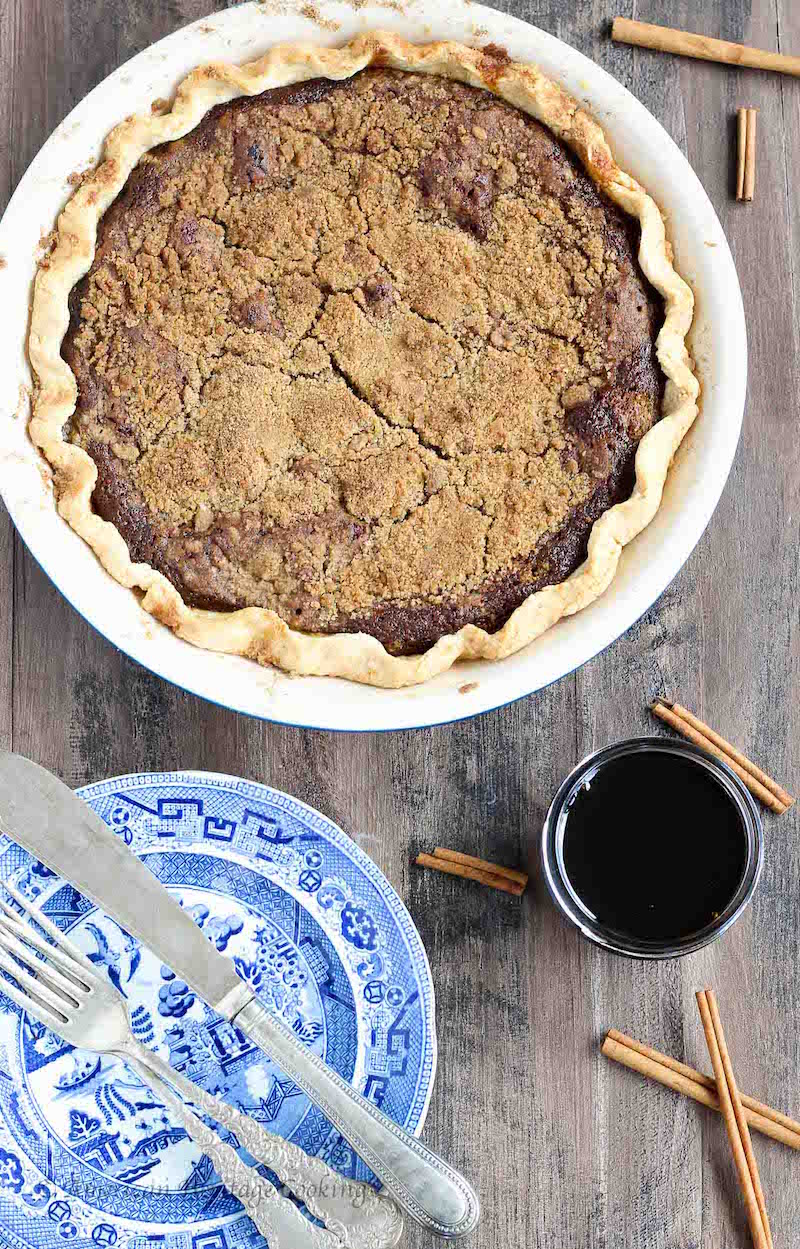 When Chef buys a shoofly pie at the farmer's market and it is a huge letdown and then questions if you could do better, you start researching shoofly pie recipes to see what it's all about because you know your pie crust is killer and you are pretty sure your crumble wouldn't taste like raw flour (I mean how did they even do that?!).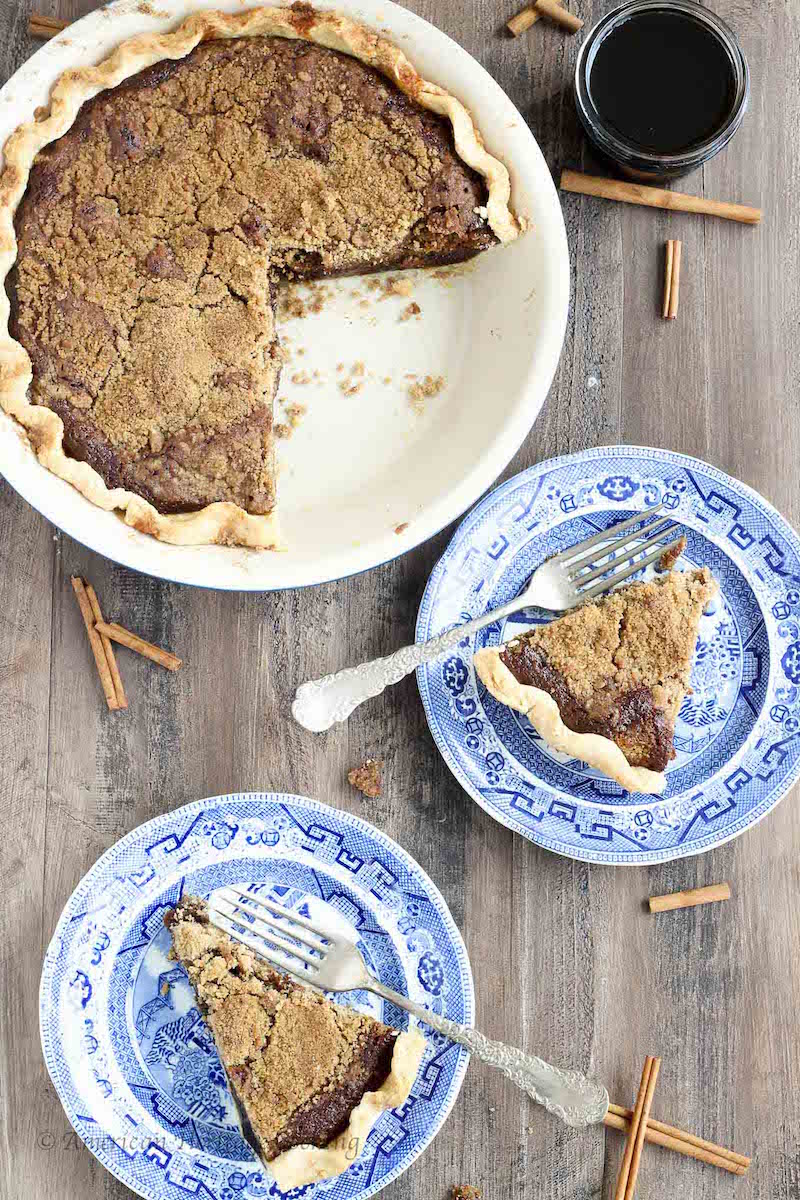 Shoofly pie is basically everything you love about a ginger cookie, molasses pecan pie filling and streusel all combined into one magical dessert.
Streusel in the pie; streusel on the pie. Because literally everything is better with a crumb topping.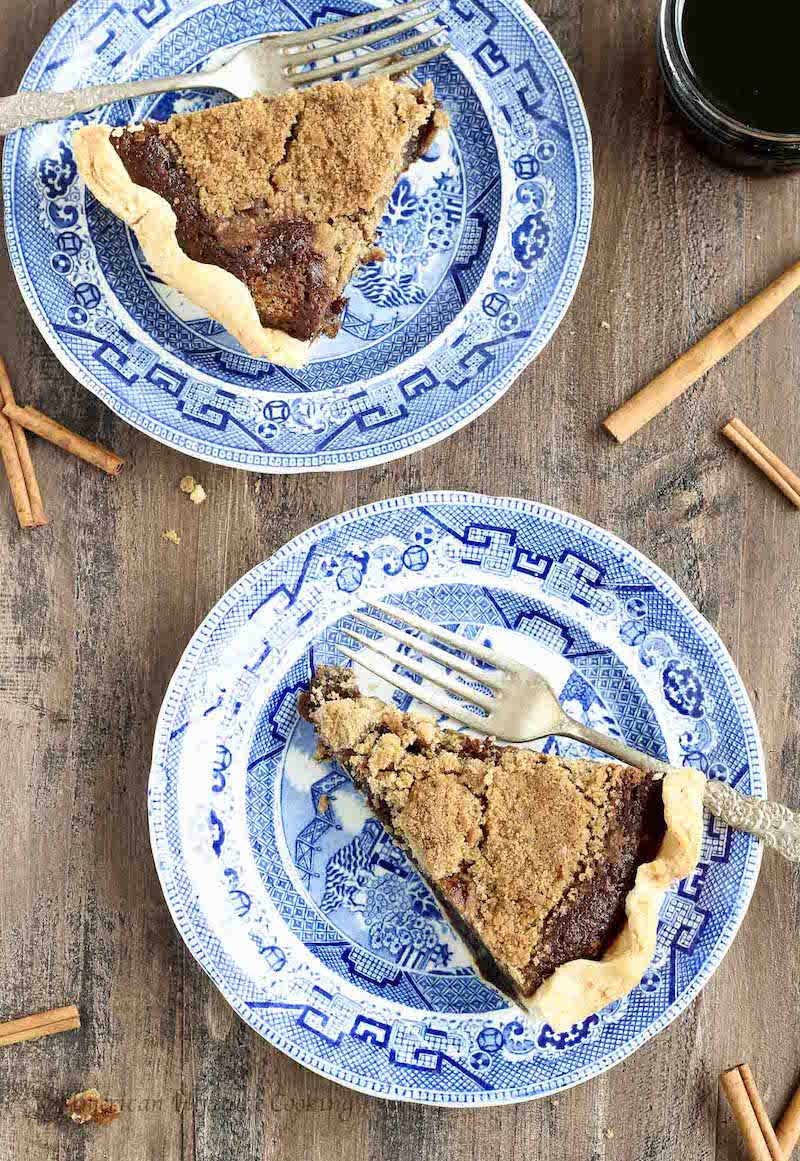 The recipes I found were divided into two camps: those who layered the molasses custard with the crumbs and those who just dumped the crumbs on top.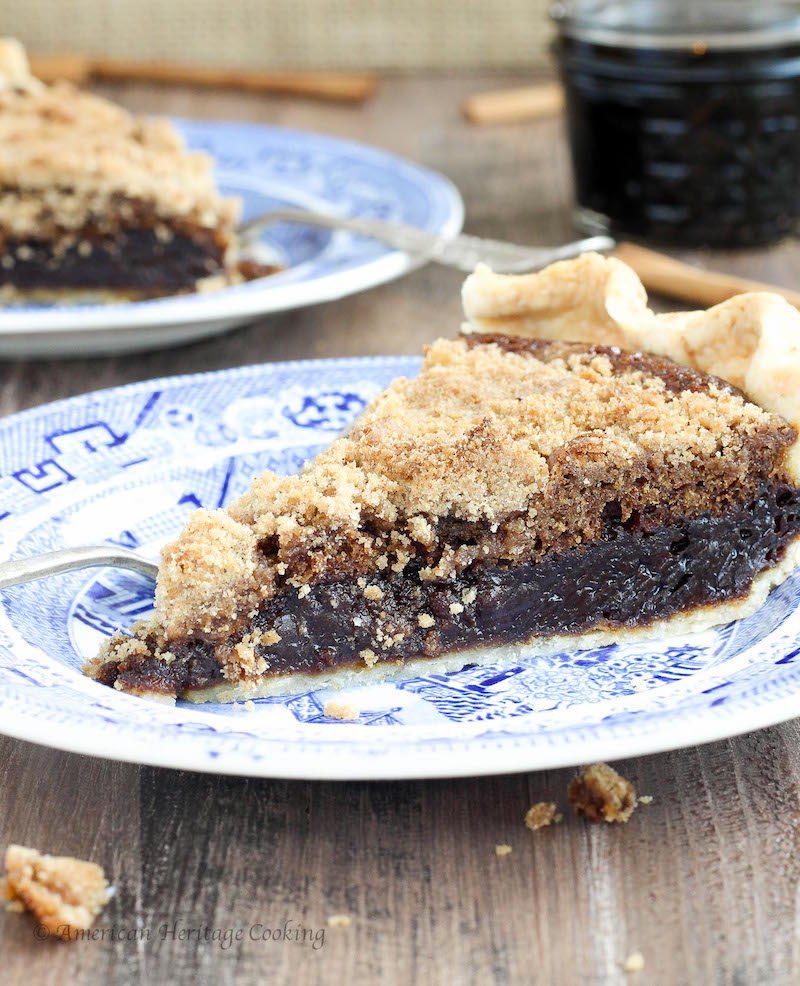 See Also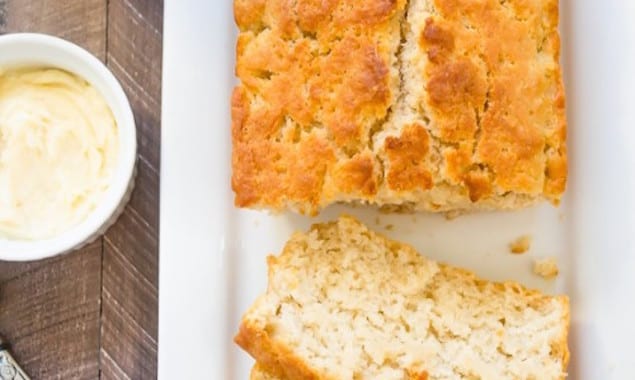 I am a huge fan of trying new things and I take a firm "the more the merrier" stance on streusel, so I chose the layered approach.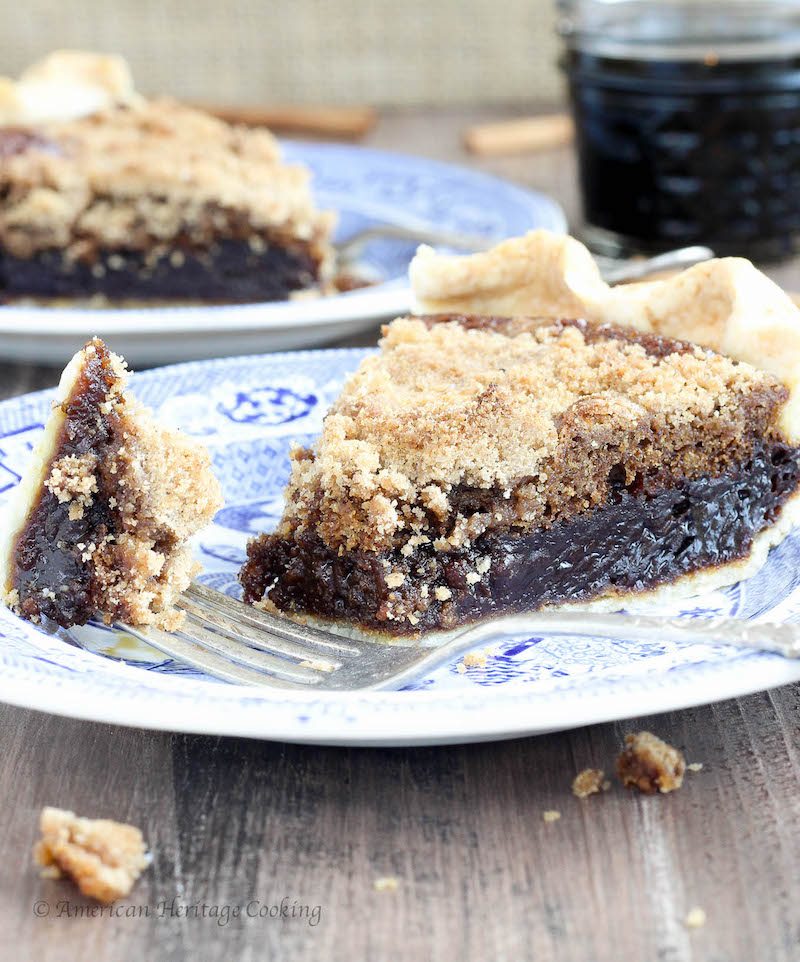 The spiced crumbs just seamlessly blended into the molasses custard, so that it was just a rich, creamy, spicy, sweet filling. Say what now? How have I never had this before?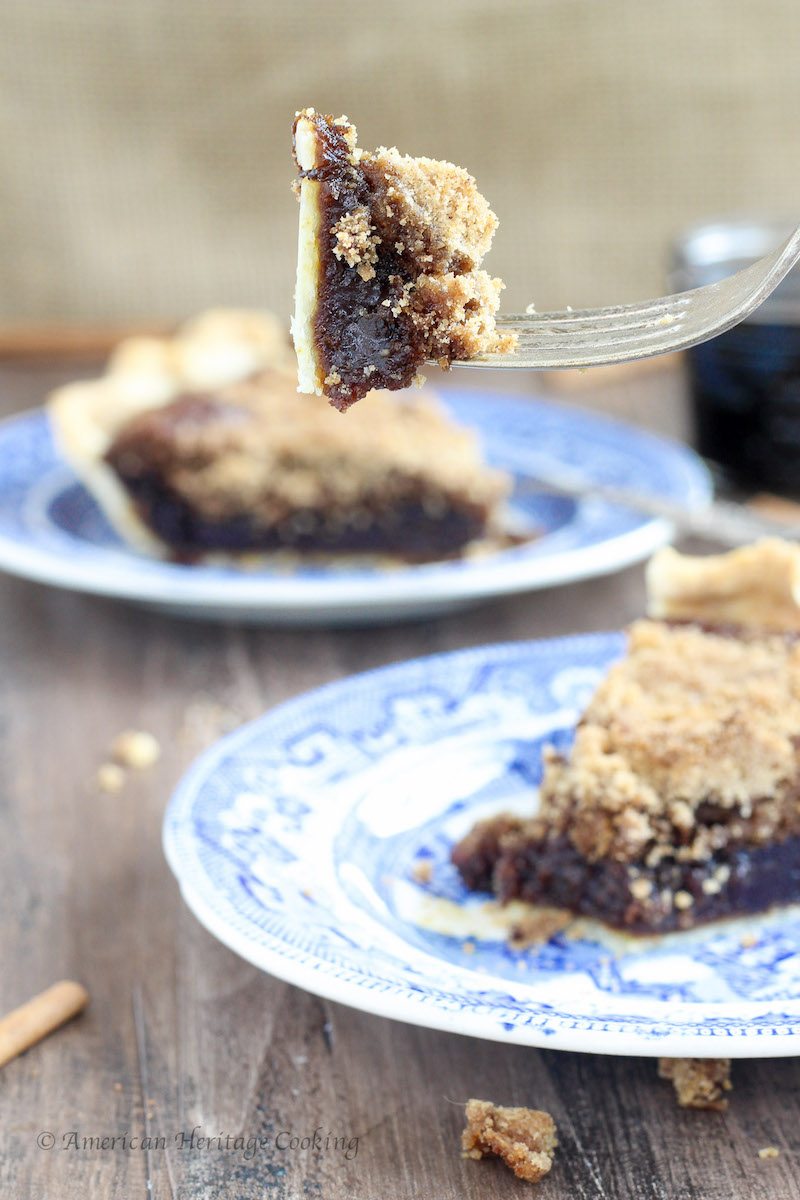 This is what has been missing in my life.
Print
Author:

Lindsey Farr

Cuisine:

Dessert
For the Crumbs:
1 ½ cups

all purpose flour

¼ teaspoons

grated nutmeg

¼ teaspoon

ground ginger

¼ teaspoon

ground cloves

1

t cinnamon

¼ teaspoon

kosher salt

1 cup

light brown sugar (packed)

¼ cup

butter (cubed and cold)
For the Filling:
½

t baking soda

¾ cup

boiling water

½ cup

unsulfured molasses

1

large egg yolk (well beaten)
Single Pie Crust
Instructions
Preheat oven to 400°F and line a pie dish with the single crust pastry. Or you can use store bought, but isn't there something lovely about rolling out the dough yourself? Therapeutic even? No?
Combine all the ingredients for the crumbs in a bowl and cut the butter into the flour mixture with a pastry blender or fork until it resembles coarse crumbs. You can also use a food processor but it hardly seems worth the cleanup effort.
In a small bowl dissolve the baking soda into the boiling water then mix in the molasses and then the egg, whisking to combine completely.
Layer the molasses filling and crumbs in alternating layers ending with the crumbs. I did three layers.
Bake pie in preheated oven for 10 minutes and then reduce the temperature to 350°F and continue baking about 20 minutes or until the filling feels like jello when pressed. It should be firm but still have some give. Just remember it will get harder as it cools!
Cool at room temperature. Serve with whipped cream or vanilla ice cream.
Notes:
Store room temperature. I brought my pie to work for the guys (and Chef, obviously) and the two slivers that were left the next day were even better. The spices and molasses flavors intensified overnight!
Recipe adapted from "One Big Table" by Molly O'Neil. Sidebar: this book is epic and everyone should have a copy.
Lindsey Farr
I'm a financial analyst turned blogger at American Heritage Cooking and, most recently, a culinary student at the International Culinary Center in New York City! I love posting healthier meals, old-fashioned comfort foods, and all things sweet! I also have a serious weakness for cupcakes!