France has given the world so much: amazing monuments, legendary artists, the Eiffel Tower… but, most importantly, France has given the world gourmet food. This European country is famous for some of the world's finest wines and cheeses, but also for traditional specialties like croissants and soufflés.
The French cuisine is a perfect blend of local ingredients and simple combinations of flavors but French chefs have never been afraid to experiment. Less usual delicacies like horse steak or snails are one of the reasons why France has the highest number of Michelin starred restaurants!
French take wining and dining very seriously. In fact, food has become such an integral part of French culture, that UNESCO's added it to the world list of intangible cultural heritage in 2010.
The good news is you don't have to go across the pond in order to enjoy authentic French dishes; you can find them on the menus in many US restaurants. Feeling hungry AND adventurous? Then get in the kitchen and make your own versions of the classic French recipes!
Here is a list of top 10 French foods you have to try.
1.    Soufflé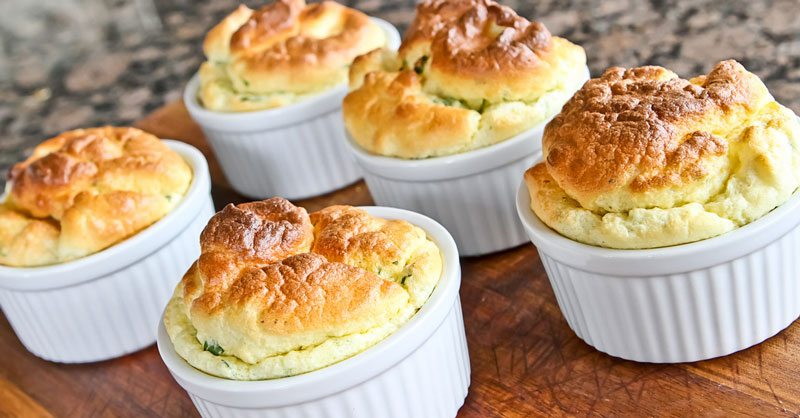 "The soufflé is considered the prima donna of the culinary world."
A soufflé is a baked egg-based dish originating from the early 18th century France. The base is made of egg yolks and beaten egg whites, and then combined with various other ingredients. The word 'soufflé' is derived from the French word that means 'to puff'.
There are two types of this dish – savory and sweet. The savory version is usually flavored with cheese or herbs and often served as a main dish. Ingredients commonly used to flavor sweet soufflé are chocolate, jams, and fruits, most often banana and lemon. Soufflé is a challenge to make but if you make it right, expect a delicious puffy delight with a crispy crust and a creamy center.
Make your own: Rhubarb Soufflé with Hazelnuts
2.    Ratatouille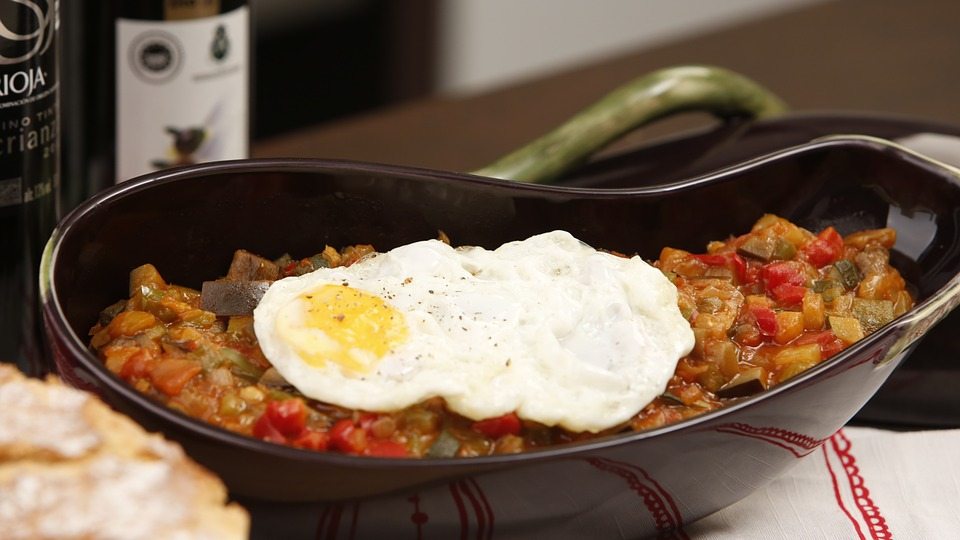 A quote from the popular Pixar's animated film "Ratatouille" goes: "Anyone can cook but only the fearless can be great."
Ratatouille is a stewed vegetable dish originating in the southeastern region of Provence. The main ingredients are tomatoes, zucchini, carrots, eggplant, bell peppers, onions, garlic, marjoram, basil, thyme, and other green herbs. These ingredients are first sautéed in a shallow pan and then oven-baked. Ratatouille can be served as a side dish, a main meal, or stuffing for other dishes, like omelets or crepes.
Make your own: Ratatouille and Goat Cheese Polenta
3.    Crepes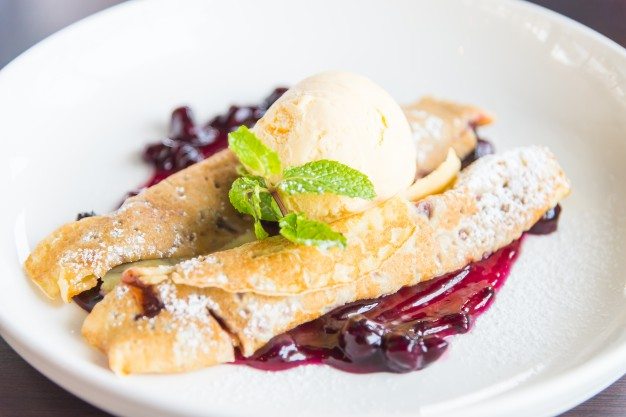 "If there is a sexier sound on this planet than the person you're in love with cooing over the crepes you made for him, I don't know what it is."
Crepes are the French version of pancakes originating in Brittany. Unlike classic American pancakes, crepes are thinner and larger in diameter, but also more neutral in taste. The common ingredients include flour, milk, eggs, butter, and a bit of salt.
Crêpes are usually of two types – savory and sweet. Savory crepes (called crêpes salées) are traditionally made with buckwheat flour and filled with anything you like (for instance, ham and cheese). The sweet version (crêpes sucrées) is made with wheat flour and slightly sweetened.
Make your own: Banana Split Crepes
4.    Coq au vin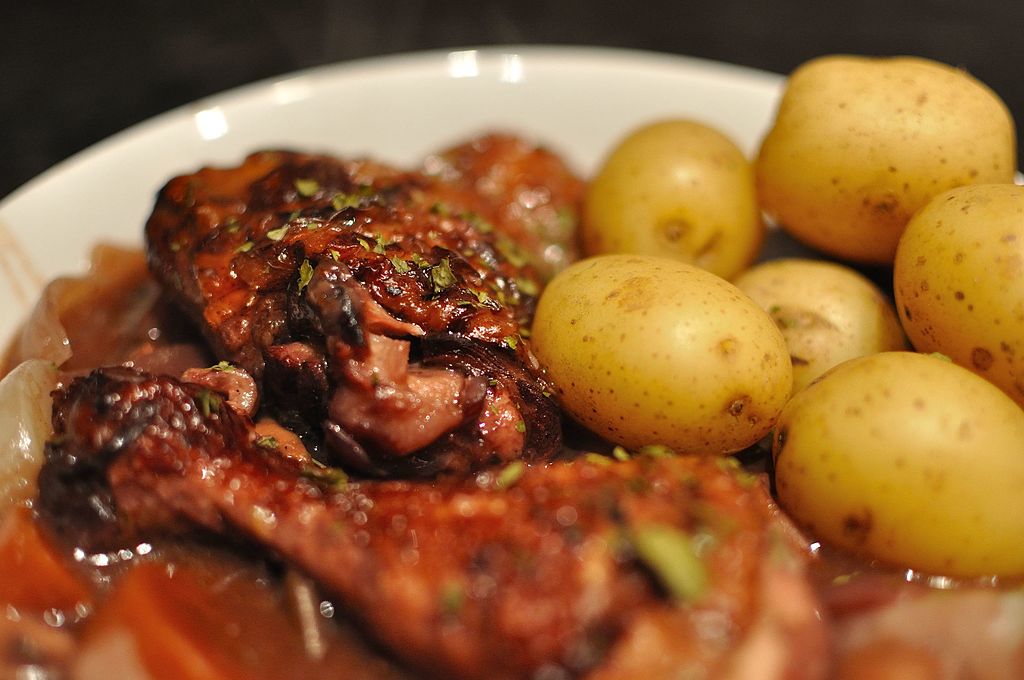 "A chicken in every pot."
The above mentioned saying is by King Henri IV of France, out of which grewone of the most quintessentially French dishes: coq au vin. This simple and inexpensive dish translates as "rooster and wine" but instead of rooster meat, the modern version is made with chicken on the bone and wine (traditionally Burgundy).
Coq au vin was popularized by Julia Child through her cookbook and television show and was considered one of her signature dishes. Her version, besides braised chicken and wine, also includes mushrooms, salt pork or bacon, onion, garlic, and a bit of brandy.
Make your own: Coq au Vin Mousseux
5.    Escargot
"Nobody is sure how this got started. Probably a couple of French master chefs were standing around one day, and they found a snail, and one of them said: 'I bet that if we called this something like "escargot", tourists would eat it."
Jokes aside, escargot is probably one of most extravagant delicacies the French have given the world. It is made of land snails cooked with a little garlic butter, wine, or chicken soup. Additional ingredients include more garlic, pine nuts, or herbs like parsley and thyme. After being cooked, the snails are returned into the shells and served along with a glass of good white wine. Special snail tongs and snail forks are also provided. Ideal for special occasions!
Make your own: Spicy Snails with Herbs
6.    Soupe à l'oignon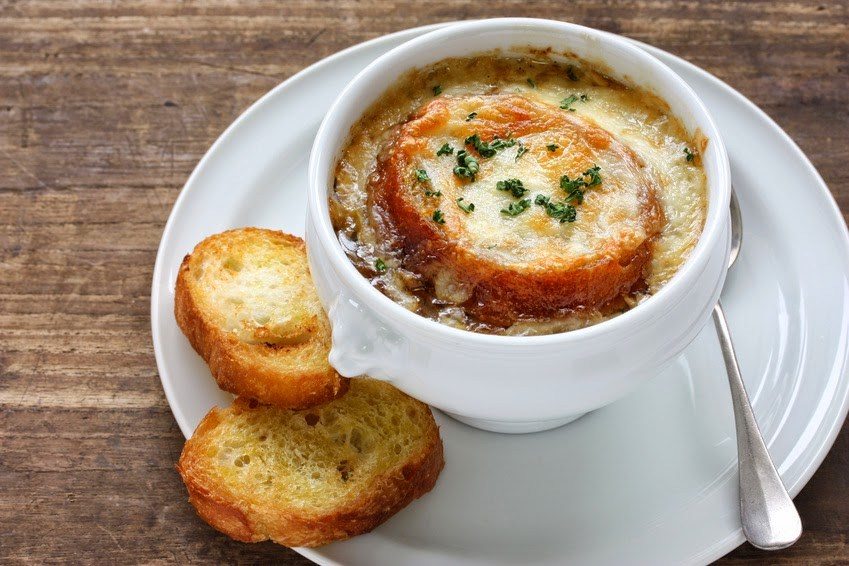 "It is one of the strangest and most delicious soup recipes I've encountered. … By the time it is done, the 'soup' is like a savory bread pudding and the top has a thick, golden crust that your guests will fight to the death over."
Dubbed "The queen of all soups", the French onion soup is based on meat stock and caramelized onions and often served as a starter, gratinéed with croutons or melty cheese on top or a piece of bread. Due to the wide availability of onions, onion soups have been popular since Roman times, but the modern version of Soupe à l'oignon originated in Paris in the 18th century.
Make your own: Blonde French Onion Soup with Aged Havarati
7.    Cassoulet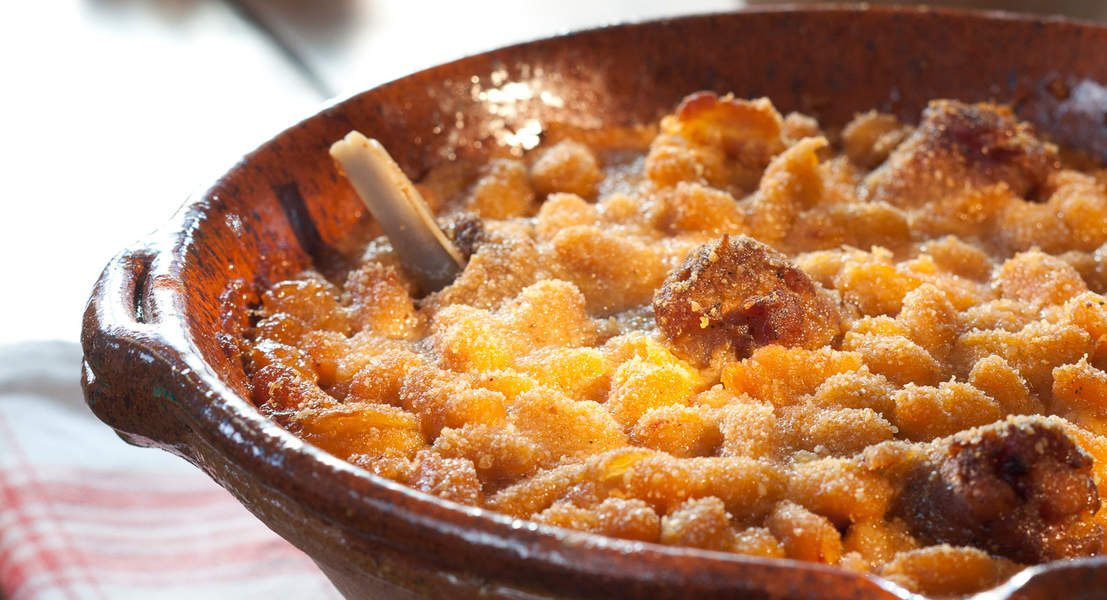 "Cassoulet, the best of bean feasts…"
Cassoulet is a slowly-stewed casserole originating in the south of France. Its main ingredients are meat (commonly pork sausages, duck, goose, and sometimes mutton, or whatever is at hand) and white beans. Cassoulet got its name after the pot it is made in (cassole), which is typically shaped like an inverted cone to give the dish its signature crust. The French recommend you consume it during the cold winter months.
Make your own: Lentil and Sausage Cassoulet
8.    Steak Tartare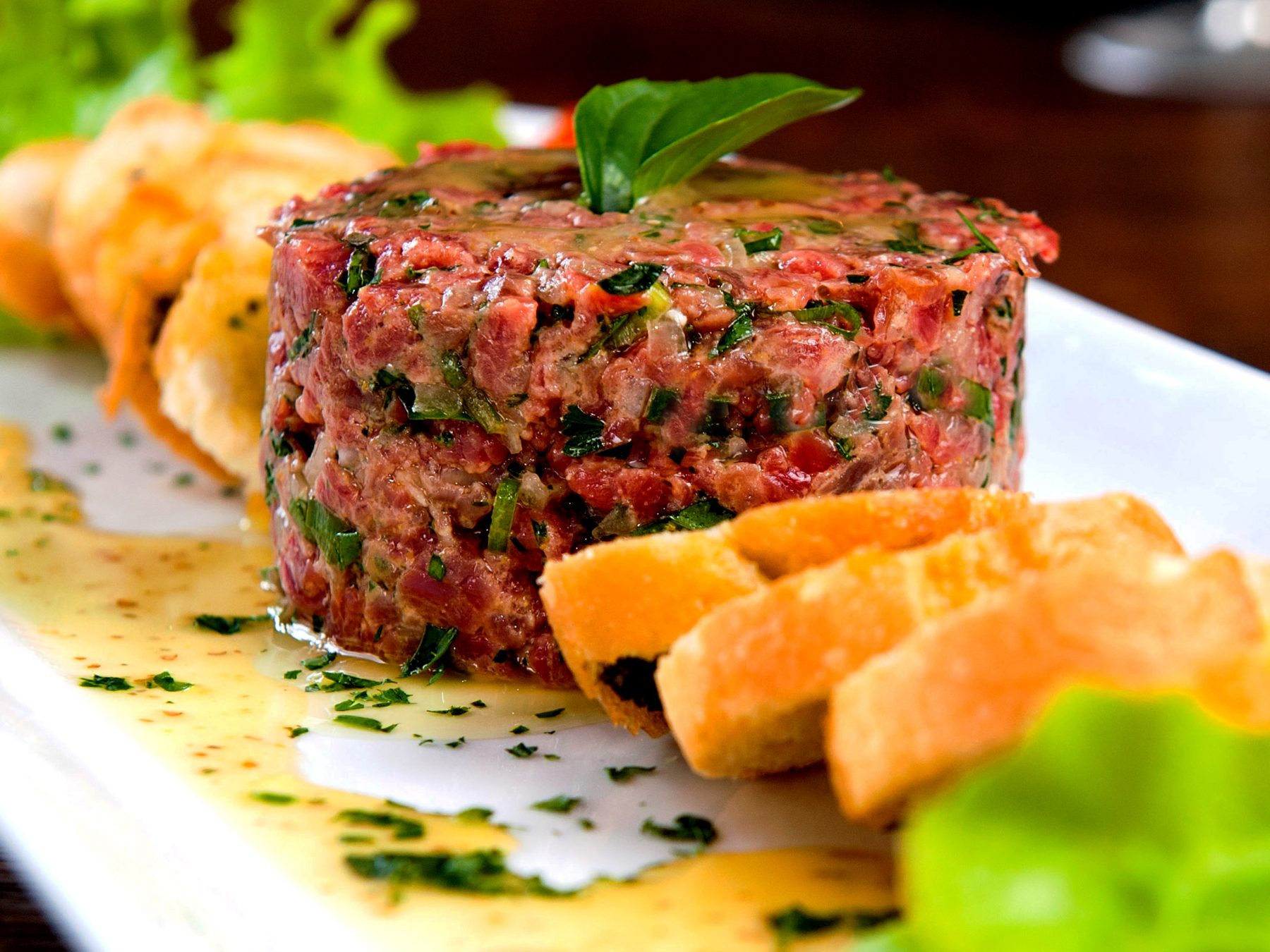 "One of my favorite dishes used to be steak tartare, which is raw ground beef seasoned and then served."
As mentioned before, French have a way of turning even the simplest of foods into delicious masterpieces. Besides beef, some steak tartare varieties are made of horsemeat (!) It is often served with onions, capers, and seasonings (usually Worcestershire sauce or freshly ground pepper), sometimes accompanied by a raw egg yolk, or on top of a slice of rye bread. Besides the traditional raw variant, there is another one called 'tartare aller-retour', a pile of mostly raw steak tartare lightly seared on one side.
Make your own: Steak Tartare with Västerbottensost and Juniper Berries
9.    Filet Mignon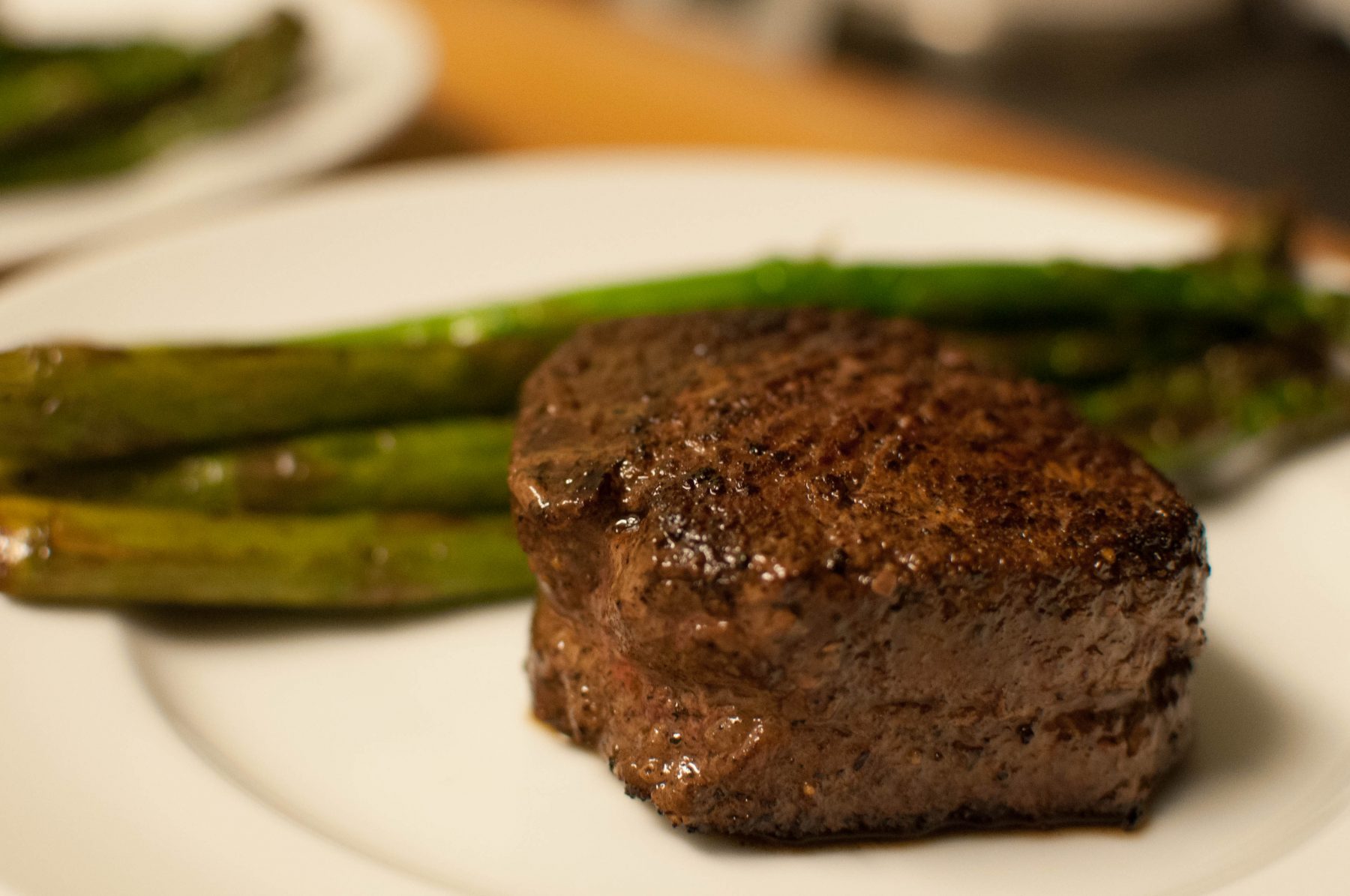 "If wishes were filet mignon, we'd always eat well at dinner."
Filet mignon is one of the easiest French specialties to recreate in the comfort of your home. It is made with a cut of beef tenderloin or, as the French call it, filet de bœuf. This filet can be cut into one- to two-inch-thick portions, seared on one side, and then grilled at high temperature. Other cooking methods are pan frying, broiling, or roasting until medium rare. Bacon is often used wrapped around the filet due to the low fat levels found in the cut.
When cooked properly, filet mignon has salty, crispy outside and soft, juicy center. Rosemary and brown butter are used to deepen the flavors. The fillet is served in a red wine reduction, with cognac cream sauce, or with loosely cracked peppercorns.
Make your own: Filet Mignon with Cheese Sauce
10.    Salad Niçoise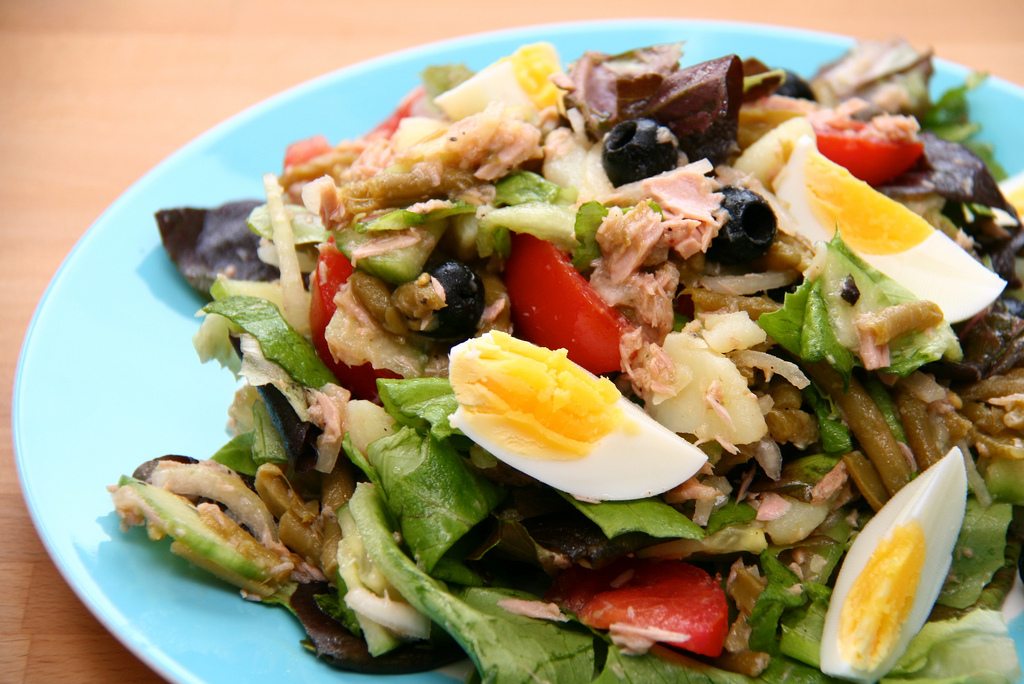 "Salad Niçoise must be the finest summer salad of all."
Salade Niçoise is a salad that originated in the French city of Nice. It is traditionally made of hard-boiled eggs, tomatoes, anchovies, Niçoise olives, and dressed with olive oil. However, there are so many versions of this salad, that no one can say for sure which ingredients were used originally. It can be served either as a composed salad or as a tossed salad, as a side dish or a meal on its own. Whichever version you decide to make will surely bring the atmosphere of the French Riviera directly into your dining room.
Bon Appetite!
MyGreatRecipes
DISCOVER GREAT RECIPES, TIPS & IDEAS! MyGreatRecipes gives you inspiration to shop & cook delicious food for family and friends every day of the week. it's fun & easy! Whether you are looking for quick & easy meals or food for special moments - the MyGreatRecipes app and website gives you America's most delicious recipes & food at your fingertips! The question "What's for dinner?" will now always have an answer!