Ratatouille and Goat Cheese Polenta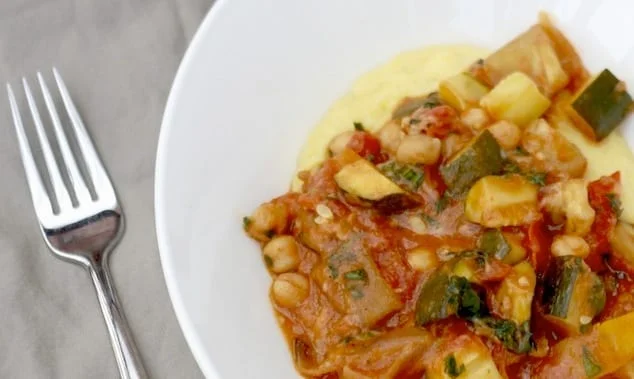 Once prepped, this ratatouille can simmer away and build flavor in a slow cooker. Serve with chickpeas over a goat cheese-spiked polenta and top with fresh basil for a filling meal.
By Natalie McLaury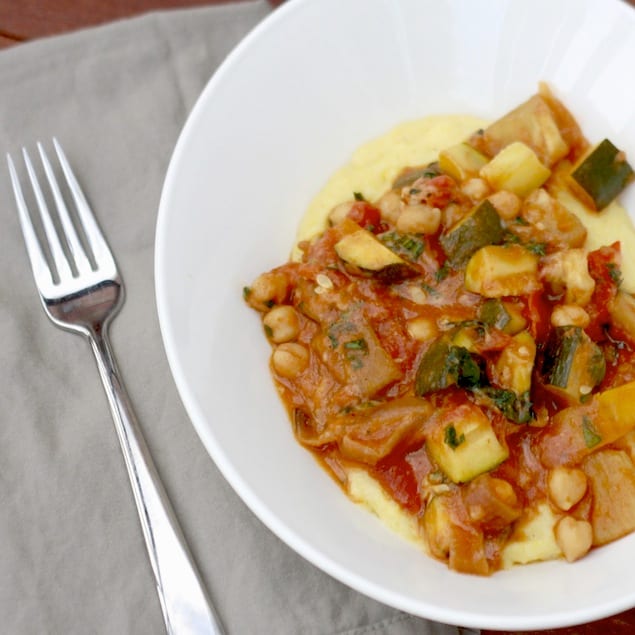 I'm not a ratatouille expert by any means. I've neither seen the Disney movie, nor made it before this. I don't think I'd ever even eaten it before making it. Thus, I can't compare this slow cooker version to one made on the stovetop, the more common preparation method. Still, I don't know that I'll ever make it any other way!
This isn't a "dump it and forget about it" slow cooker recipe, in that it requires a bit of prework (chopping and sautéing), but once you've finished that, you can set it and forget about it. This only needs to cook on low for 4-5 hours, making it ideal to throw together on a weekend and start cooking it around lunchtime. I got it all ready and then refrigerated until I was ready for it to start cooking.
See Also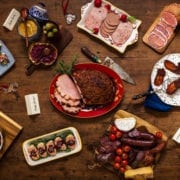 I added chickpeas to the vegetable-heavy dish and served it over polenta (cornmeal) spiked with goat cheese. The recipe makes a ton and polenta doesn't reheat the best, so if you plan to have leftovers, you might want to serve it atop quinoa, noodles, or even gnocchi. This will absolutely be made in our kitchen again, especially this summer when eggplant and basil are so abundant!

Ratatouille and Goat Cheese Polenta
Once prepped, this ratatouille can simmer away and build flavor in a slow cooker. Serve with chickpeas over a goat cheese-spiked polenta and top with fresh basil for a filling meal. slightly adapted from Epicurious
Ingredients
Ratatouille
cooking spray
2 large eggplants, peeled and cut into ½-inch pieces
3 medium zucchini or yellow summer squash, cut into ½-inch pieces
3 tbsp coarse salt
3 tbsp unsalted butter, divided
2 small to medium red onions, halved and thinly sliced
3 bell peppers, cut into thin slices
1 (14.5 oz) can chickpeas, drained and rinsed
3 tbsp finely chopped garlic
¼ cup all-purpose flour
¼ cup tomato paste
1 (28 oz) can whole peeled tomatoes
1 tsp ground thyme
10 grinds black pepper
½ cup packed freshly grated Parmesan
1 cup coarsely chopped fresh basil leaves
Polenta
4 cups low sodium chicken stock (could use vegetable to keep it vegetarian)
2 cups water
1½ tsp coarse salt
1½ cups polenta or coarse-ground cornmeal
½ stick unsalted butter
4 oz fresh goat cheese
10 grinds black pepper
Instructions
Spray the slow cooker with cooking spray and set aside.
Place the eggplant in a large colander tossed with 3 tbsp salt. Allow to sit for 45 minutes. Rinse the eggplant to remove the salt, dry the eggplant, and squeeze out excess water with a kitchen towel. Add to the slow cooker, along with the chopped zucchini.
In a heavy saucepan over medium-high heat, melt 2 tbsp of butter. Once melted, add the onions, bell peppers, and garlic and saute until vegetables are soft (about 8 minutes). Add to the slow cooker.
Reduce heat to medium and add the remaining 1 tbsp butter. Once melted, add the flour and tomato paste, cooking for 1 minutes, or until flour disappears and mixture thickens. Increase heat to medium-high and add the tomatoes with their juices, thyme, and pepper. Cook, crushing the tomatoes with a wooden spoon, until mixture is thick and smooth (about 6 minutes). Add to the slow cooker along with the chickpeas.
Stir everything in the slow cooker to combine, cover, and cook on low for 4-5 hours, until vegetables are tender.
While the ratatouille is cooking, bring the broth and water and salt to a boil in a medium, heavy saucepan. Once boiling, gradually whisk in cornmeal. Reduce heat to low and cook, stirring every 3 minutes, until creamy and thick. (Original instructions say this will take 30 minutes, but it only took me about 10). Remove from heat and stir in the butter, cheese, and pepper.
Just before serving the ratatouille, stir in the Parmesan and basil.
Ladle polenta into bowls, spoon ratatouille on top, and serve immediately.
Natalie McLaury
Natalie McLaury is a St Louis based food writer with a passion for real food and experimenting in the kitchen. Her cooking ranges from healthy three course meals to decadent desserts, and she shares many of her food tips and recipes on her successful The Sweets Life blog . As an avid runner and fitness expert, she also gives the occasional tips on how to combine a serious interest in health with a sweet tooth.