Greek-Style Grilled Cheese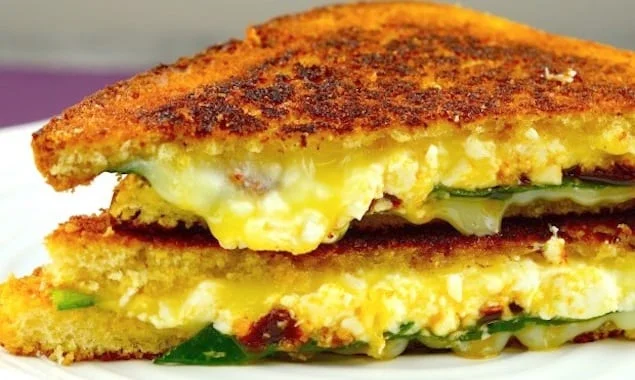 This is a full fat, time-to-indulge, comforting sandwich. We combined creamy Muenster cheese with a salty feta, and earthy spinach with sun-dried tomatoes for the perfect balance of texture and flavor. And to top it all off, buttery, crisp bread.
By Vicky Cohen and Ruth Fox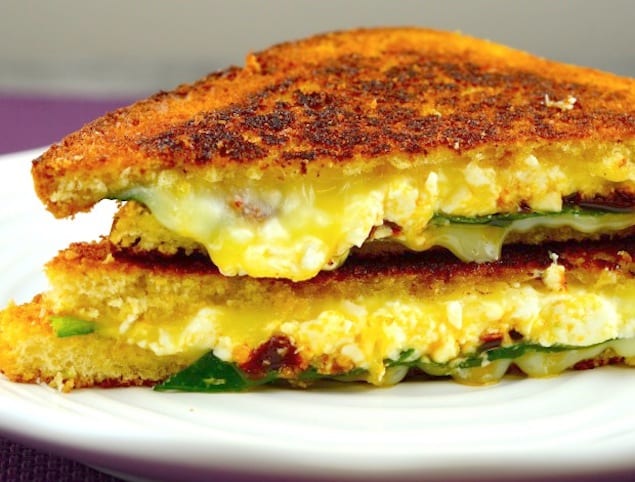 This is a full fat, time-to-indulge, comforting sandwich. For special occasions only, of course. Or if you need something comforting because you have a severe "case of the Mondays". Or… your hockey team just lost a game. Or… Passover just ended and you need to make up for lost time (even if you're not Jewish). Or… "insert your excuse here" because trust us, you're gonna want to find one to sink your teeth into this decadent sandwich.
We combined creamy and mild Muenster cheese with a salty, sharp feta for the perfect balance of texture and flavor. The sun dried tomatoes add some "earthiness' while the spinach give the sandwich just a touch of freshness. And to top it all off, buttery, crisp bread.

Greek-Style Grilled Cheese
This is a full fat, comforting sandwich. We combined Muenster cheese with salty feta, and earthy spinach and sun-dred tomatoes for the perfect balance.
Author:
Vicky Cohen and Ruth Fox
Ingredients
2 slices sandwich bread (here we used white)
1 tbsp butter
¼ cup crumbled sheep's milk feta cheese
1 tsp sun dried tomatoes packed in oil, sliced or chopped
2 slices Muenster cheese
4-5 Baby spinach leaves
Instructions
Lightly toast the bread slices
Butter one side of one of the slices and place butter side down it on a non stick pan, over medium heat
Arrange 1 slice of Muenster cheese, feta, sun dried tomatoes and spinach leaves on top. Top with remaining slice of Muenster Cheese
Butter the other slice of bread and place it on top, butter side up, to make a sandwich
Cook over medium heat about 4-5 minutes per side until cheese is melted and bread in golden brown.
Serve immediately
Vicky Cohen and Ruth Fox
We are two sisters born and raised in Barcelona, Spain, with Sephardic and Middle Eastern roots. We grew up eating the best, most flavorful, comforting home-cooked meals prepared by our mom, who taught us everything we know about cooking. When we moved here to the U.S. we felt it was really important to keep our traditions and background alive, and we've done so by sharing it with everyone we've met throughout the years. After all, what better way to make new friends and share our love and culture than through food, right? Our friends have come to enjoy our food and gatherings so much that are always asking us for our recipes. That inspired us to start a cooking blog called "May I have that recipe" where we share recipes we've created inspired by our multicultural background.