This post is part of "The Art of Cheese", a partnership between Honest Cooking and Castello Cheese.
This Blonde French Onion Soup is a deliciously creamy twist on the classic version with the added bonus of rich aged Havarti cheese.
By Kimberly Killebrew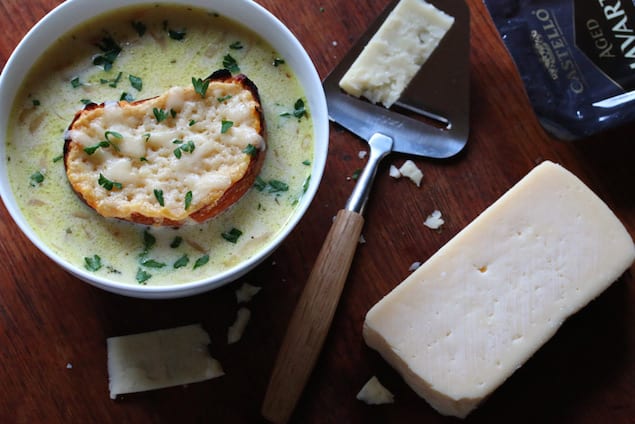 French onion soup is rather sentimental to me. It played a special part in the dating years of my husband and I. While he was still in medical school we would go out to eat occasionally but not very often. For one, like most med school students he was on a shoestring budget, but even more because we both enjoyed cooking together. An ideal date for us was making French onion soup together and Todd would sometimes make his famous French Silk Pie for dessert. We'd put on some old records (yes, records) like Frank Sinatra, Ella Fitzgerald, Andy Williams or some instrumental records from some of the old band leaders, and enjoy a deliciously rich and cheesy bowl of French onion soup. We'd spend the evening talking, going for walk, and then it was time for one of us to head home. Those are wonderful memories. And not much has changed. We still enjoy good food, cooking together, listening to old records, going for walks, and talking into the late hours of the night.
Here is a delicious twist on the classic French onion soup inspired by some fabulous cheese I recently sampled. I'm a little obsessed with cheese and something of a cheese critic. Castello's cheeses are among the best I've ever had. This time I was able to sample their Aged Havarti. Described as a "rich, creamy cheese with notes of butter and caramel and aged 12 months to encourage a crystalline texture," Castello's Aged Havarti is simply divine.
It was eating this Aged Havarti that inspired my Blonde French Onion Soup. While I was savoring it, I imagined how incredible it would be in a soup…a creamy soup…a creamy onion soup…sprinkled on a toasted baguette…yes! And I was right. It is incredible.
See Also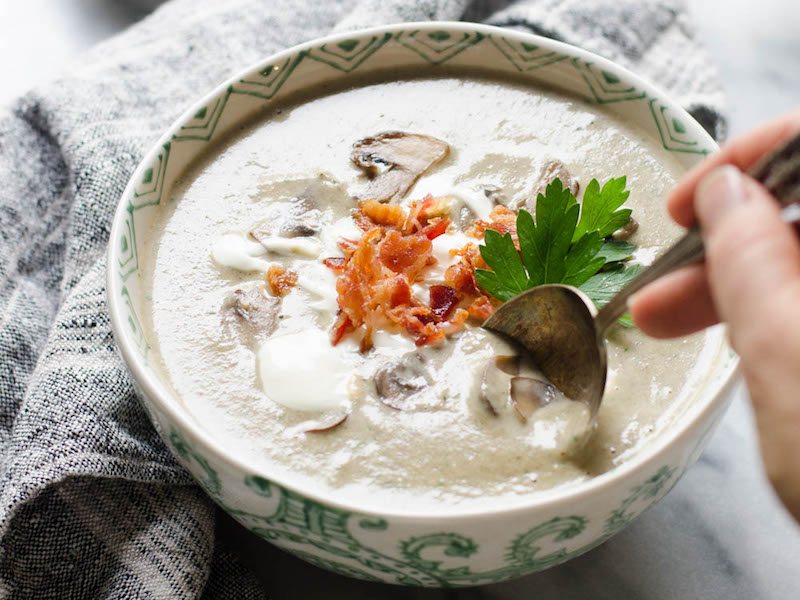 Castello's Aged Havarti Cheese pairs perfectly with this soup. And as for what was left of it…my husband and I lovingly fought over who got to eat the rest.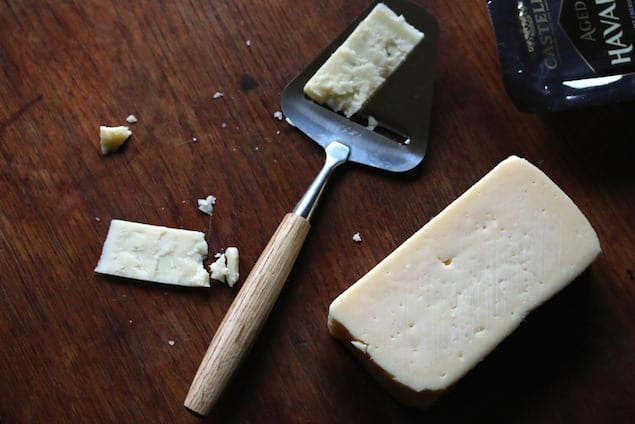 The Art of Cheese — Blonde French Onion Soup with Aged Havarti
This Blonde French Onion Soup is a deliciously creamy twist on the classic version with the added bonus of rich aged Havarti cheese.
Author:
Kimberly Killebrew
Ingredients
2 pound yellow onions, halved and thinly sliced
5 tablespoons butter
1 teaspoon sugar
2 tablespoons all-purpose flour
½ cup dry white wine
4 cups quality chicken stock (vegetarians: use vegetable stock)
2 cups heavy cream
½ teaspoon minced fresh thyme
1 teaspoon salt
4 1-inch slices baguette bread
1 cup shredded Castello Aged Havarti or other quality aged, flavorful cheese
Chopped fresh parsley for garnish
Instructions
Melt the butter in a Dutch oven over medium-low heat and add the onions and sugar. Cover and cook for 20 minutes, stirring occasionally. Uncover, increase the heat to medium and cook until lightly browned, another 20-25 minutes.
Add the flour and stir until incorporated. Add the white wine and bring to a rapid boil for a minute. Add the chicken stock and salt, return to a boil, reduce the heat and simmer, covered, for 25 minutes. Add the cream and thyme and cook for a few more minutes to heat through.
Preheat the oven to 400 degrees F. Place the baguette slices on a lined cookie sheet and sprinkle with the cheese. Bake for a few minutes, just until the cheese is bubbly and the edges of the baguette are lightly browned. Ladle the hot soup into bowls, place a cheese-baked baguette in each bowl and serve immediately sprinkled with a little fresh chopped parsley. Alternatively, place the unbaked baguette slices in oven-proof bowls, sprinkle with cheese, and bake. Carefully remove the hot bowls from the oven and serve immediately.
Notes
Do not rush the caramelizing process of the onions, it is critical for the final flavor of the soup.

Kimberly Killebrew
Raised in Western Europe, widely traveled, and currently residing near Seattle with her husband and children, Kimberly loves preparing and experimenting with a large range of flavors and cuisines. This is reflected in her food blog, The Daring Gourmet, where she invites all to "tour the world through your taste buds." Passionate cook, recipe developer and photo enthusiast, her culinary repertoire includes everything from gourmet to simple comfort food, and, as she puts it, "simply downright good eats."