Skip the bun this summer when you are making  hot dogs and instead wrap the entire sausage in buttery challah dough. You won't be sorry.
By Laney Schwartz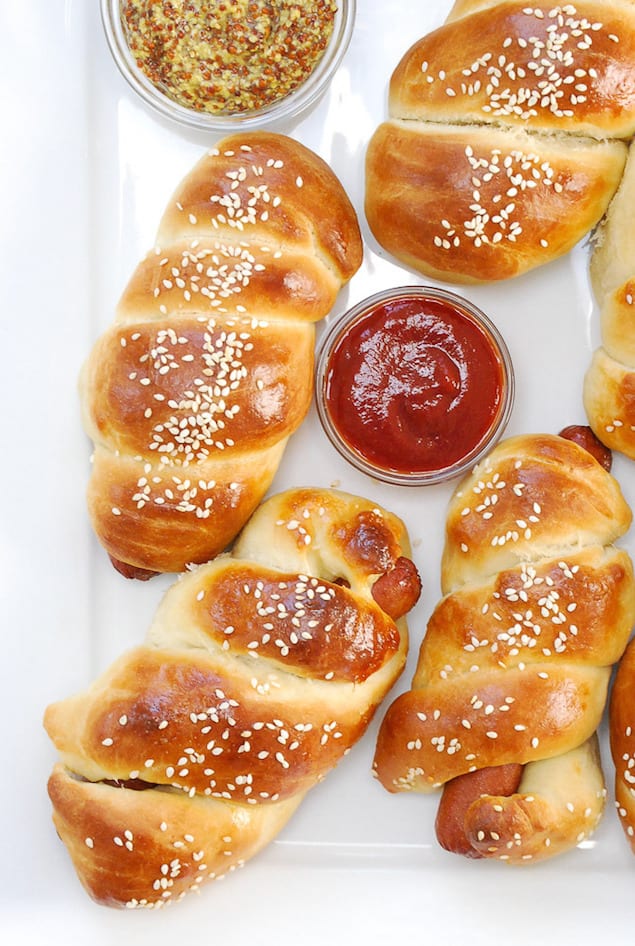 It's impossible to eat just one. Unless you're a normal human begin with that little thing called will power. I, unfortunately don't have it. When it comes to food, I'm an all or nothing kind of girl.
So when I made these bad boys, I obviously had to "taste" 3 or 4 of them just to be sure they were okay.
I assure you, they were more than okay.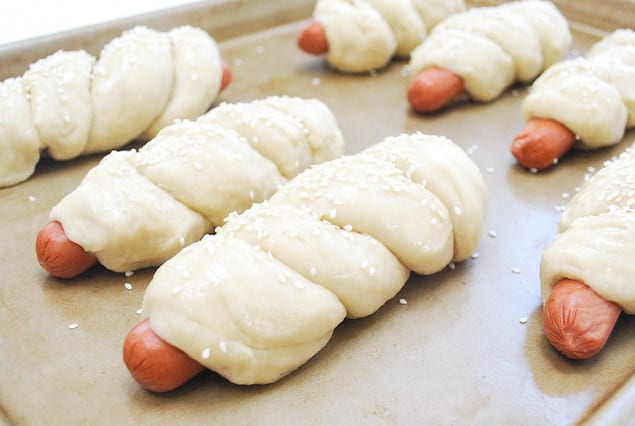 I don't know what it is that is so incredibly appealing about a hotdog wrapped in bread. A TOTALLY different experience than simply sticking it in a hot dog bun. I mean WRAPPED completely. In bread.
I've had the pretzel dog, and the bagel dog, which are both amazing and I love. But then I thought, how can I make these even more awesome?
CHALLAH! It's genius if you ask me.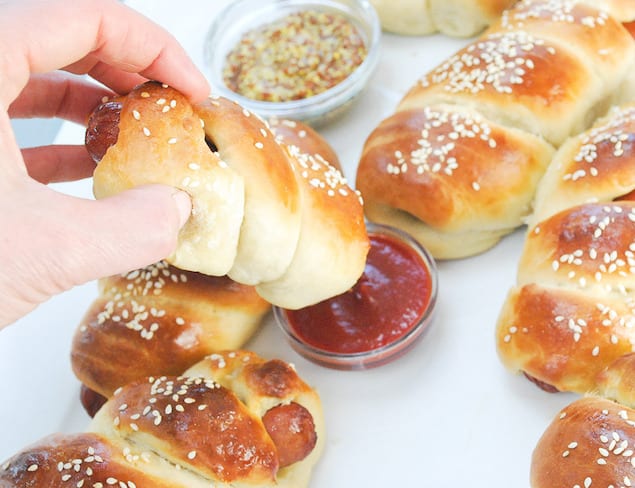 I used my challah recipe to make the dough. Super easy, and the best challah in town if you ask me. It's also kinda fun to assemble, and a great alternative to the typical summer hot dog in a bun.
Just picture these babies poolside with a tall glass of whatever sounds delicious to you.

No Bun Needed: Challah-Wrapped Sausages
Skip the bun this summer when you going for hot dogs and instead wrap the entire sausage in buttery challah dough. You won't be sorry.
Recipe Type:
Baking, Main, Appetizer, Bread
Ingredients
1 teaspoon sugar
1 cup warm water
1 tablespoon dry yeast
½ cup oil
¼ cup sugar
2 teaspoons salt
2 eggs
3¾ to 4 cups all purpose flour
Sesame seeds
1 egg yolk, beaten with 1 teaspoon water
12 hotdogs
Instructions
Dissolve sugar in ½ cup warm water in a large mixing bowl that has first been rinsed with very hot water. Sprinkle yeast on top and let stand for 10 minutes. Stir to dissolve.
Combine with oil, remaining water, sugar, salt, eggs, and half the flour. Beat well. Stir in the remaining flour. Dough should be sticky. Cover dough and let rest for 10 minutes. Turn out onto a floured board and knead for 10 minutes, adding flour as needed.
Place in a lightly oiled bowl and cover with plastic wrap. Allow to rest until doubled, about 30 minutes.
Line 2 baking sheets with parchment paper and set aside. Punch down dough. Divide dough into 12 equal parts. Shape onto ropes. Roll the rope around an entire hot dog making sure to secure the ends tightly. Place on the baking sheets.
Brush with beaten egg yolk and sprinkle with seeds. Bake at 400 degrees for 25-30 minutes until golden brown.
Notes
If you have extra dough, you can make an extra little loaf of challah! Just braid loosely and bake without the hot dog!
Laney Schwartz
Laney spends her time being a home cook, mom, wife, workout junkie, and ultra crazy food lover.