Swedish-Style Cardamom Sourdough Rolls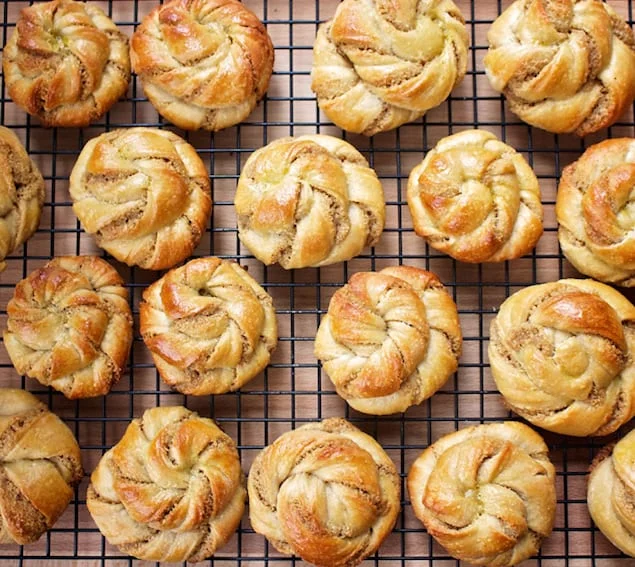 Made with spelt flour that is fermented for a day, these rolls are rich with flavor and a touch of sweetness.
By Valeria Weaver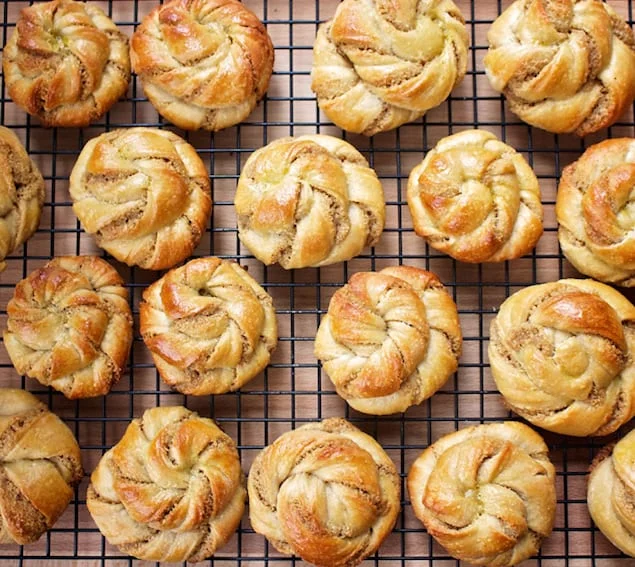 The dough for these rolls is made from 100% spelt flour that can be fermented for up to 24 hours. It's easy to work with and stretch into any shape you like because spelt is one of the easiest ancient flours when trying to create pastries that are commonly made with refined modern white wheat. This dough is also perfect for making cinnamon buns, or really anything that needs to be shaped, stretched and folded. They are not overly sweet, just like everything I make; you can increase the amount of sugar you in the dough if you are have a major sweet tooth. Or sprinkle a bunch on top.
Once you master the rolls, use more of your sourdough starter for these bagels.
Swedish-Style Cardamom Sourdough Rolls
Made with spelt flour that is fermented for a day, these rolls are rich with flavor and a touch of sweetness.
Recipe Type:
Baking, Bread, Pastry
Ingredients
Dough:
150 g leaven, see recipe below (5.3 ounces)
75 g butter (2.6 ounces)
210 g milk (7.4 ounces by weight)
400 g all-purpose spelt flour (14 ounces)
100 g brown sugar (3.5 ounces)
5 g salt (0.17 ounces or 1 teaspoon)
1 g ground cardamom (0.2 teaspoons)
Filling:
60 g soft butter (2.1 ounces)
60 g brown sugar (2.1 ounces)
1 tsp ground cardamom
40 g ground almond (1.4 ounces)
½ teaspoon vanilla extract
Leaven
70 g all-purpose spelt flour (2.5 ounces)
70 g water (2.5 ounces by weight)
1-2 tablespoons of active sourdough starter
Instructions
Make leaven:
Mix 70 g all-purpose spelt flour, 70 g water and 1-2 tablespoons of active sourdough starter. Leave for 8-10 hours, or until very bubbly.
Make dough:
Melt butter in a small sauce pan, add milk, warm it up slightly.
Place butter/milk mixture into a KitchenAid mixing bowl.
Add spelt flour (400g), and the rest of the ingredients; mix gently, allow to rest for 10-15 minutes.
Turn the mixer with a dough hook attachment on low, and knead for 10-15 minutes. Add a touch more flour if the dough is too sticky; or water (teaspoon or two) if it's too dry.
Allow to rest at room temp until doubles in size. 2-3 hours.
Prepare filling:
Make a paste of all the ingredients.
Shape:
Roll out the dough on a large flat floured surface. It's going to want to spring back, but just keep rolling. It will stretch very nicely. I rolled it out to the size of two large cutting boards.
Spread the filling evenly on the entire surface. Fold in two.
Cut into strips, I did about an inch each, and got 18 strips.
Shape into rolls, twist and wrap the ends.
Let rest overnight, covered with plastic, at cellar temp (55ºF) or fridge.
In the morning, bring to room temp, and allow to rise for 2-3 hours.
Brush with beaten egg. Sprinkle with things you like.
Preheat the oven to 400ºF (200ºC); bake for 20 minutes, or until golden.
Valeria Weaver
A mom cooking slow food in the fast world. I'm bringing back traditional recipes, and making new traditions.