PARTNER POST — Discover the unique flavors of the Dijon region with Maille.
Zesty tuna burgers with Dijon mustard are easy to create for a holiday crowd or on a busy weeknight. Plus, the stack includes spicy arugula and salty olive tapenade.
By Nora Schlesinger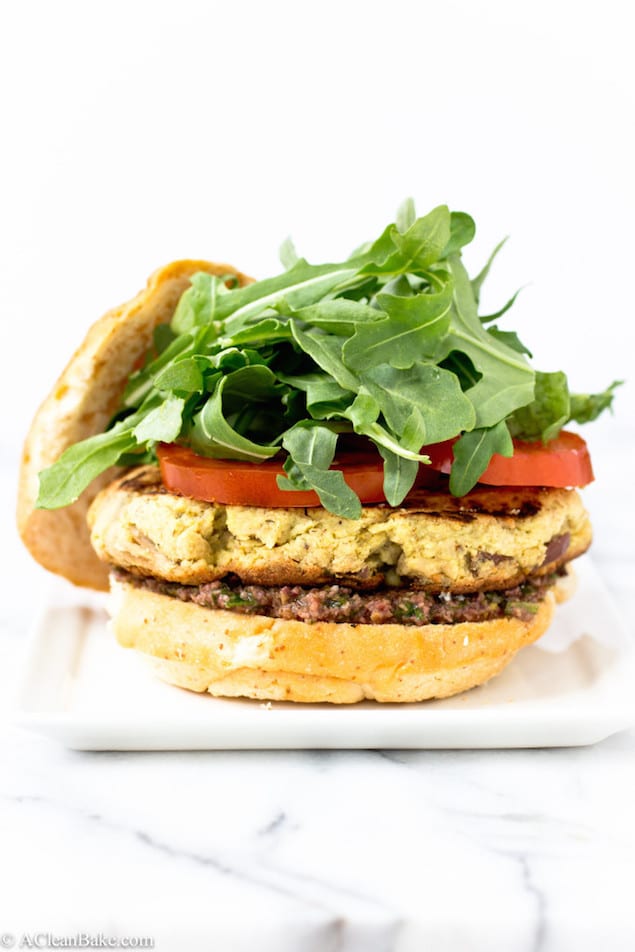 Last week I made a huge batch of olive tapenade (find the recipe here) and now we all need something to spread it on. Granted, as I (perhaps repeatedly, but who's counting) stated, you can absolutely eat it straight out of the jar, but I highly recommend these burgers as a vehicle instead. They were made for each other, you see – quite literally. The chunky, salty, oily tapenade really came to life as a partner for these zesty, slightly spicy, hearty-but-light tuna burgers.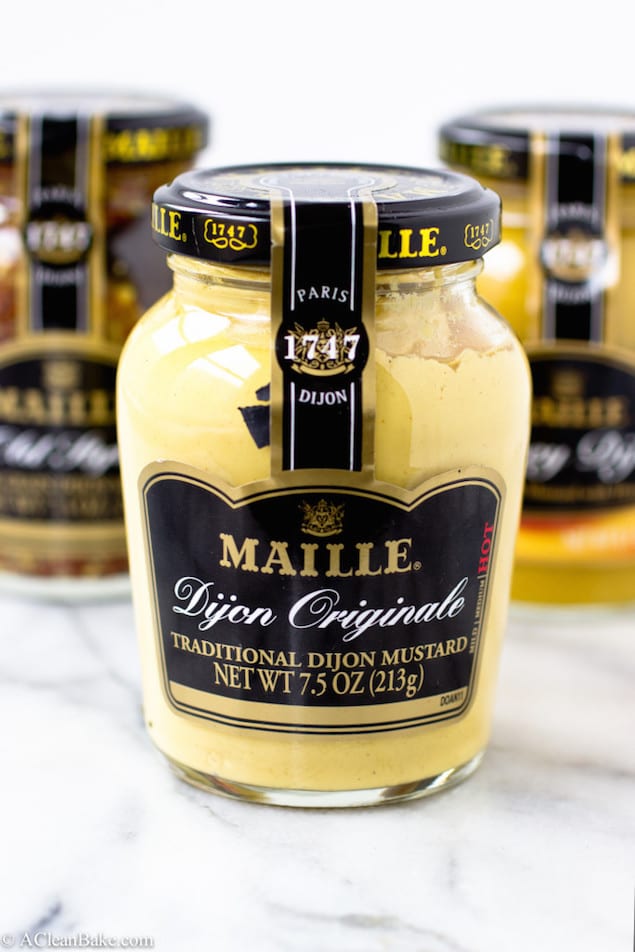 It was a jar of mustard that started it all, though (well, three, actually) that was sent to me by the wonderful mustard-makers at Maille. I come from a family that is very serious about mustard – we once took a road trip to a Mustard Museum. Did you know such a thing existed? It's actually pretty cool. – so believe me when I tell you I know from good mustard. I also have a not-so-insignificant case of Francophilia, so that could be part of the appeal of these mustards, which are straight out of the motherland since 1747. With a pedigree like that, it's not hard to see why they are excellent: good variety, great flavors, high quality ingredients, and made by people with a serious dedication to the craft. They even have a mustard somelier on staff (no kidding: look down to see the video of her in action), which I am pretty sure is the dream job of a certain parental unit of mine.
[fve]https://vimeo.com/126301319[/fve]
Also it's genetic. Related: Maille people, if you're reading this, don't be surprised when I show up at your boutique when I'm in Paris next month murmuring some jibberish about needing to fulfill my mustard consumption quota.
Also, this is no ordinary burger. The bright lemon makes it a wonderful summer meal, the mustard makes it taste kind of fancy, and the base of pantry staples like canned tuna and egg, not to mention the quick assembly, make it a perfect weeknight meal.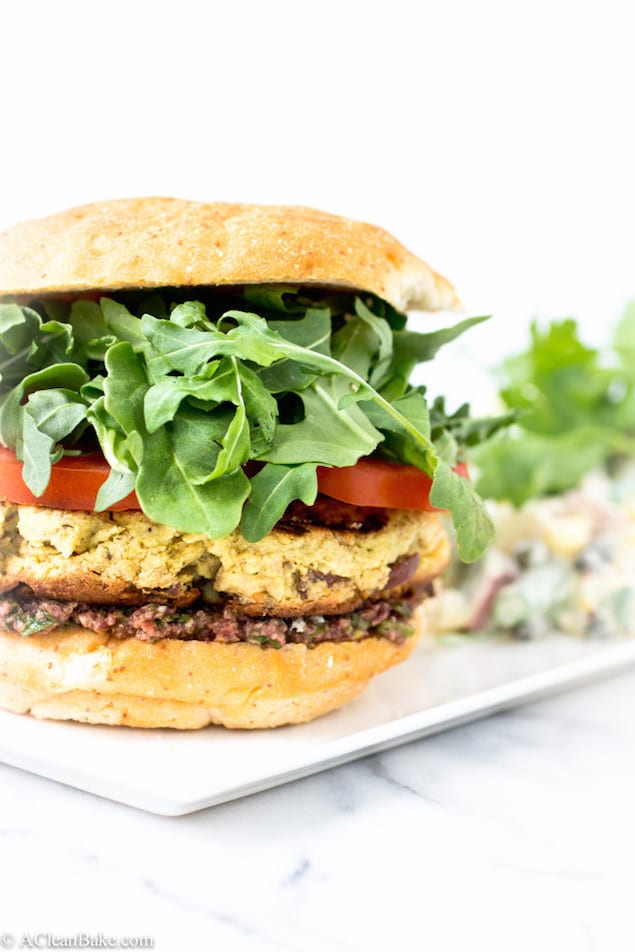 Delights of Dijon — Lemon and Mustard Tuna Burger
Zesty tuna burgers with Dijon mustard are easy to create for a crowd or on a busy weeknight. Plus, the stack includes spicy arugula and olive tapenade.
Author:
Nora a Clean Bake
Serves:
5 sliders or 2 burgers
Ingredients
7 oz good quality canned white meat tuna, drained and broken into shreds with a fork
3 Tablespoons sliced green onions
3 Tablespoons coconut flour
¼ teaspoon coarse black pepper
½ teaspoon sea salt
¼ teaspoon garlic powder
1 teaspoon dried oregano
2 large eggs, beaten
3 Tablespoons good quality Dijon mustard (I recommend Maille brand original Dijon)
1 Tablespoon fresh lemon juice
1 Tablespoon extra virgin olive oil + more for frying
Olive tapenade (see the link in the first paragraph), fresh arugula, and fresh sliced tomatoes for serving
Gluten-free hamburger buns, for serving (optional)
Instructions
In a medium mixing bowl, toss together the tuna, onions, coconut flour, pepper, salt, garlic powder and oregano. Set aside.
In a small bowl, whisk together the eggs, mustard, lemon juice, and oil.
Pour the egg mixture into the tuna mixture and stir thoroughly to combine. It will be too liquid at first, but will reach a cookie dough-like consistency as the coconut flour absorbs some of the moisture.
Preheat 1-2 Tablespoons of olive oil in a large skillet over medium high heat. Divide the mixture into five heaping-quarter-cup spheres, then press down gently into a disk.
Fry until crisp (3-4 minutes), then flip, cover the pan and fry until the other side is dark golden and crisp and the centers of the burgers have puffed up a bit, another 3-4 minutes.
Remove from heat and serve immediately, topped with olive tapenade, arugula and tomato slices - on a bun, if you prefer.
Notes
Alternately, you can cook them on a grill.
Nora Schlesinger
I'm a self-taught home cook and I bake allergen-free desserts that taste just as good as the real thing! Like me on Instagram for mouth-watering images @Nora_Acleanbake.