SPONSORED POST: From Dijon Originale mustard to Cornichons, Maille has a rich heritage starting in 1747 that honors tradition. Check out these easy recipes that pack great flavor, thanks to Maille.
These Sausage Bites are simmered in white wine and served with a creamy, spicy mustard dipping sauce. They're a delicious party appetizer that cooks up quickly.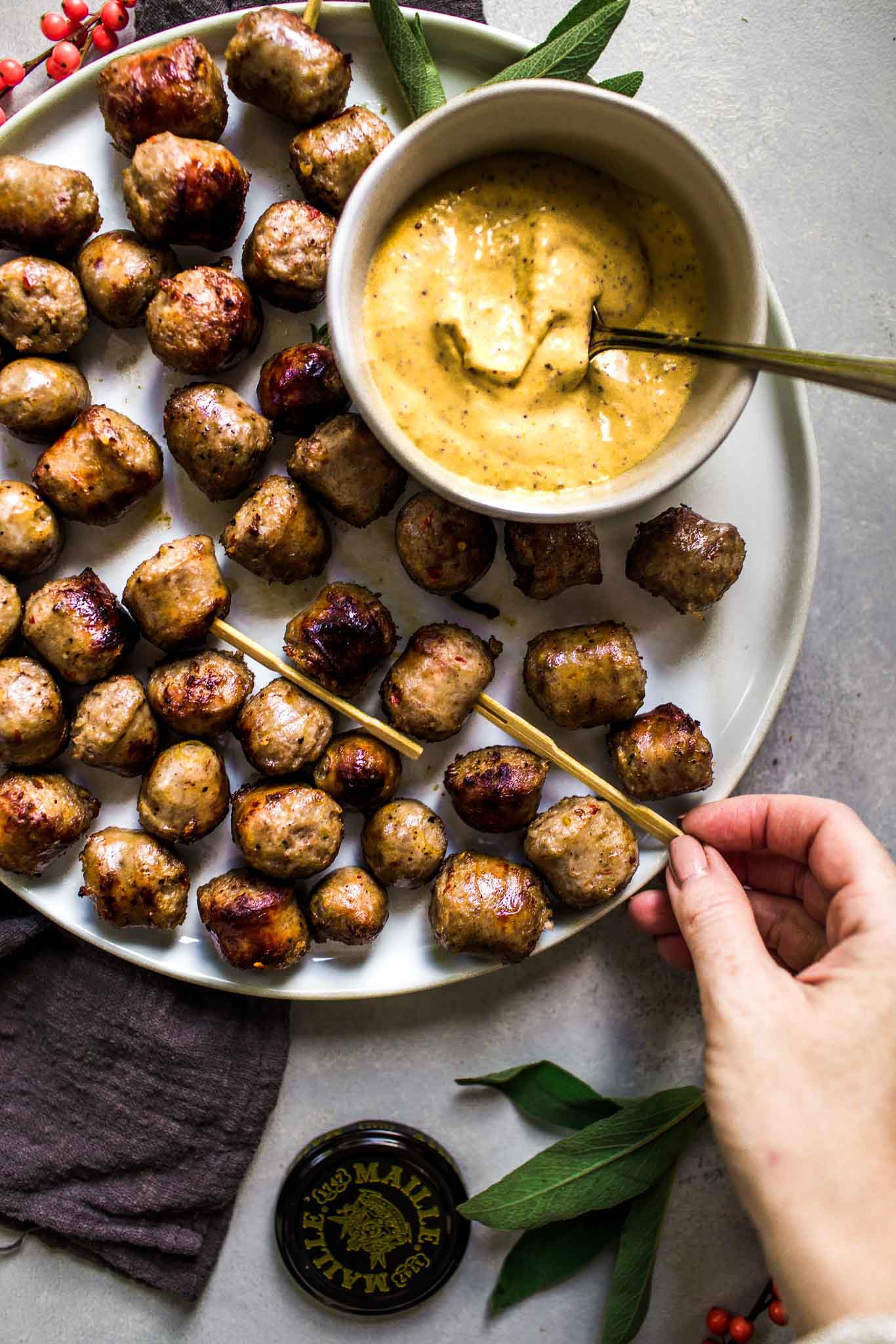 It's that time of year when delicious appetizer recipes are in high demand. Whether you're headed out to a holiday party or your in need of a tailgating snack, these sausage bites are the perfect thing to bring along.
These sausage appetizers are super easy to make and the prep time will take you less than 10-minutes! All you need to do is slice up some sausages and open a bottle of wine. Let them all simmer together for about 20 minutes until the sausages are cooked through and the wine has evaporated a bit.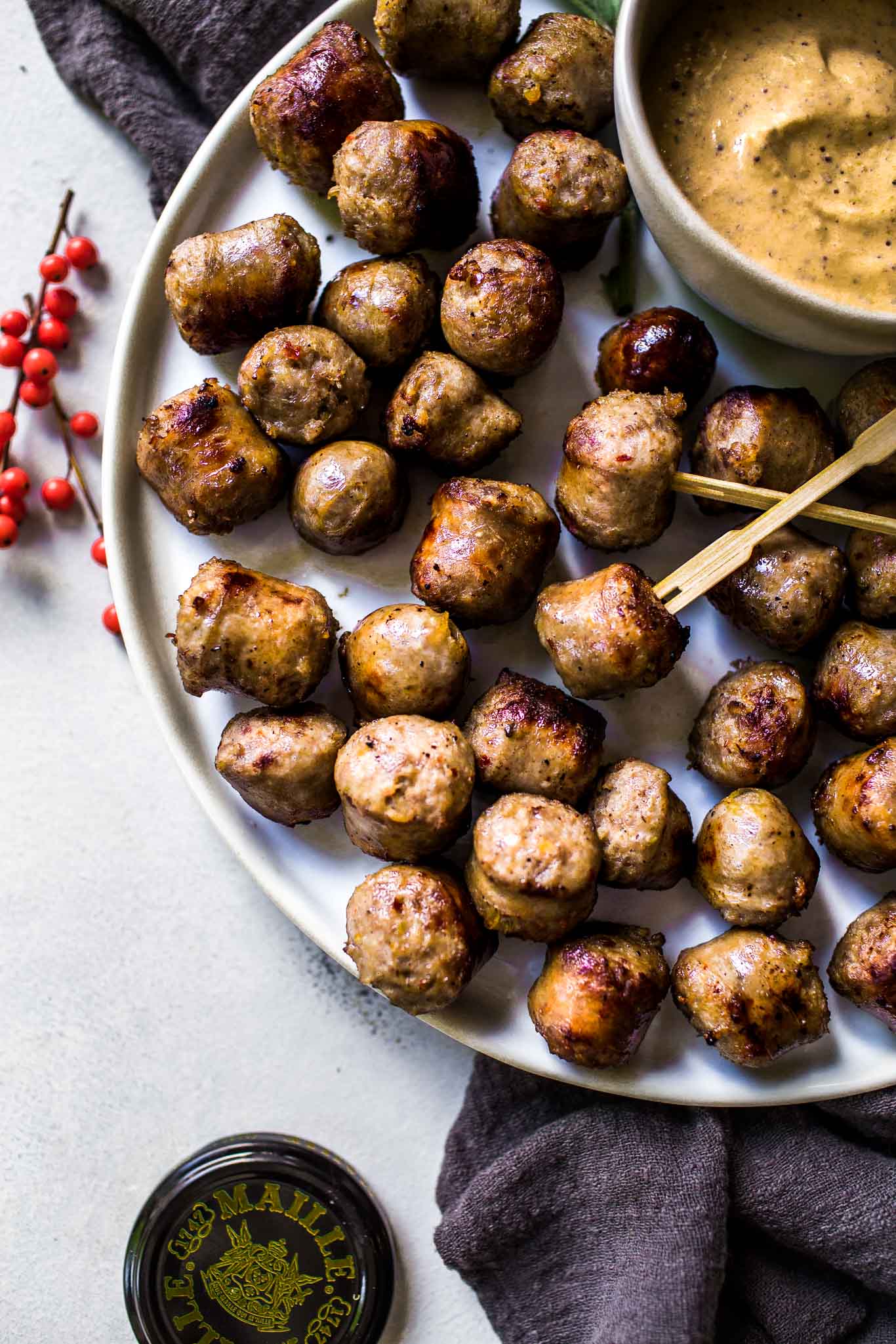 What's the best white wine to use for cooking?
For cooking, I prefer to use a wine with bright acidity and nice flavors. Use a wine that you would actually drink, but it doesn't have to be an expensive bottle. Some of my favorite wines for cooking with are Sauvignon Blanc, Pinot Gris, Vinho Verde and unoaked Chardonnay.
While these sausage bites are simmering away in that wine, it's the perfect time to mix up your creamy mustard dipping sauce.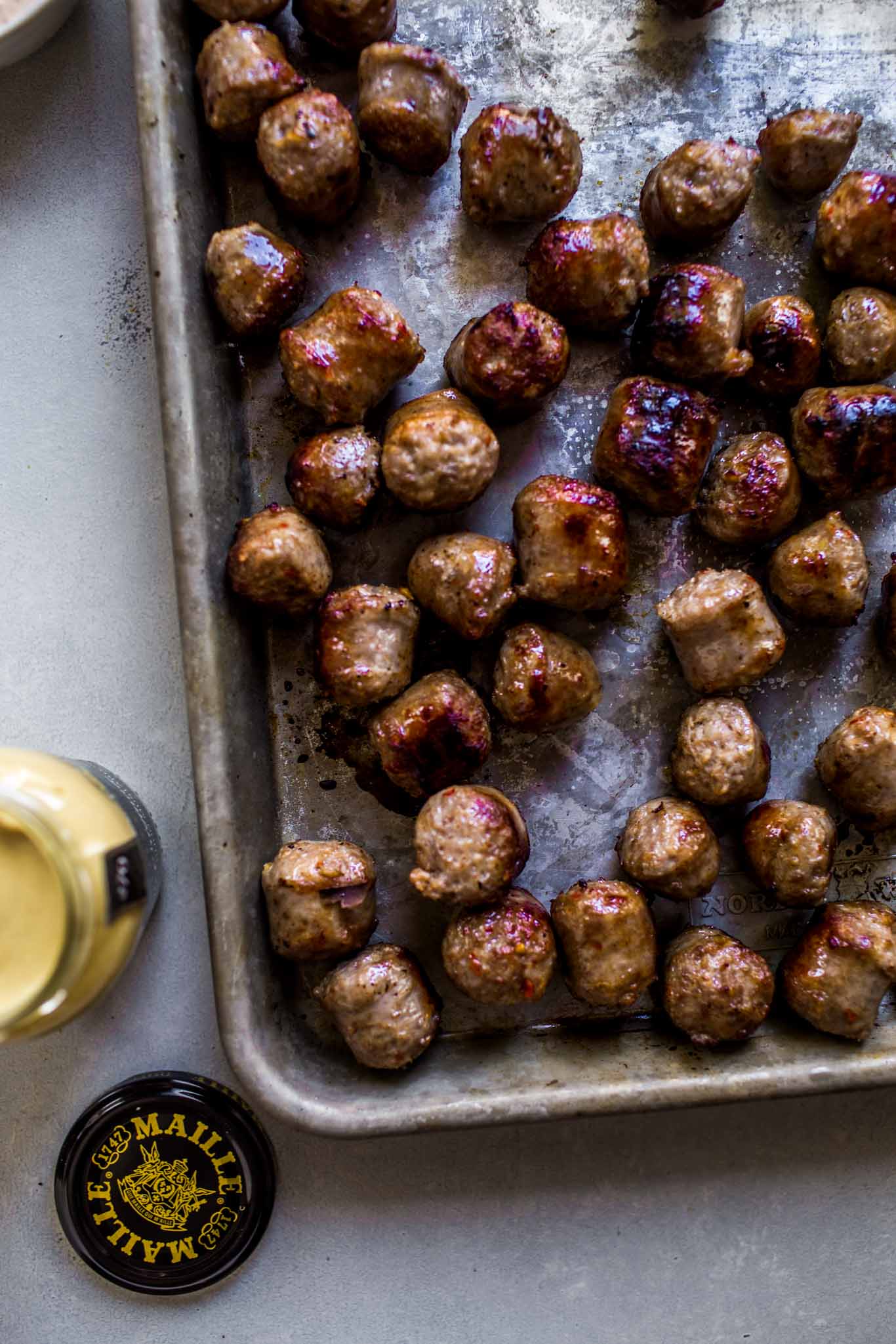 The sauce for these sausage bites takes just four ingredients:
Sour Cream
Mustard
Hot Sauce
Garlic
But, if you want to make things even easier, you could just mix up the mustard with a bit of sour cream (or mayonnaise) and season it with salt and pepper.
I like to use Maille Dijon Originale Mustard in this recipe. It's the perfect ingredient to elevate a simple appetizer with a gourmet touch. With a rich heritage starting in 1747, Maille is a brand that honors tradition and it's a brand that we've always used in our house.
By adding a spoonful of it to this creamy sauce, it elevates the flavor so much and makes for the most delicious, rich & tangy sauce that's just perfect paired with these sausage bites.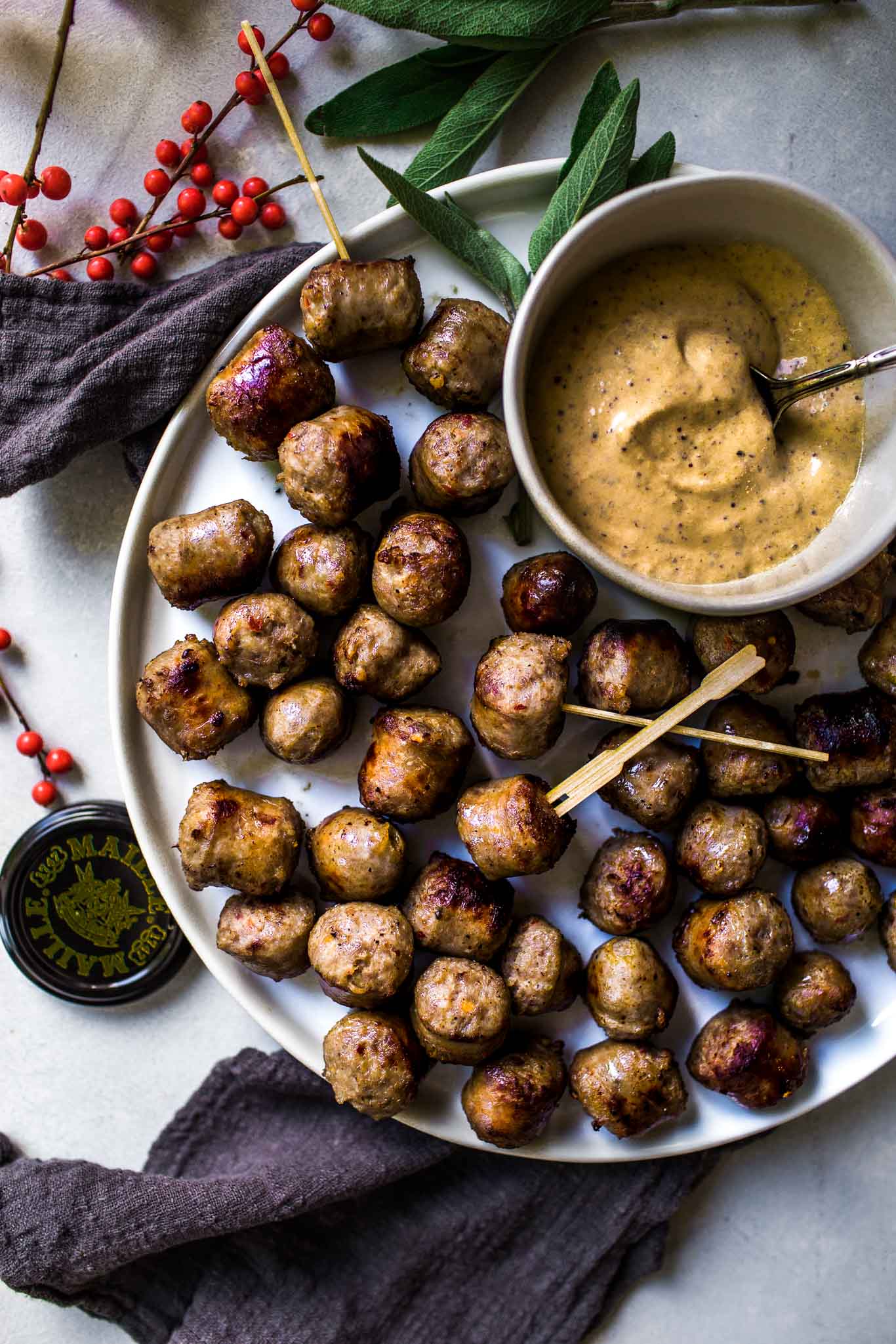 Once the sausage bites have simmered away in the white wine, I like to give them a good browning under the hot broiler. That makes them extra crispy and gives them that great golden color.
To do that, just preheat your broiler to high. Move the top oven rack so that it's 2-3 inches below the heat source. Spread the sausage bites out on a baking sheet and broil for 4-6 minutes, tossing them halfway through.
I would say that these sausage bites are the perfect party appetizer. They're super flavorful from being simmered in the wine, they're easy to skewer onto a toothpick, and everyone loves a great dipping sauce, right?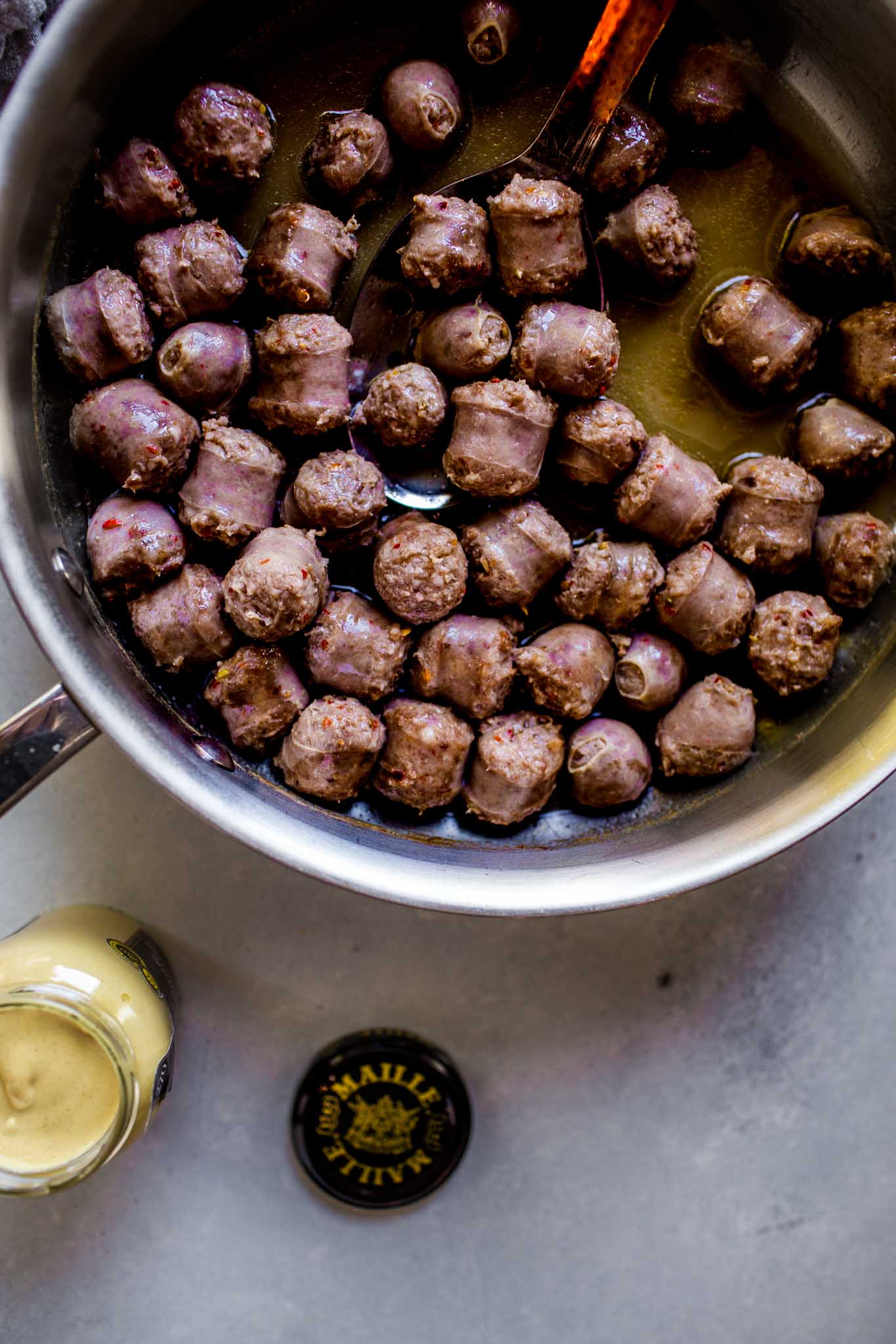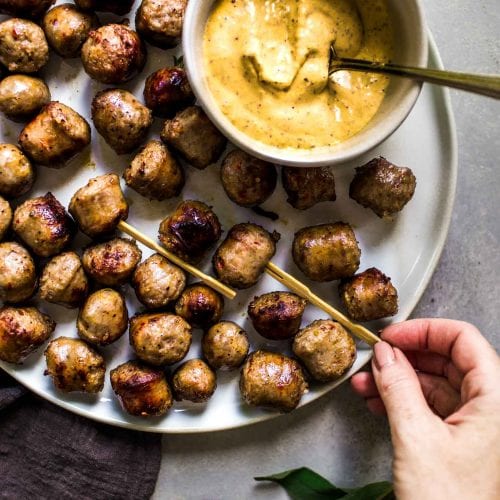 Sausage Bites Cooked in White Wine and Served with Creamy Mustard Dipping Sauce
Erin - Platings & Pairings
Ingredients
2 19-

ounce

packages Italian sausages mild or hot

cut into 1-inch pieces

1/2

bottle dry white wine
CREAMY MUSTARD DIPPING SAUCE
½

cup

sour cream

1/4

cup

Maille Dijon Originale Mustard

1-2

teaspoons

hot sauce

1

clove

garlic finely grated

Salt and pepper to taste
Instructions
Place sausage pieces in a large, deep skillet and add wine. Bring to a boil.

Reduce heat and simmer uncovered, for 20 minutes, or until fully cooked, stirring occasionally.

Meanwhile, prepare the creamy mustard dipping sauce. Combine all ingredients in a small bowl and season with salt and pepper, to taste. Cover and refrigerate, until ready to serve.

Once the sausages are cooked, remove them with a slotted spoon and place on a baking sheet.

Broil (on HIGH) for 6-8 minutes, until the sausages are browned, tossing halfway through.

Serve with toothpicks and creamy mustard dipping sauce.
Erin Rebecca
I'm Erin - a self-taught weeknight cook. I occasionally like to delve into the more complicated recipes, like homemade pasta, Cioppino, and boeuf bourguignon. But for the most part, I work full-time, come home, pour a glass of vino and start cooking away.