One of the most popular foods from the Swabia region of Germany, here is an authentic recipe for Spätzle that you can make yourself.
By Kimberly Killebrew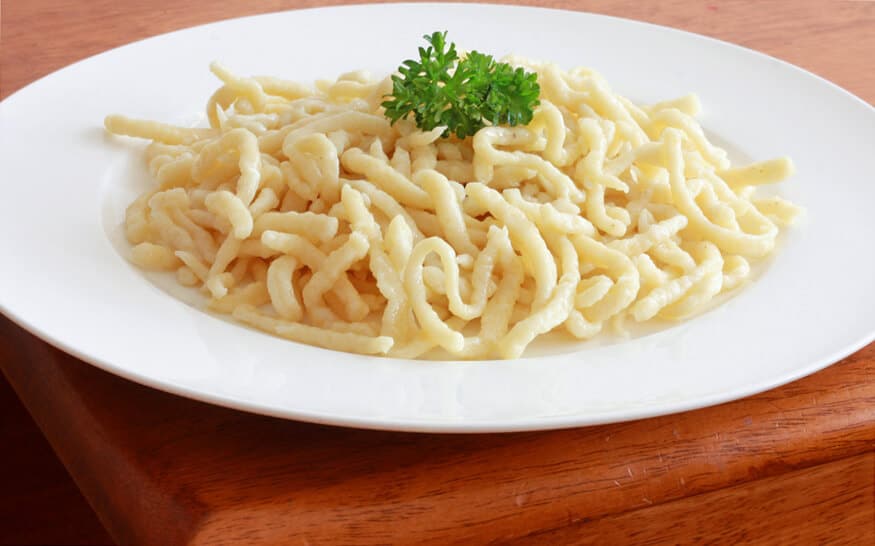 One of the most beloved foods in Germany that tourists go home talking about is Spätzle, the famous German egg noodles from the Baden-Württemberg region of southwest Germany.
This area is also known as Schwabenland, or Swabia in English. I grew up in Stuttgart, the capital of Baden-Württemberg. It is both a bustling city of industry as well as one of great beauty and impressive history.
Baden-Württemberg is home to the famous Black Forest and its cuckoo clocks, the Swabian Alb, numerous rivers, Lake Constance, and Mainau island – a unique and beautiful island with a castle in the middle of Lake Constance that sits above natural warm springs and features tropical growth, including orange and banana trees. Other famous cities in Baden-Württemberg include Heidelberg, Baden-Baden, Tübingen, Ulm, Karlsruhe, and Mannheim. The list of places to go and things to see is limitless. Needless to say, there was never a dull moment growing up there and I never took for granted the beauty of the surroundings and the richness of the culture. I get homesick whenever I think about it.
Now, back to the food!  Swabia is home to some of Germany's best food. Some, including myself, would argue it's home to the best food in all of Germany (and that's saying a lot because every region of Germany has some amazing, amazing food). Swabia is known for its soups, sauces, meats and wursts, and its salads, to name a few. Maultaschen, a unique kind of Swabian ravioli, is another popular and beloved dish and one that I'll definitely need to feature on my blog, The Daring Gourmet, at some point.
Today we're featuring Spätzle. A Swabian specialty, it is also enjoyed in Austria, Switzerland and Hungary. It is a special type of egg noodle that is enjoyed with sauces and gravies as well as  incorporated into a variety of different dishes. One example is Käsespätzle (a cheese spätzle casserole with crispy fried onions) and something that I will feature in the future on The Daring Gourmet.
So without further ado, let's get to Spätzle makin'!
Note:  This spaetzle recipe uses a stand mixer to knead the dough.  This is actually the first time I've made it that way. I've always done it by hand (you "knead" it by vigorously whipping it in a bowl with a spoon – over and over and over for around 20 minutes. Now you know why we have that stereotype of stout, muscular German women!) I decided to to try it with a stand mixer instead and it turned every bit as well (but shhhhh, I'm not allowed to admit that the old-fashioned way isn't necessarily superior).
Add the flour, salt and nutmeg the bowl of a stand mixer. Stir to combine.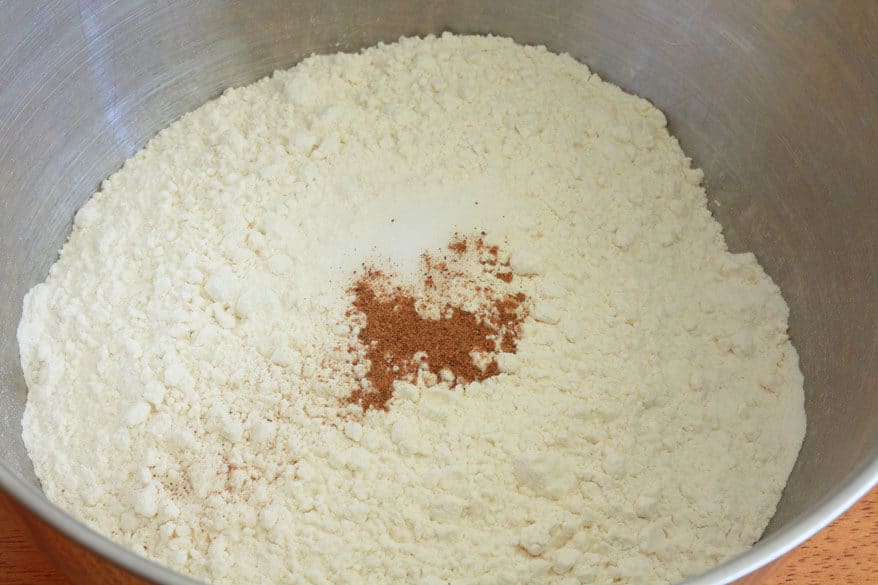 Crack four eggs into a bowl and whisk to combine.
Make a well in the center of the flour and add the eggs.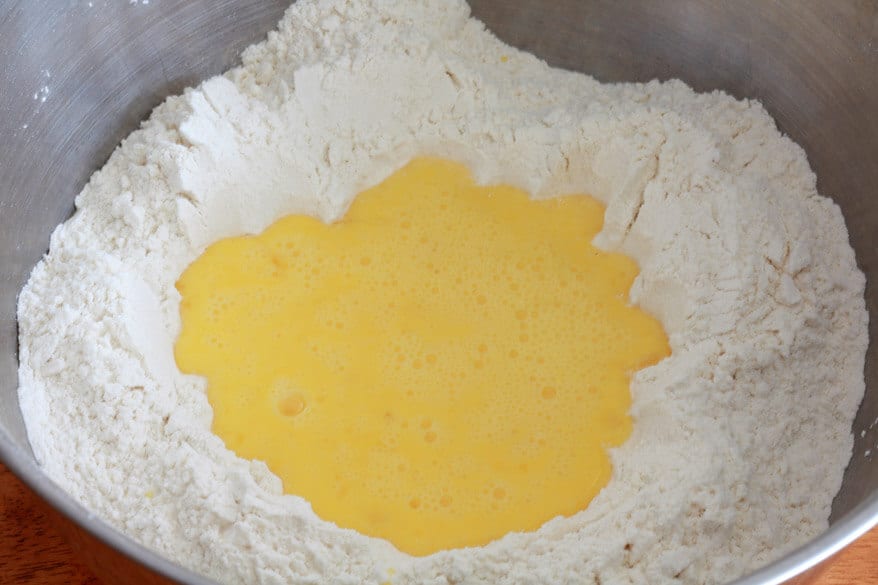 Add the milk and with the dough hook of the stand mixer attached, knead the dough on the "2" setting for 18-20 minutes. Add more flour if the mixture is too runny, or more milk if it is too stiff.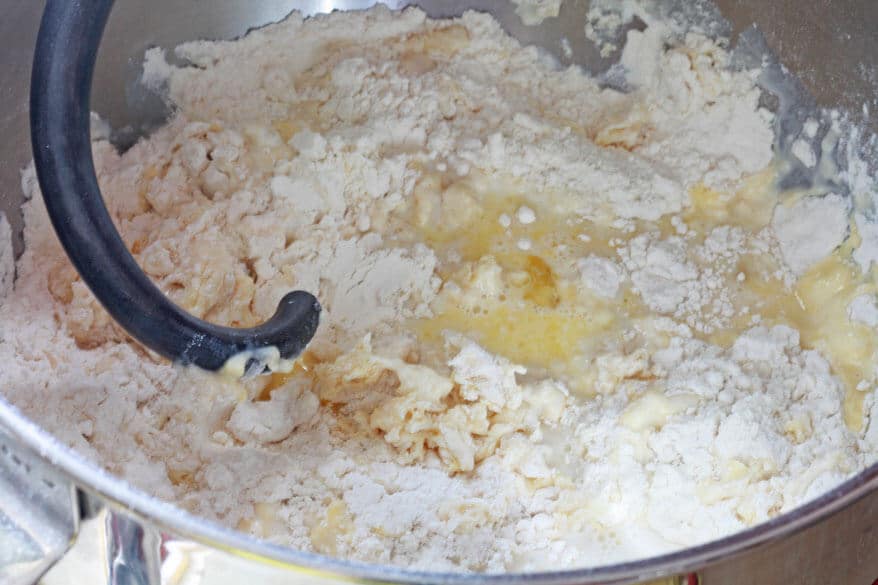 The dough is done when "bubbles" begin to form. Use a wooden spoon and scoop and pull the dough,  If bubbly holes appear, the dough is done. If not, continue kneading with the mixer for another minute or two, repeating the "test" process. See the bubble hole below?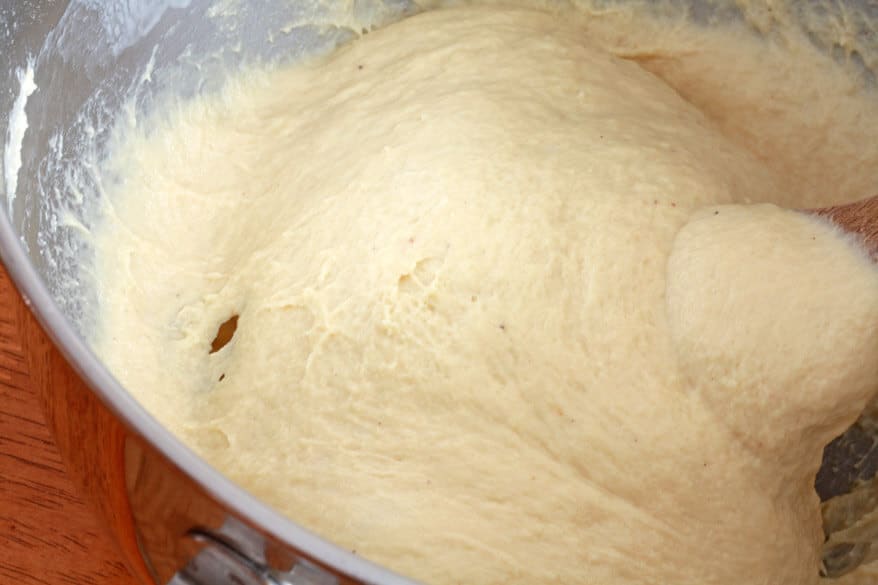 We'd better check this out again to make sure you know what to look for.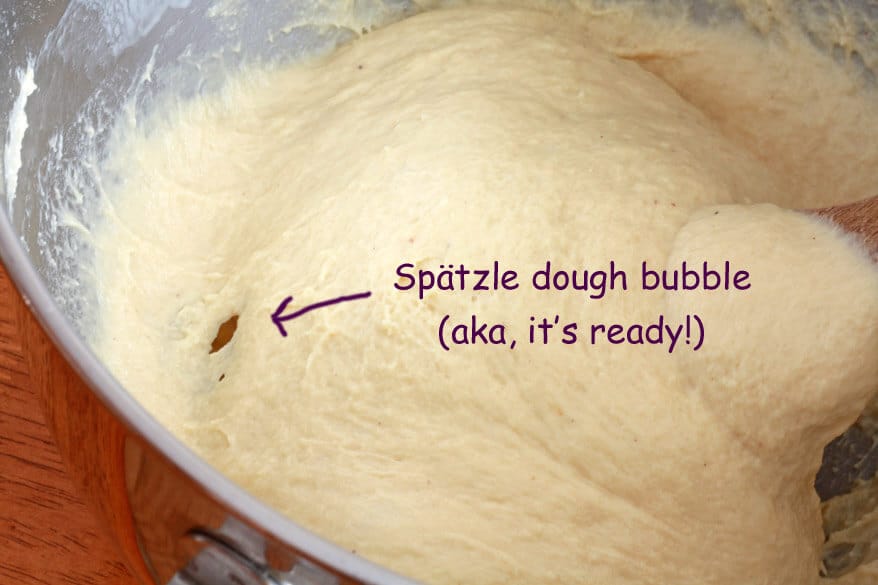 Better take another look – give the dough another stir and pull. Two holes this time!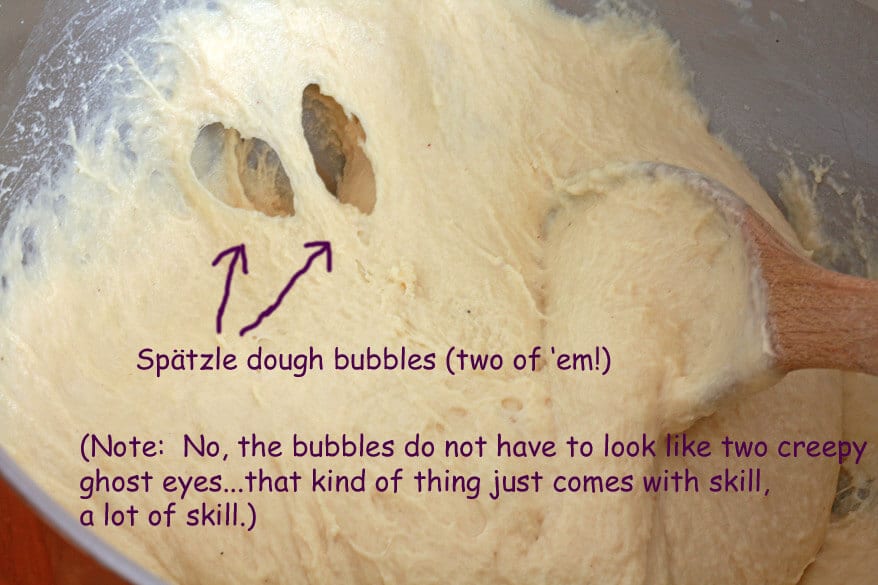 Okay, it's time to make the Spätzle! Traditionally, Spätzle was made by hand using a Spätzle Brett, or Spätzle board. You would rub a slab of dough out onto a wetted board and use a pastry cutter or long sharp knife to quickly cut off strands of the dough into simmering water. Schwabian women of previous generations were highly skilled at this and could do it so fast it would make you dizzy to watch. Nowadays most Germans use a Spätzle maker (and even more just buy it ready made at the store. It's the "convenience generation").
As I already mentioned, there are a few different kinds of Spätzle makers out there and you can find them easily online. The one below is one that I bought in Germany and it's awesome. This kind is more pricey but will also last a lifetime.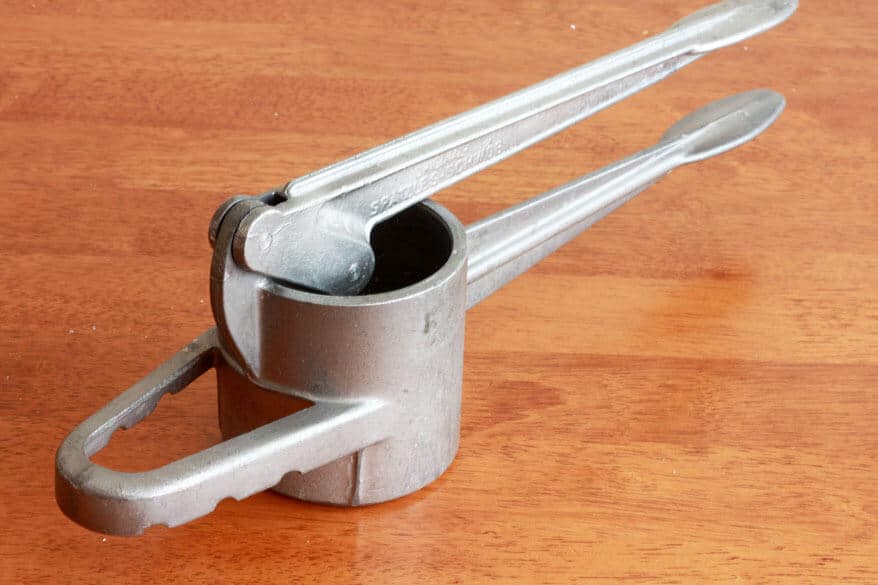 Let's zoom on that baby. The original, sturdy Spätzle maker.
See Also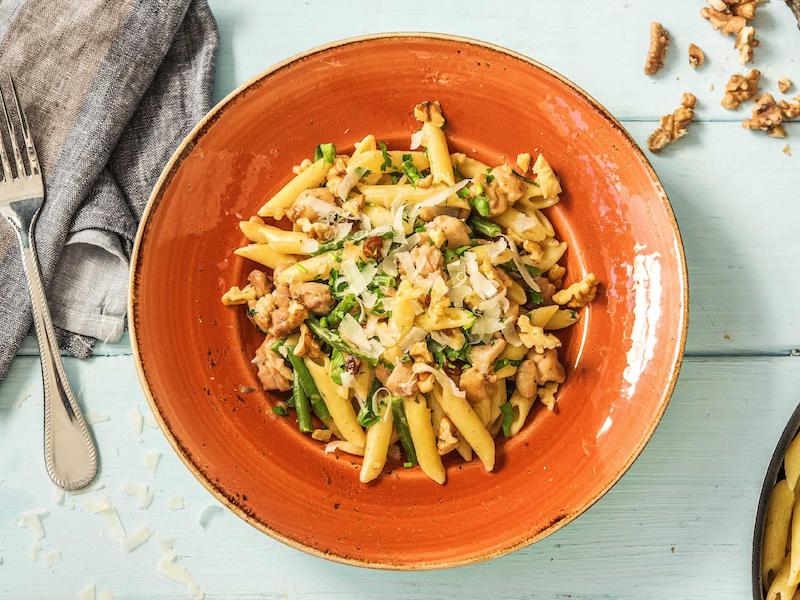 If you don't want to buy any of the ones online, you can alternatively use a colander or steamer with large holes.
You would need a sturdy object with a straight edge, like this wooden spoon.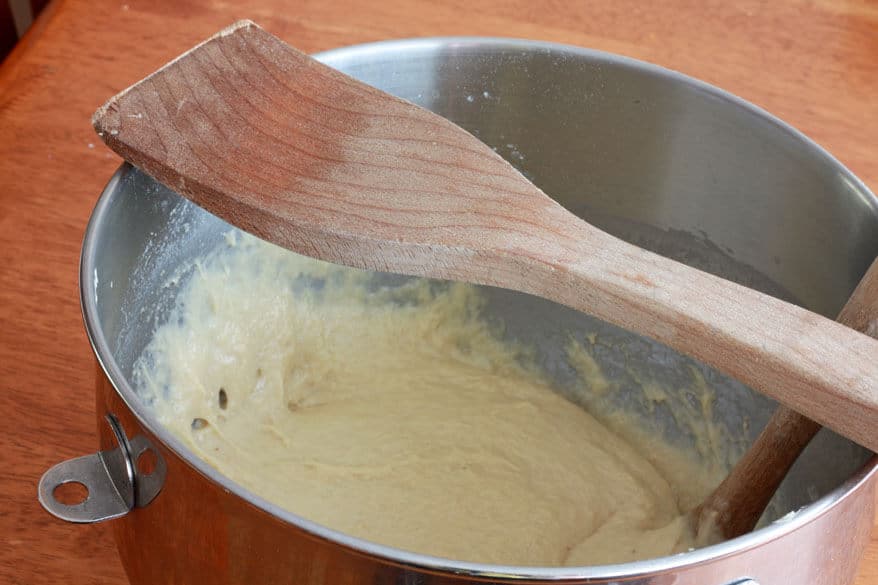 You would place some of the dough in the steamer over the simmering water and scrape the dough through the holes.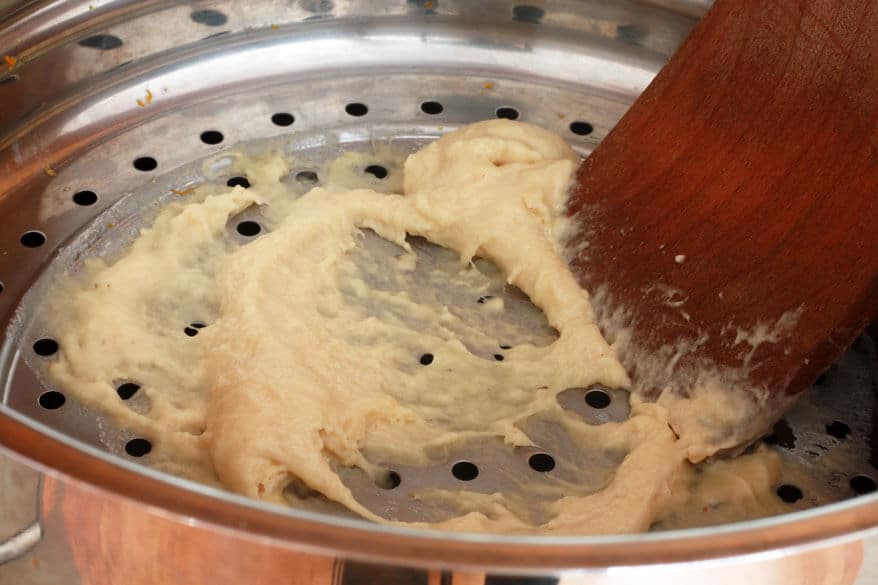 Again, there are several kinds of Spätzle makers, but I'm going to use the one below. Place it over a pot of lightly salted simmering water and scoop some dough into it.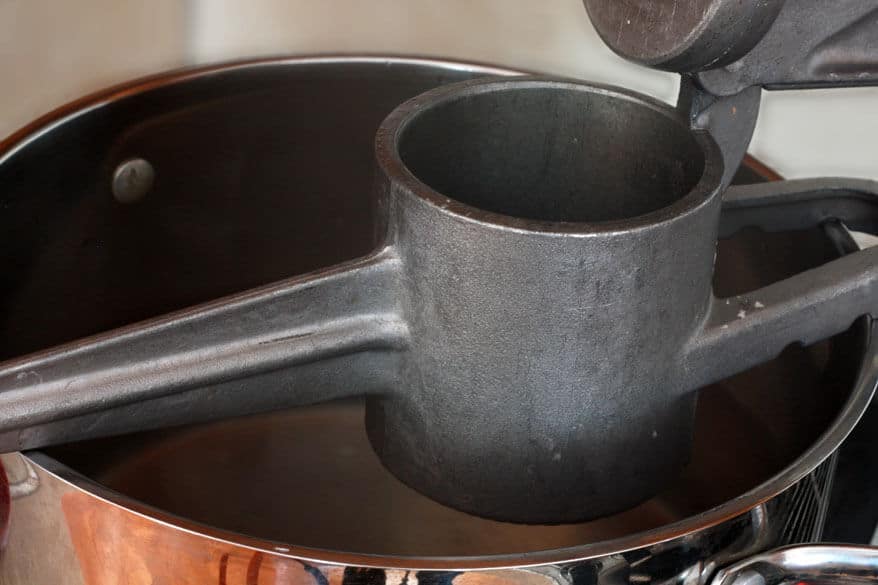 Press the Spätzle maker down to squeeze the Spätzle noodles out into the simmering water. Simmer the Spätzle for about 2-3 minutes or until they float to the top.
Using a slotted spoon, transfer the Spätzle to a colander and then immediately put them in a bowl of very cold water. This helps them firm up to the desired consistency.
Drain the Spätzle again and toss with a little oil or melted butter to keep them from sticking. Spätzle will keep in the fridge for at least a couple of days and then heated to serve. Melt some butter in a pan and toss the Spätzle in it to warm through.
Print
Homemade German Spätzle
The highly popular and beloved egg noodles from the Swabia region of southwest Germany.
Author:

Kimberly Killebrew

Prep Time:

25 mins

Cook Time:

10 mins

Total Time:

35 minutes

Yield:

4

1

x
4 cups

all-purpose flour (you can also use whole wheat flour)

1/2 teaspoon

salt

1/4 teaspoon

freshly grated nutmeg

3

large eggs

1 1/4 cup

milk
Instructions
Add the flour, salt and nutmeg to the bowl of a stand mixer. Stir to combine. Crack the eggs into a small bowl and whisk them. Make a well in the center of the flour mixture and pour the eggs in it. Add the milk. Attach a dough hook to the stand mixer and "knead" the dough for 18-20 minutes, or until bubbles appear (see pictured instructions for details).
Bring at least 2 quarts of lightly salted water to a boil, then reduce to a simmer. Using a Spätzle maker of your choice, press the noodles into the simmering water and cook for about 2-3 minutes, or until the noodles float to the top. Use a slotted spoon to transfer the noodles to a colander, and then dump the noodles in a large bowl of ice water. Drain the noodles again and toss with a little vegetable oil or melted butter.
They can be stored in the fridge for at least a couple of days and then heated to serve.
To heat, melt some butter in a large skillet and toss the Spätzle in it to heat through.
Serve with beef or pork roast, Schnitzel, pork chops, or your favorite gravy.
Kimberly Killebrew
Raised in Western Europe, widely traveled, and currently residing near Seattle with her husband and children, Kimberly loves preparing and experimenting with a large range of flavors and cuisines. This is reflected in her food blog, The Daring Gourmet, where she invites all to "tour the world through your taste buds." Passionate cook, recipe developer and photo enthusiast, her culinary repertoire includes everything from gourmet to simple comfort food, and, as she puts it, "simply downright good eats."