Black Rice with Baby Squid and King Prawns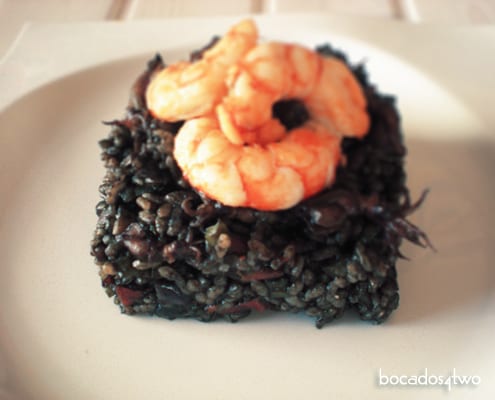 This dish has great flexibility. It can be prepared with any shellfish (mussels, clams, cockels…), seafood, and squid, cattlefish… depending on one's budget.
By Marta Nadales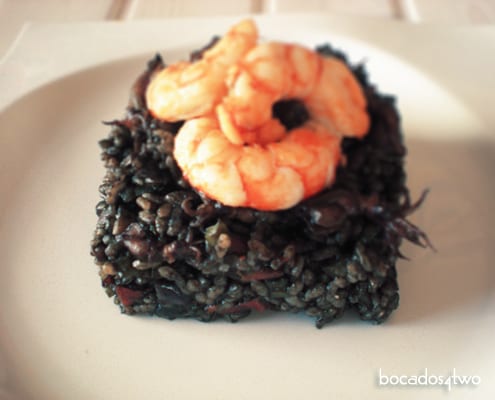 Have you ever tried black rice? I simply love it. It's one of my favourite rice dishes, it's so versatile!
I fell in love with it the first time I tried it, many years ago in a tiny Mediterranean village. Not only does it look incredible but it combines two of my favourite elements: vegetables and sea fruits. Isn't it perfect?
Besides, it has a great advantage: flexibility. It can be prepared with any shellfish (mussels, clams, cockels…), seafood, and squid, cattlefish… depending on one's budget.
It's usually served with aïoli (garlic mayonnaise) on the side. Unless you're a vampire you should try it, the flavour is astonishing!
Today I've chosen some baby squid and a few beautiful king prawns.
Would you like to give it a try?

Black Rice with Baby Squid and King Prawns
Delicious Black Rice with Baby Squid and King Prawns.
Ingredients
1 green pepper
1 red onion
1 cup bomba rice
2 ripe tomatoes, finely chopped
3 cloves of garlic
2 sachets squid ink
1l fish stock
450g baby squid
350g king prawns
1 red chili
½ cup Spanish extra-virgin olive oil
salt and pepper to taste
Instructions
Clean the baby squid, it's very important to take the cartilage out (it looks like a long thin plastic) and get rid of any sand or tiny pieces of shell (or other fish the squid might have eaten). Drain well.
Take a big pan (or paella) and stir fry the green pepper and onion, both finely chopped, with a lug of olive oil. Cook until slightly golden.
Add the tomato and let it cook (low heat) for 5 mins. Add salt and pepper to taste.
Take another pan and cook the baby squid with 2 tbsp of olive oil, salt, and 2 cloves of garlic (crushed over the squid when they're slightly golden).
Add the squid to the vegetable sauté, mix well. Add the rice and mix until it gets all the flavours.
Pour the fish stock (warm) slowly, the squid ink, and mix well.
Cook medium heat for 15min, turn off the heat and leave it to rest for 5mins.
While the rice is resting, stir-fry the king prawns with the chili, a clove of garlic (sliced) and 2 tbsp of olive oil.
Serve the rice gracefully and top it with the king prawns. It will be irresistible
Notes
Serve with aïoli (garlic mayonnaise) on the side.
Marta BocaDos
Vocational linguist and passionate foodie, Marta was born in Coruña, a beautiful city bathed by the Atlantic in NorthWest Spain, and soon developed a crush on food. She's lived in different cities by the Atlantic, Mediterranean, and also by the English Channel, which contributed to her notion of the world as a huge multicultural kitchen.Avid reader and passionate traveller, Marta can't imagine her dairy-free life without vegetables, spices, herbs and sea products. Currently living in sea-less Madrid, she claims "I need a mouthful of ocean twice a week!".