What do you eat with red curry? Well, rice of course. And what is an Idli (steamed indian rice dumplings) made of? Rice. That was the simple inspiration behind this dish.
By Shuchi Mittal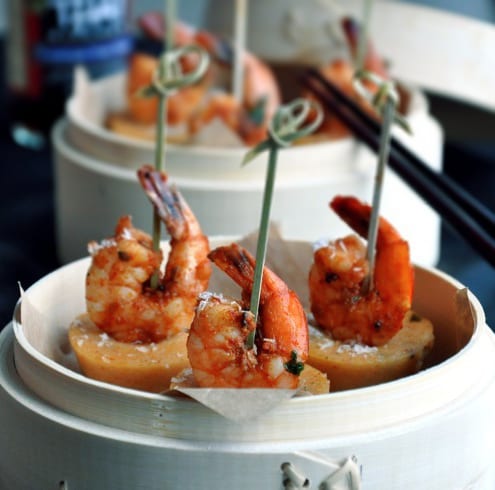 A combination of simple Thai and Indian flavors turned this into a delectable bite sized snack. Served up in little chinese bamboo steamers, these definitely brightened up my party!
Print
Shrimp Red Curry Idlis
A Thai-Indian Fusion Tapas
Author:

Shuchi Mittal

Prep Time:

24 hours

Cook Time:

30 mins

Total Time:

24 hours 30 minutes

Yield:

16

mini muffin sized Idlis

1

x
1 cup

white rice, soaked overnight

1/3 cup

coconut milk

2 tablespoons

greek yogurt

6 tablespoons

cup fine semolina

½ teaspoon

mustard seeds

½ teaspoon

cumin seeds

1 teaspoon

split chickpea or yellow lentils

½ teaspoon

garlic ginger paste

2 tablespoon

Thai red curry paste

½ cup

prawns, shelled & deveined

1 tablespoon

olive oil

1 tablespoon

fresh coriander, chopped
A pinch of asafoetida
Salt & pepper
Instructions
Blend the soaked rice to a fine paste with 1/3 cup water, and mix with the coconut milk. Keep aside for 20 minutes.
Roast the semolina in a non-stick pan till it begins to turn brown. Keep aside to cool.
Heat oil in a pan. Add the mustard and cumin seeds and cook for a few minutes. Once they begin to splutter, add the garlic ginger paste, red curry paste, all the dry spices and the prawns, along with 1/3 cup of water. Cover and cook till the prawns are cooked. Remove the prawns from the curry and keep aside. Continue to cook the curry till any excess water has been absorbed. Remove from heat and cool.
In a bowl, mix the rice paste, semolina, yogurt and red curry paste. Pour into mini idli pan and steam for 15 minutes or till a toothpick inserted in the center comes out clean. Top with the cooked prawns and serve!
Feeling unadventurous? Just substitue the rice, coconut milk, yogurt & semolina with a cup of instant idli mix (available at all indian grocery stores). Would work just as well.
The DIY steamer
Don't worry if you do not own an Idli maker – I don't either! That's the beauty of DIY remedies. You can:
Bake them at 300 F for 10-15 minutes.
Microwave them at high for 7-10 minutes. (not a big fan of this as it makes the idlis slightly harder than steaming or baking)
Make your own steamer- this is what I did. Take any deep large pan and fill a little water in it. Put a smaller cake pan (or any pan that has a flat bottom) upside down inside this to make a little stand on the water. Bring the water to boiling point. Now put the idli batter in mini muffin/cupcake pans and put that on top of the 'stand'. Cover and steam for 15-20 minutes.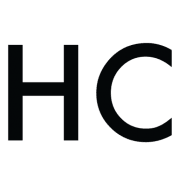 Shuchi Mittal
Shuchi cooks with the heart of a poet. Banker turned chef, she runs the 29. Private Kitchen in NYC focusing on social tasting events, dining experiences and small-scale private events. Using simple & wholesome ingredients, she likes to re-invent homemade Indian flavors into modern tapas & small plates. Her dream? To cook, feed, write, and eventually open her own communal dining cafe - with a published recipe book on the stands.