Greek yogurt is everywhere these days. Chances are, you have a container in your fridge right now. Here's an easy way to turn it into something irresistible.
By Maya Parson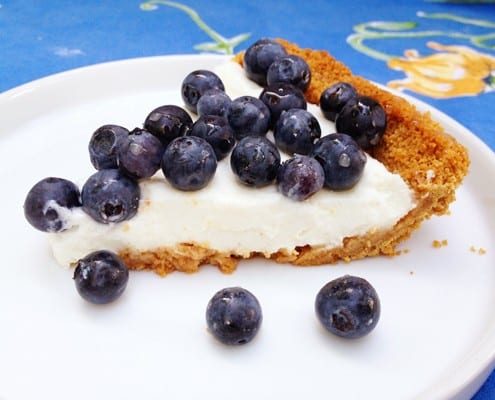 My Greek Yogurt Icebox Pie brings together the tart and refreshing flavors of yogurt and blueberries with the floral and citrus elements of coriander. The style is rustic, but the spice adds subtle complexity and a bit of sophistication. You can serve it as a summer dessert – or enjoy it for breakfast.
Coriander and blueberries are a surprisingly fabulous pairing. As Niki Segnit explains in her super useful compendium, The Flavor Thesaurus, coriander seeds and blueberries have a lot in common flavor-wise: coriander seeds actually contain a compound, linalool, that is used to create artificial blueberry flavor. And the combination of Greek yogurt and coriander is also not as odd as it might seem: Coriander is native to southern Europe and has been cultivated in Greece since at least the second millennium BC.
Other than the graham cracker crust, this pie requires no baking. It does need to chill at least 6 hours.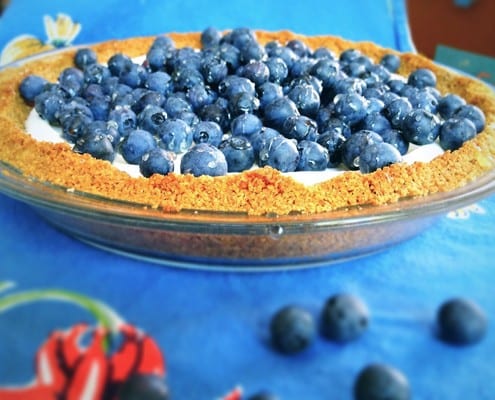 Greek Yogurt Icebox Pie with Coriander and Fresh Blueberries
A refreshing -- and surprisingly irresistible -- pie that's a cinch to make with ingredients you probably already have in your kitchen
Ingredients
Crust
12 graham crackers (1 ½ cups crumbs or 170g)
2 Tbs. (23g) packed brown sugar
¼ tsp. (1.25 mL) ground cinnamon
¼ tsp. (1.25mL) ground coriander seed
⅛ tsp. (.625 mL) salt
6 Tbs. (90g) melted butter
Filling
2 cups (.5 L) plain Greek yogurt (preferably full fat, but you can also use 2%)
⅓ cup (65g) white sugar
¼ tsp. (1.25 mL) ground coriander
1 envelope (2 ¼ tsp or 11.25 mL) plain gelatin
2 cups (280g) washed and dried fresh blueberries
Coriander Syrup
¼ cup (50 g) white sugar
2 T (30 mL) water
1 tsp. (5 mL) whole coriander seeds
Instructions
Crust
Blend all ingredients except butter in food processor to make fine crumbs.
Mix crumbs with melted butter.
Press mixture evenly into a 9 inch (23 centimeter) pie plate to form crust.
Bake 10-11 minutes at 375 degrees Fahrenheit (190 Celsius) until crust browns lightly.
Cool on rack.
Filling
Mix Greek yogurt, sugar, and ground coriander.
Quickly whisk in gelatin, eliminating any lumps.
Pour into prepared and cooled crust.
Chill at least 6 hours or overnight.
Coriander Syrup
An hour or so before serving, mix sugar and water in a small saucepan.
Add whole coriander seeds.
Stir until sugar dissolves.
Bring to a boil, then remove from heat.
Allow to cool thoroughly, then strain to remove coriander.
Assemble Pie
Top yogurt with blueberries.
Drizzle with coriander syrup.