[adrotate banner="39″]
Use up odd leftovers with an easy hash complete with a runny egg. Top with grated cheese and hot sauce for a filling breakfast or a quick dinner.
By
Taylor Kadlec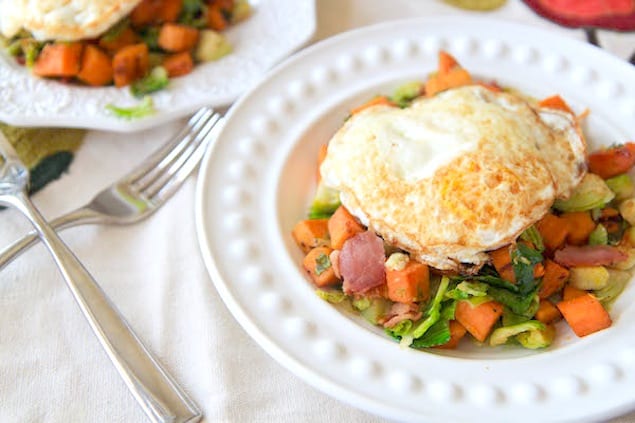 On weeknights when Marc is working and I'm faced with cooking for one, nine times out of ten, my dinner of choice is some sort of veggie hash with an egg or two on top. Sometimes I'll throw some leftover meat in there or work around leftovers that we have, but my all-time favorite veggie combination is sweet potatoes and brussels sprouts.
So when Safest Choice Eggs wanted me to create a new recipe using their eggs, I knew it had to be a hash. The combination of my favorite veggies along with a runny fried egg just cannot be beat. Throw some Parmesan cheese and Sriracha on top and I am one happy gal.
The great thing about Safest Choice Eggs is that the yolks can be eaten runny in this hash without any concern of getting Salmonella. Whereas most eggs in the grocery stores are unpasteurized, Safest Choice Eggs goes through an all-natural egg pasteruization process which eliminates the risk of Salmonella in eggs from the very start. This means you can even sneak a spoonful or two of cookie dough without fear of getting sick. Or make this hash with peace of mind. I recommend making the hash and eating the cookie dough for dessert.
Equally important, they taste great, too. The pasteurization process doesn't change the nutrition or flavor of the eggs and in fact, Safest Choice Eggs have earned the Seal of Approval for exceptional flavor and culinary performance from the nation's largest organization of professional chefs, the American Culinary Federation (ACF).
Of course, you could switch this hash up lots of ways to suit your likings. You could use red potatoes, squash, peppers, or really any of your favorite veggies, along with any kind of meat. Sausage, chorizo, and steak all sound like great options to me! Just don't forget the runny egg.

An EGG For Every Occasion — Sweet Potato, Brussels Sprouts, and Bacon Hash
Use up odd leftovers with an easy hash complete with a runny egg. Top with grated cheese and hot sauce for a filling breakfast or a quick dinner.
Ingredients
4 slices bacon
1 large or 2 small sweet potatoes
1½ cups brussels sprouts, chopped
2 cloves garlic, minced
salt and pepper, to taste
1 tbsp canola oil
2 Safest Choice Eggs
Instructions
In a large skillet (I used my cast-iron), cook bacon until desired crispiness.
Remove from pan and drain all but 1 tbsp of the bacon grease.
Add sweet potatoes, stirring to coat in bacon grease, and cook over medium-high heat for 5-7 minutes, until they start to soften.
Add brussels sprouts and garlic, season with salt and pepper, and cook another 5 minutes. During this time, I like to add a bit of water (1-2 tablespoons) and put a lid on it so the brussels sprouts are steamed.
Return bacon to pan and toss well to combine. Divide between two plates, then cook your eggs.
Add 1 tbsp of canola oil to skillet. Once hot, crack open your eggs.
For over easy eggs, cook ~2 minutes, until egg whites become opaque and the eggs are firm enough to flip. Flip to other side and cook another 1-2 minutes.
For sunny side up, heat oil over high heat.
Add eggs and cook until egg whites are opaque. You can also cover the eggs for a minute to help set the egg whites.
  [adrotate banner="38″]
Taylor Kadlec
Taylor Kadlec is a lover of all things food including baking, cooking, and of course, eating. She is a self-taught baker and cook, and she shares her kitchen adventures on her blog Greens & Chocolate, where healthy cooking meets sinful indulgence.