Sponsored Post: Check out these easy entertaining tips for all your winter holidays and dinner parties, complete with charcuterie and pâté. This is a sponsored post in collaboration with Les Trois Petits Cochons.
This holiday season, take your charcuterie board to a whole new exciting level. You can even ditch the physical board and dish out this elaborate spread of deliciousness.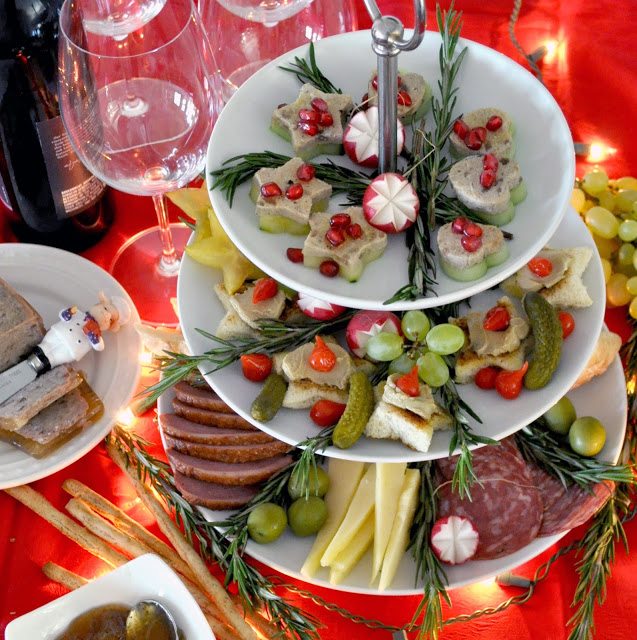 If you are looking to outshine every other appetizer at your next holiday party, look no farther.
This three-tier charcuterie tray it's not your usual and boring board. It's an elegant and fancy creation. It has three layers of fun and classy bite-size delicacies. And best of all, it's so easy to pull together! That is thanks to Les Trois Petites Cochons (Three Little Pigs) with their wide variety of high-quality products and their award-winning, all natural pâté that are sure to satisfy every possible cravings.
Trust me, this is the appetizer that your guests will be talking about!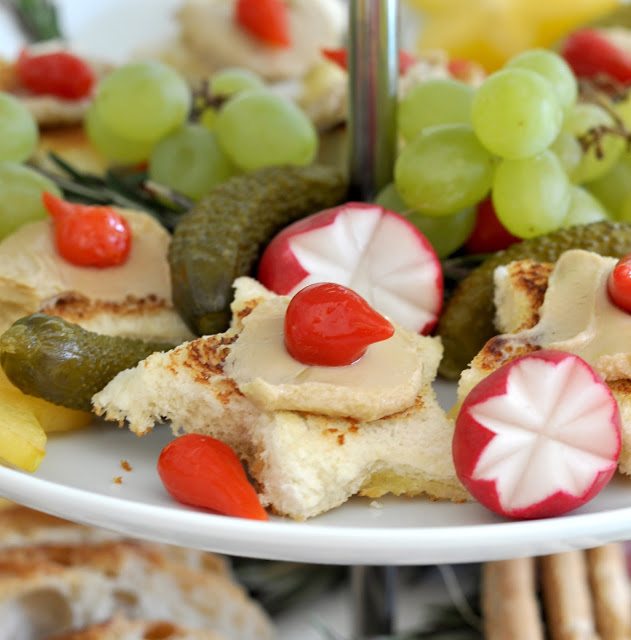 Each level of this charcuterie spread has it's own and unique flavor. All combined and perfectly decorated for the holidays.
So let's start with a simple way to make the tray more festive. I used rosemary sprigs on each level, and lots of other red edible decorations. You can choose from adorable mini sweet peppers, to pomegranate seeds, and cut-out radish. They not only add a Christmassy color to the tray, but also a delicious, sweet or savory, accent to it.
For the lower level I used tasty cave-aged gruyère cheese combined with sliced duck breast and air dried sausage. But you can also add your choice of cheese (buttery brie, spicy gorgonzola or a milder fontina cheese), and your favorite cut meat. Three Little Pigs offers a wide variety of charcuterie (chorizo, jambon de Paris, jambon sec …). You can check them out here and make your pick.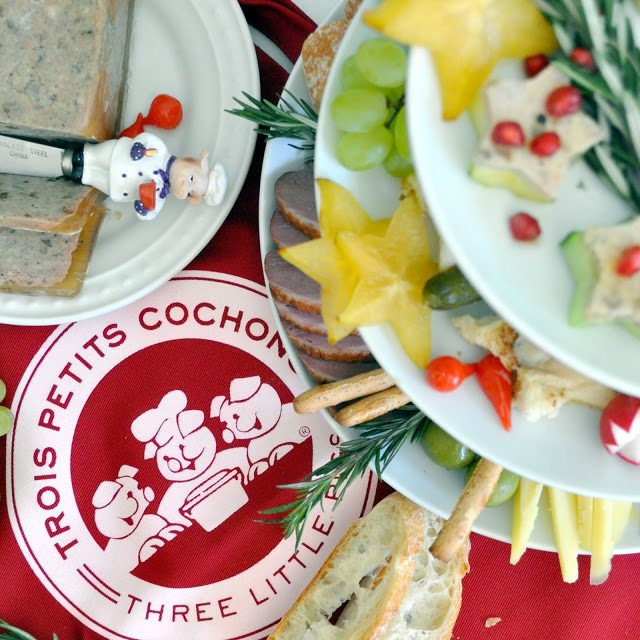 Make sure to complement your selection of cheese and meat with tasty olives (Sicilians and Kalamata are some of my favorites), and a choice of freshly baked bread, breadsticks and crackers in all shapes and flavors.
Have fun with it and make sure to have enough for everybody.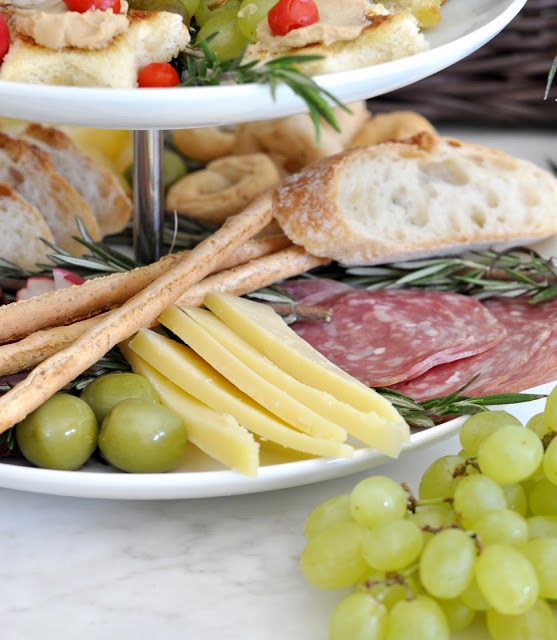 The second level of the tray is probably my favorite. Who doesn't love fois gras crostini anyways?! Made with small bites of bread slices, brushed with extra virgin olive oil and grilled to perfections, and topped with a thin layer of rich and flavorful, pure fois gras de canard. Oh-so good!
I've cut my bread crostini with a star shaped cookie cutter for a more festive look. But you might want to just cut the bread in little square or diamond shapes, especially if you are making a lot, to avoid wasting too many cutouts.
When serving fois gras, remember to remove it from the refrigerator 30 minutes prior to serving. You can spread on the toasted bread like I did, or unmold and cut into small sections and serve with the bread on the side.
See Also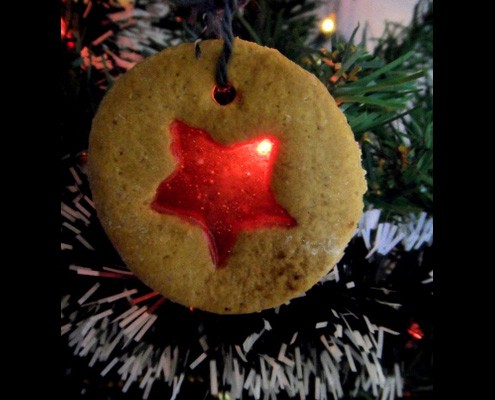 Don't forget to surround the crostini with fresh fruit, like grapes or star fruit, or sour baby gherkins.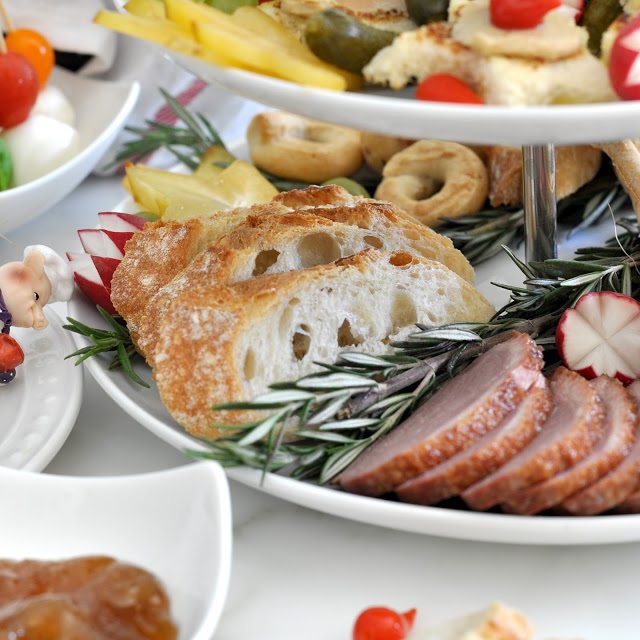 For the third tier, I've made for you these snazzy cucumber bites, light and fresh, topped with p?té aux pommes et cidre and pomegranate seed all drizzled with vinaigrette. Make sure to check out the recipe below, and see how easy they are to make.
These bites are so tasty that it will be hard to stop at just one … or five! As we say in Italian, "uno tira l'altro" ("one leads to another"). Once you have one, you must have one more! Enjoy!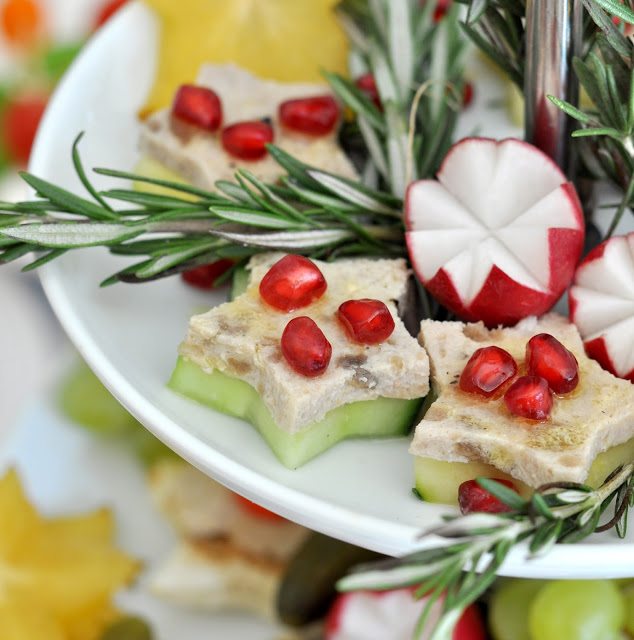 Print

How to Create an Elaborate Charcuterie Spread
---
Description
This holiday season take your charcuterie board to a whole new exciting level. You can even ditch the physical board and dish out this elaborate spread of deliciousness.
---
FIRST LEVEL:
sliced saucisson sec (or other cut meat)
gruyère cheese (or your favorite cheese)
smoked duck breast (sliced)
bread (like baguette cut in slices, crackers and/or breadsticks)
green or your favorite olives
rosemary sprigs and radish to decorate
SECOND LEVEL:
bread slices
bloc de foie gras de canard
petits poivrons (sweet mini peppers)
olive oil
cornichons (baby sour gherkins)
green grapes or other fruit to decorate
THIRD LEVEL:
2

large cucumbers

1

package of organic pâté aux pommes et cidre

2 tablespoons

of extra virgin olive oil

1/2 tablespoon

of white vinegar

1/2 tablespoon

of lemon juice

1/2 teaspoon

of moutarde de Dijon

1/2 teaspoon

of honey
pomegranate seeds
sea salt and black pepper (freshly ground)
---
Instructions
Arrange the rosemary sprigs around each level.
For the FIRST LEVEL, slice the duck breast and bread, and arrange the ingredients around the plate.
For the SECOND LEVEL, drizzle the bread on both side with a little olive oil. And toast on both sides on a frying or grilling pan. If you'd like, cut the bread in a star shape (or round) with a cookie cutter. Spread some foie gras on the bread, and top with a sweet mini peppers. Decorate the level with more mini peppers, gherkins and fruit.
For the THIRD LEVEL:
Make the vinaigrette: whisk olive oil, vinegar, lemon juice, mustard, honey, salt and pepper. Mix well. Feel free to add more vinegar, lemon or mustard to taste. Set aside.
Slice the cucumber into about 1/4 inch (6 mm) thick slices. You should have about 18 to 20 slices, but it varies based on the size of your cucumbers.
Cut each slice with a cookie cutter that fits your slice, in any fun shape you have (I did star).
Use the same cookie cutter to cut the pâté aux pommes et cidre. Cut each slice in half or three parts, to make thinner slices.
Top each cucumber slice with a piece of pâté. Sprinkle lightly with freshly grated sea salt
Drizzle with vinaigrette and decorate with pomegranate seed.
Serve on your three level stand and enjoy!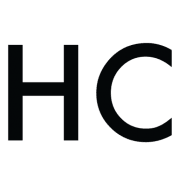 Manuela Mazzocco
Born and raised in Venice, Italy, Manuela now lives with her husband and two children in Los Angeles, California. In her blog, Cooking with Manuela, she strives to share her passion for Italian food. As a mom of two young boys, most of her dinner preparations are done while checking homework, quizzing for science tests, and looking for Lego pieces. Her step-by-step recipes help readers create delicious food while on a busy schedule. There is nothing as special as ending your day with your family or friends sharing a good conversation and a tasty homemade meal.