Sponsored Post: Whether you are hosting a wine party or looking for the perfect pairing for your dinner party menu, we've teamed up with Sonoma-Cutrer to provide wine inspiration for your next gathering.
Serve up this elegant duck confit crostini appetizer slathered with creamy parsnip puree and sweet fig jam. It can be done in just 30 minutes and ready to pair with a bottle of Pinot Noir.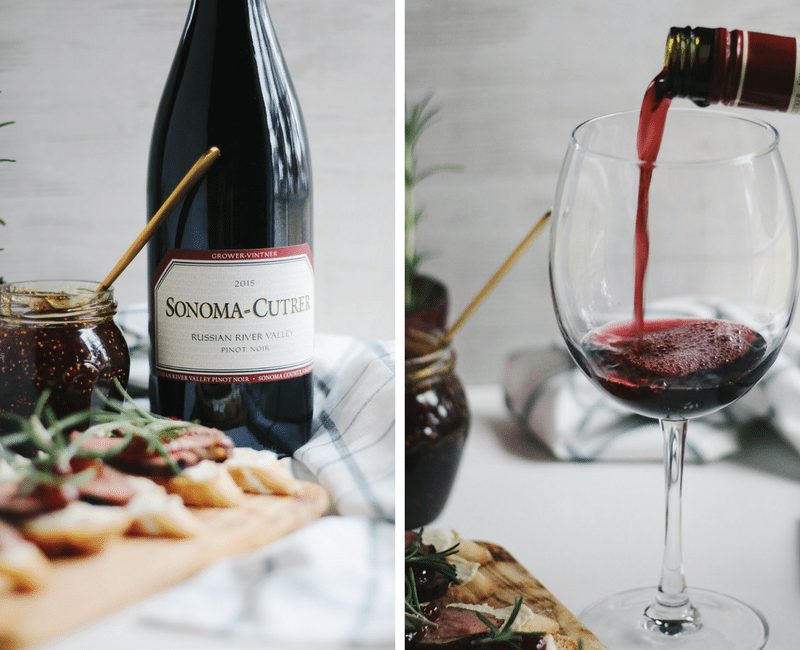 These Duck Crostini are a bit extra, I suppose. They're elegant, delicious, and look stunning when served.
People may ooh and aah over them, but they definitely will not know that you put these together in under 30 minutes with minimal effort. And I won't tell them.
I love throwing parties and any excuse to celebrate is a good one in my book. In fact, I have a bottle of bubbly chilling in the fridge for tomorrow (hopefully) when I finish my work. I've been absolutely crammed the past two weeks but it's for good reason. I'm trying to get everything done before Thursday, when I fly home for my cousin's wedding, in which I'm Maid of Honor. And of course when I'm home it's going to be wedding, parties, spa days, dancing, wine, champagne, celebrating my best friend's birthday in Manhattan, family Thanksgiving, and more wine and champagne.
So much to celebrate.
It's always nice to be back home during the holidays, especially Thanksgiving. I've had many Thanksgivings lately with one sad little turkey breast, since it's just been Ryan and I for several years.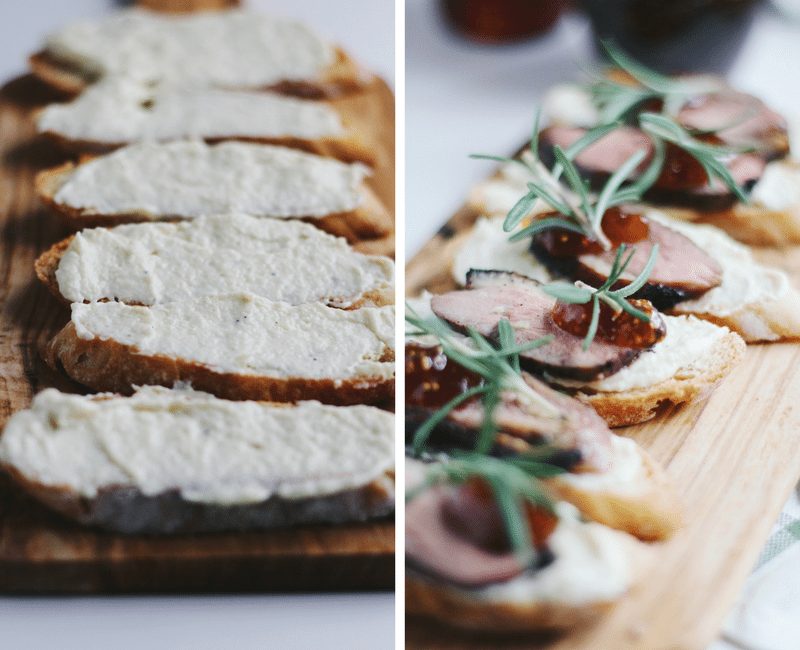 This Duck Confit Crostini appetizer would be just perfect for Thanksgiving.
Homemade crostini is a snap to make, and always taste better than store-bought. Creamy, buttery parsnip puree forms the ideal bed for rich duck confit. Fig jam and fresh rosemary balance everything out to create a festive, extremely flavorful finger food.
Making duck confit is a process, so buying it is how I save time here. Many local grocers, natural stores, and artisan grocers carry it. I can find duck confit legs or cooked duck breast at my local co-op and grocery store, and sometimes I even order it off of Amazon. My local grocery store sells an orange-marinated cooked breast, which is lovely in this recipe, too.
If you can't find/aren't a fan of duck, these crostini are delicious with thin slices of Filet Mignon.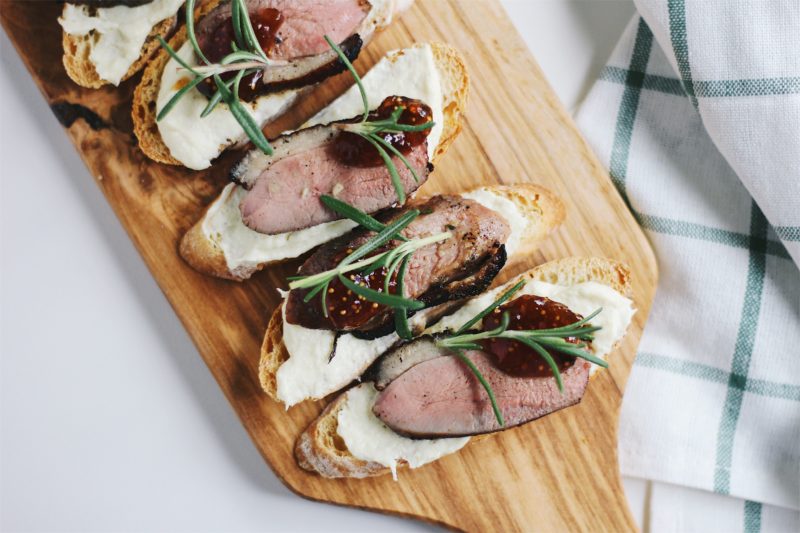 Making and serving something as elegant and complex as these Duck Confit Crostini takes me back to my restaurant days. These definitely make me want to celebrate, and open an amazing bottle of wine.
My 'special occasion' wine has to be Sonoma-Cutrer. My mom and I are especially huge fans of this brand, and we've never tried a bottle we didn't love.
Since Pinot Noir holds a special place in my heart, their Vine Hill and Russian River Valley Pinot Noir are two of my absolute favorites. Both are silky and juicy, with tasting notes of cola, blackberry, and hints of barrel spice. This wine pairs beautifully here with the earthy parsnips, fragrant rosemary, and, of course, the duck.
You can learn more about the winemaking process and details of these extraordinary wines on their website, and even order wine online to have it shipped straight to your door. I highly recommend them for your holiday festivities!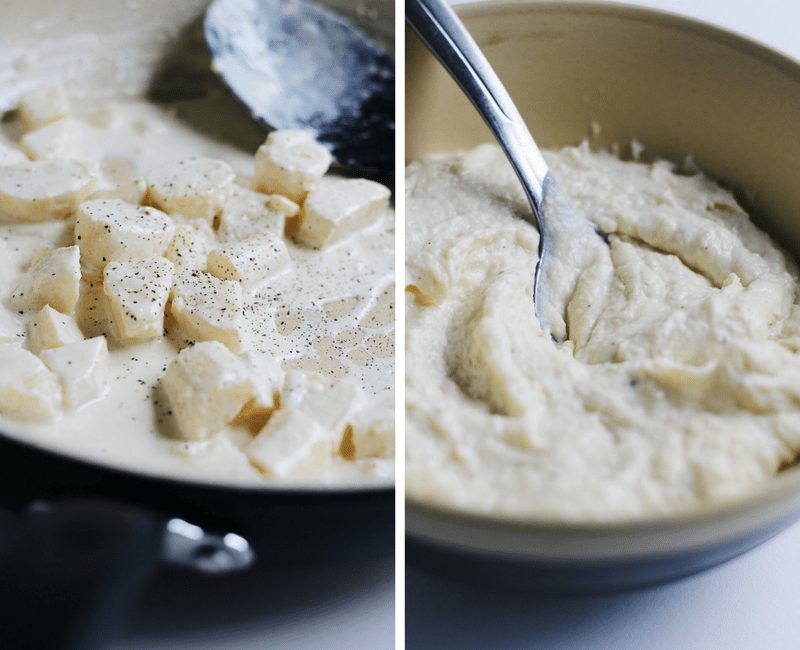 See Also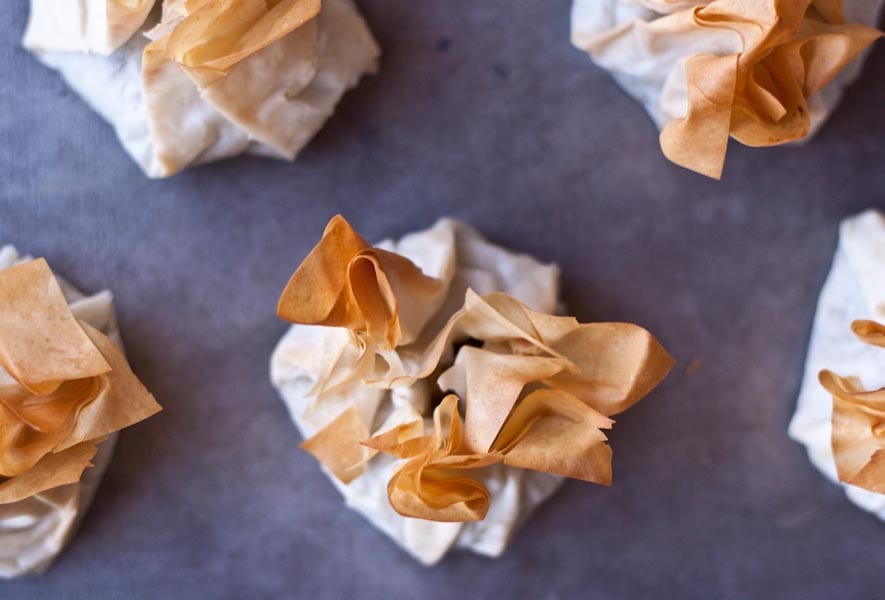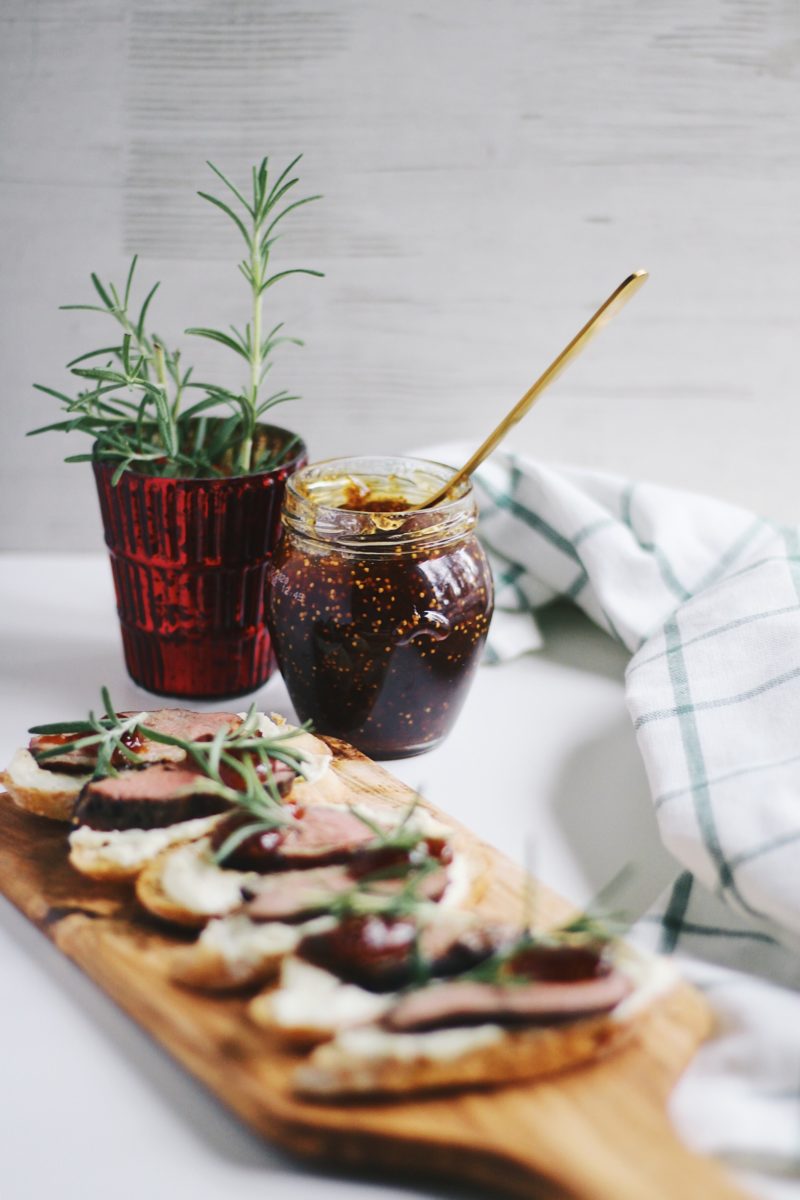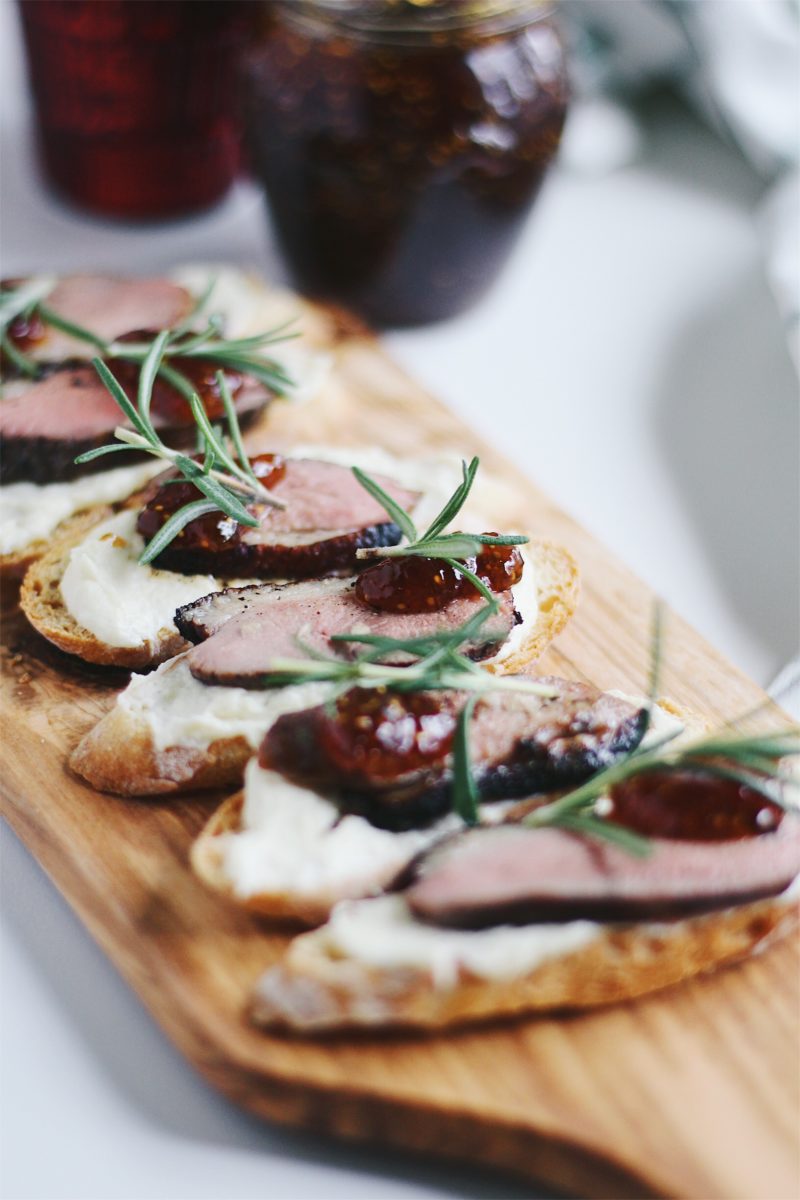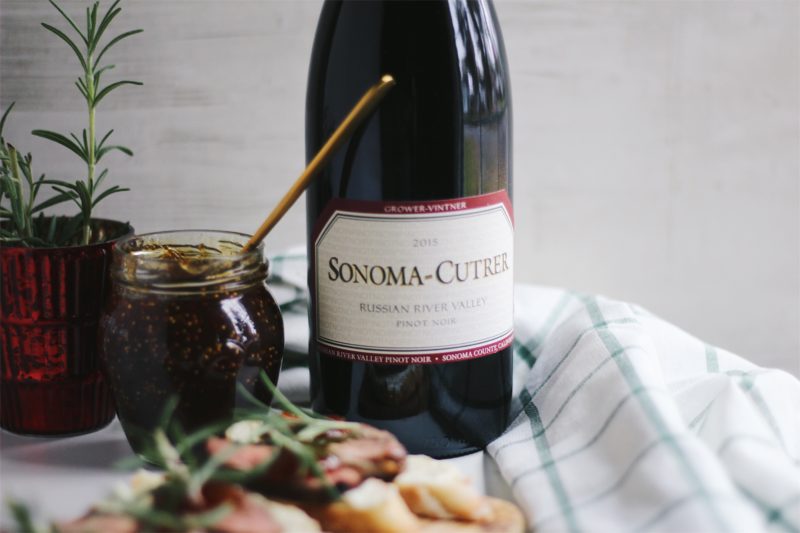 Giving wine this holiday season? Check out these tips to make the gift especially unique and thoughtful.
Print

Parsnips Puree, Fig Jam and Duck Confit Crostini with Pinot Noir Wine
---
Description
Serve up this elegant duck confit crostini appetizer slathered with creamy parsnip puree and sweet fig jam. It can be done in just 30 minutes and ready to pair with a bottle of Pinot Noir.
---
12 ounces

duck leg confit or cooked duck breast
Fig spread or fig preserves

1

French baguette
Olive oil
Sea salt + pepper
Fresh rosemary
FOR THE PARSNIP PUREE:
8 ounces

parsnips (peeled and small-cubed)

1 cup

Half and Half

2

garlic cloves (minced)

2 tablespoons

butter
Sea salt + pepper
---
Instructions
Make the parsnip puree. In a small pot, combine the parsnips, Half and Half, garlic cloves, butter, and sea salt and pepper to taste. Cover, bring to a simmer, and cook until the parsnips are completely softened. A knife should pierce through them easily.
If there is still a lot of liquid when the parsnips are fully cooked, uncover and reduce some of the liquid. Puree the mixture in a blender until smooth and creamy.
Make the crostini. Preheat oven to 350 degrees F. Slice the baguette into even 1/4? thick slices. Brush both sides with olive oil and season with sea salt and pepper. Arrange in an even layer on baking sheets and cook until golden (15-20 minutes), rotating the pans halfway through.
Assemble the crostini. Heat the duck confit or duck breast. Spread the bottom of the crostini with parsnip puree. Top with a slice of the duck confit. Garnish with a small dollop of fig preserves and fresh rosemary. Enjoy!
Notes
The parsnip puree can be made 1-2 days beforehand. Simply reheat before serving.
Tiffany La Forge
Professional Pastry Chef and food writer, exploring the world and all of its culinary adventures. Parsnips + Pastries is a food blog about seasonal produce, healthy recipes, and the occasional sweet indulgence. It also offers DIY, tips, and tricks to help you live your happiest, healthiest life.