Coleslaw is so much better when the cabbage isn't completely raw.
By Mitch Weinstein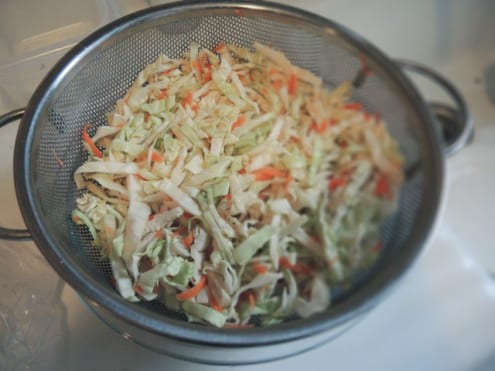 Cabbage – might it be the next "hot" vegetable? Of course, I'm not talking hot as in, you know, heat; rather – I'm wondering what vegetable is about to appear on every effin restaurant menu in the world? The next kale…oh, excuse me, Tuscan kale. The next brussels sprout. That vegetable. People are guessing rutabaga, but that just makes me laugh (so do turnips). And what's that other one…kohlrabi? These days you can't walk through Chinatown without seeing someone selling kohlrabi out of the back of their car or from a carton on the street – which is funny since its other name is German turnip.
Actually, my guess for the next hot veg is cauliflower – but that's just me, and in any event this post is gonna be about cabbage – even though it's already past St. Patrick's Day and everyone who's anyone has already written everything there is to write about cabbage. 
So let's talk coleslaw. Coleslaw made from cabbage. Not fennel. Not apples. Not, ummm, kohlrabi – though I'm sure
 that 
would be good. No – let's talk classic old-school coleslaw; the stuff they used to put on every table in every Jewish deli in the world – though in that case it was a sweet and sour version. Nevertheless…
This past Sunday, like everyone else in the world, Mark Bittman wrote about cabbage in the NY Times' Magazine section. You know, one of those articles he writes about a dozen different ways to eat this, a million ways to cook that, yada, yada, yada. And one of the ways he suggests to eat cabbage is raw. Now, I'm telling you folks – and with all due respect to Bitty – raw cabbage really sucks. There is nothing good about it. At all. Rabbits run from it. But there's a little trick I learned about 20 years ago, from a very good source, and that's to cook your slaw cabbage – with salt. Or in other words, pickle that cabbage.
All the watery stuff that you usually see in the bottom of a container of coleslaw has been drawn out…you know, the stuff that's called water. The cabbage is still plenty crisp; it's just not raw and it's so much better. Also, and this is key, the cabbage now will absorb a lot of whatever dressing you decide to use. Don't ask me how – that's a whole science project, and I get enough agita just trying to read through Modernist Cuisine.
See Also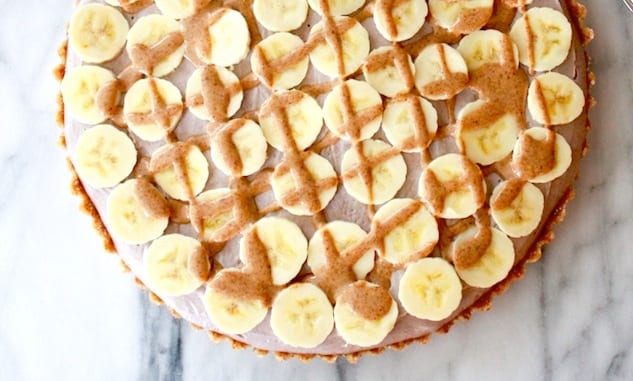 I like a dressing that's sort of sweet, sort of tart and a little creamy. So in this case, I used a mayo based dressing with celery seed thrown in for good measure. Oh, and a good handful or two of chopped parsley, since it makes it look that much more professional…
By the way, there are plenty of other delicious things to make with cabbage – steam it, boil it, roast it (why not?), braise it, saute it…whatever. Just don't eat it raw – even if the NY Times say to.
Print
Coleslaw
---
Author:

Mitch Weinstein

Total Time:

20 minutes

Yield:

2

1

x
Description
Coleslaw is so much better when the cabbage isn't completely raw.
---
Coleslaw
2

lbs. cabbage, shredded (red and green are nice together)

1

large carrot, shredded

1

T. kosher salt
Dressing
1/2

–

3/4

cup mayo

1/4 cup

vinegar (rice wine, white wine, etc. Don't use crap vinegar)

2

T. sugar

1/2 tsp

. celery seed

1/2 tsp

. freshly ground pepper

2

T. chopped parsley
---
Instructions
Coleslaw
Toss cabbage(s)/carrots with salt. Work that salt in there and then cover the colander with a plate and put a heavy can on top of that plate. You're trying to press the liquid out of the cabbage. Let it sit for a good 3 – 4 hours, then squeeze dry.
Dressing
After squeezing cabbage dry, toss with dressing. Any dressing you decide, but this one will give you an almost classic deli-style coleslaw, only for the better.
Prep Time:

10 mins

Cook Time:

10 mins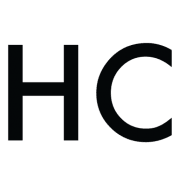 Mitch Weinstein
Mitch Weinstein is an avid seeker of good food, culinary school grad and writer of the blog Tasty Travails. When not cooking at home, he is on the hunt for that next delicious restaurant meal, great market or maybe even a cocktail. He regularly contributes to the food and drink forums on mouthfulsfood.com, eGullet.org, Chowhound.com and others.