Balanced in fresh flavor and texture, this is a California style brunch.
By Olivia Caminiti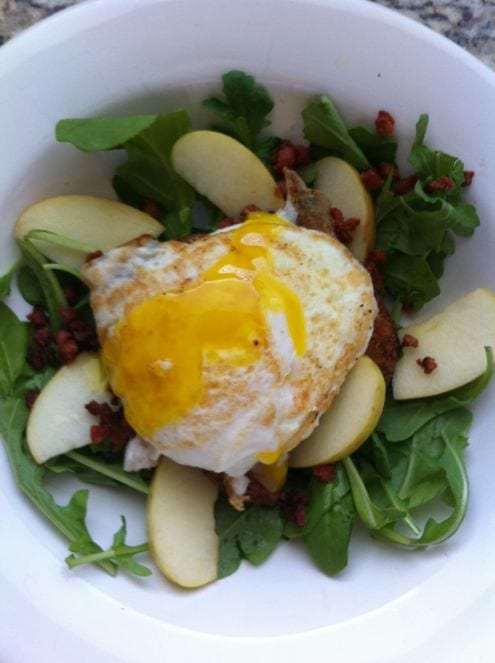 Flavor is as important as the texture and when using the freshest of ingredients this is easy to achieve. Serving as a perfect brunch item, a breakfast nest is in perfect balance. Hiding under the runny egg is a crispy hash-brown topped with a warmed honey flavor goat cheese. The saltiness of the pancetta helps highlight the sweetness of the apple peppered by fresh arugula. The last piece to tip the scale into balance is a runny egg to give all the ingredients the sauce they were missing.
Balanced in fresh flavor and texture, this is a California style brunch.
Ingredients
½ cup (50 grams) baby arugula
½ a Fuji apple, sliced
1 egg
1 Trader Joe's hash brown (or make your own like: http://simplyrecipes.com/recipes/crispy_hash_browns/ )
3 Tbls. (1.5oz) vegetable oil
1 Tbls. (.5oz) honey flavor goat cheese
3 Tbls. (19 grams) pancetta, diced
salt & pepper egg and hash-brown to taste
Instructions
Rinse arugula and Fuji apple. Dry and make a bed arugula on the plate. Slice half the apple into ¼" slices and fan on top of arugula.
Heat a small frying pan over medium heat and add pancetta. Cook for 3-4 minutes then remove with a slotted spoon and place on a paper towel lined plate. Reserve.
In the same pan, heat 2 Tbls. vegetable oil over medium heat. Carefully place in hash-brown hot oil and fry for 2 minutes on each side till golden brown. Remove to a paper towel lined plate and season with a pinch of salt and pepper. Reserve.
Meanwhile, sprinkle cooked pancetta over the bed of apple and arugula.
In the same pan heat remaining 1 Tbls. of vegetable oil. over medium-low. Crack in egg into pan, season with salt and pepper, and cook for 1-1½ minutes on each side.
Meanwhile, spread honey flavor goat cheese on the warm hash-brown and then place in the center of the plate.
Place over-medium egg on the top of the hash-brown. Serve & enjoy!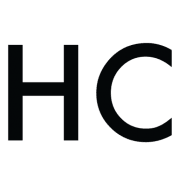 Olivia Caminiti
Olivia's passion for food is rooted in California's Bay Area though now regrowing in Austin, Texas. She mixes with her travel experience, eye for beautiful food and intuition to find the next ingredient to keep a balance in life. See what she incorporates next and check-out her website at oliviacaminiti.com