This recipe is great to make for company as you can easily prepare both the chicken and sauce ahead of time and throw it together in a matter of minutes while entertaining.
By Jill Mant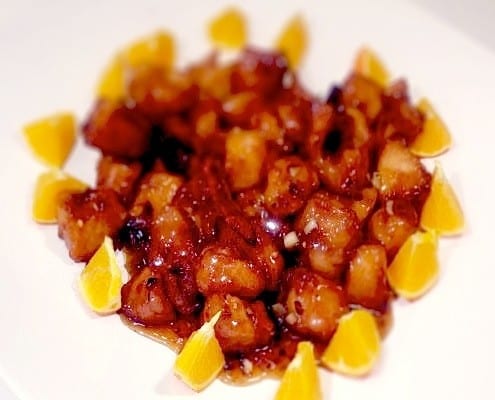 Many moons ago I had three children in four and a half years. First I had my son Jordan, then almost exactly two years later Chelsea was born. Two and three quarters years after Chelsea, Jenna bounded into our lives.  To celebrate Jenna's arrival a group of my close girlfriends got together and threw me a baby shower. It was a wonderful shower and because I had just had a boy and then a girl and I had all the baby stuff, in both blue and pink, that a girl could need my wonderful friends decided that they should get gifts for me. The gifts were amazing and they were highlighted by this poem:
There once was a bright girl named Jill
Who was always after a thrill
She'd never say "no"
But wouldn't you know?
She'd never heard of the pill.
So gather dear friends and let's toast
Our friend who is really 'the most'
And after this spree
We all may agree
That it is really worth having three.
Your body's been put to the test
And there's never a time for a rest
And so you deserve
A massage of your curves
To get you feeling your best
(Here's where they gave me the gift certificate for a massage!)
To help you get back on your feet
We must make sure that they're really neat
With pumice they'll smooth
And lotion they'll soothe
And perhaps, they'll even smell sweet
(Yes! I got a gift certificate for a Pedicure!)
We already know you can cook
For nine months, that's what it took
But forget about lovin'
and "buns in the oven"
And take notes for your Chinese Cookbook
(I knew you wondered where I was going with this!)
For those of you who would like to see the rest of this hysterical poem please email me @ twogirls@saucycooks.com and I will send you the whole thing; it is wonderful. The motivation behind my reproducing this poem up to this point was to tell you the story about how I came to take the most incredible Chinese Cooking classes at a small shop in Avon, Ct. called Hsu's Cookery.
Hsu was a short, round little woman who had grown up outside of Shanghai. She operated her little shop in this small New England town and sold woks, cleavers, skinners, Asian condiments, Noodles, frozen fish balls….anything that one might need to prepare Chinese food. And, she taught classes in her shop in the evenings to create a demand for her products! There were no Asian Supermarkets in the Hartford area at that time and Hsu owned the market.
I learned how to make so many fabulous Chinese recipes from Hsu. She instructed us on how to make Peking Duck which is to die for, although I never did follow her instructions about hanging the duck upside down from the ceiling of my kitchen with a fan below it for a day after marinading it. She taught us how to make a Chinese Firepot as a dinner party; an amazing Chinese take on Fondu done with an electric wok placed in the center of your table.  Or maybe Fondu was a take on the Chinese Firepot?
One of the best recipes I learned from Hsu was her version of General Tso's Chicken.  Jenna is 26 now, with four kids of her own, so I have been making this dish for over a quarter of a century now.  I have yet to make it without rave reviews from my dining companions, including my children when they were growing up before two of them gave up eating meat.
It's actually a great dish to make for company, as most of it can be made ahead of time. I often go so far as to cook the chicken about an hour before my guests arrive and let it sit, covered, on the kitchen counter until I cook the sauce. That way it is at room temperature when you add it to the wok with the sauce and you can just let it heat for about 3 minutes before serving. I also like to double the sauce recipe. I'm not sure if this is because it really needs it or due to gluttony!
Print
The BEST General Tso's Chicken Recipe
This recipe is great to make for company as you can easily prepare both the chicken and sauce ahead of time and throw it together in a matter of minutes while entertaining. I guarantee that once you try this you will not make this recipe just once!
Author:

Jill Mant~a SaucyCook

Prep Time:

30 mins

Cook Time:

15 mins

Total Time:

45 minutes

Yield:

4

1

x
6

Boneless and Skinless Chicken Thighs or

2

Whole Boneless and Skinless Chicken Breasts

10

–

15

Dry Hot Szechuan Chili Peppers

3

–

5

cloves Garlic, minced

3

slices Ginger Root

2

stalks Scallion

2 cups

(

500

ml) Peanut Oil (for deep frying)
To Make Seasoning Sauce A:

2 Tbsp

(

30

ml) Soy Sauce

3 Tbsp

(

45

ml) Tapioca Starch

2 Tbsp

(

30

ml) Water

1/2 tsp

(

2

ml) Baking Soda

3 Tbsp

(

45

ml) Cooking Oil
To make Seasoning Sauce B:

1 Tbsp

(

15

ml) Soy Sauce

3 Tbsp

(

45

ml) Sugar

1 Tbsp

(

15

ml) Duck Sauce or Plum Sauce

1 Tbsp

(

15

ml) White Rice Wine

1 Tbsp

(

15

ml) Sesame Oil

1/2 tsp

(

2

ml) Tapioca Starch

3 Tbsp

Ginger Juice (

45

ml) (instructions below)
pinch salt

1/2 tsp

(

2

ml) White Rice Vinegar
pinch pepper
Instructions
Pound the 3 slices of ginger root and the scallions with a mallet. Soak in 1/2 cup water to make the ginger juice. Set aside.
Pound the chicken to make it thinner. Cut into bite size pieces.
Marinade the chicken in Seasoning Sauce A for an hour or more. (Can marinade for a day or two if you would like.)
In a small bowl blend Seasoning Sauce B. Set aside.
Heat the oil in a wok over high heat until it reaches 400 F.
Fry the chicken pieces for about 3 minutes until very crispy and golden brown. Drain on paper towels and set aside.
Remove all of the oil but about 1 Tbsp and heat over medium heat. Brown the garlic and the Szechuan Peppers.
Add Seasoning Sauce B and cook for 2 minutes until sauce has thickened.
Add the chicken to the sauce and toss to coat and warm. About 2-3 minutes.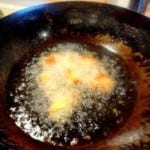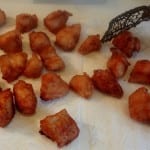 Jill Mant
To Jill Mant, cooking is a meditative experience, an incantation, a love song to those she is cooking for and an expression of her creativity. She is one of the two cooks behind the blog SaucyCooks, where they discover cooking as multi-sensory experience. Jill loves the aroma that emanates from stove and oven, the sounds of food sizzling in pans and the soft, melodic drum of a knife or mallet hitting the cutting board.