Black sesame seeds can be used to give Macarons more exotic and exciting look.
Text And Photo By Amrita Rawat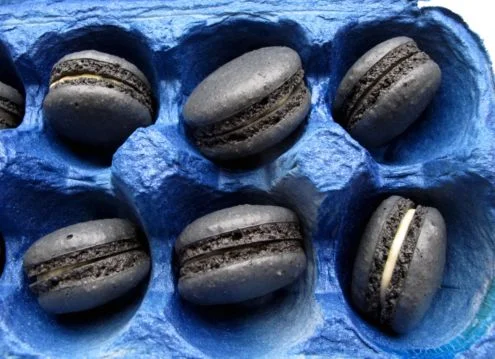 Black sesame is something I hadn't heard of until I went on a trip to China and discovered it there. It's commonly made inside a "ball" made of rice flour and water. The black sesame is in a paste and once inside, the balls are boiled until the rice flour is cooked. I had this on the streets of Chengdu and loved it. It had a sweet and nutty flavor, accompanied by a delicious aroma.
Sesame seeds come in black, brown, and white. The white and brown have a more delicate flavor while the black seeds have the strongest. Black sesame seeds are common in Asian cooking and are high in calcium, magnesium, iron, copper and phosphorus. They also promote good digestion!
I have a friend who lives in China and she brought me a bag of black sesame seeds. I later found out that it's available in powder form in certain Asian supermarkets in the US, and online. Powdered black sesame seeds are much easier to work with as it saves you the trouble of grinding them down. But I managed to do just fine with the original seeds.
These macarons tasted fantastic and looked so pretty, which was an added bonus. Since macarons are fairly sweet due to the high sugar content, I swapped the almond flour and powdered sugar ratio; almonds are better for you and the vanilla cream cheese frosting makes up in the sweetness.
See Also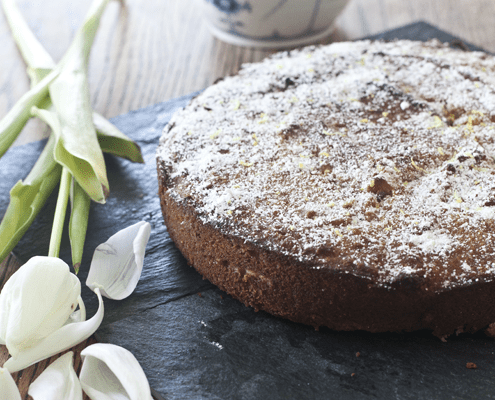 This recipe is worth tracking down some black sesame seeds!
Print
Black Sesame Macarons – Recipe
An Asian twist on the French macaron.
Author:

Amrita Rawat

Prep Time:

20 mins

Cook Time:

15 mins

Total Time:

35 minutes

Yield:

8

1

x
2

large egg whites

5

tbs (60g) granulated sugar

1 cup

(

85g

) ground almonds/almond meal

1/2 cup

(

65g

) powdered sugar

3

tbs (25g) black sesame seeds powdered
Vanilla Cream Cheese Filling
8oz

(

227g

) cream cheese

2/3 cup

(

134g

) brown sugar

1 tsp

(

5g

) vanilla extract

1/2 cup

(

122g

) heavy whipping cream
Instructions
Toast the black sesame seeds on a dry pan (unless you already have it in powdered form) and place a lid on it.
This helps to intensify the flavor.
Check on it every minute, and once a nutty aroma comes from it, it's ready!
Then just grind it into a powder
Beat the egg whites with the 5 tbs of sugar till stiff.
To check if it's macaron-ready, hold the bowl upside down over your head and nothing should move.
Then add the almonds, black sesame, and powdered sugar to the bowl and fold it all together.
I added black gel food coloring while beating the egg whites (liquid coloring may alter the consistency).
Use a piping bag with a round tip and fill it with the batter.
Over parchment paper or a silpat mat, pipe mounds onto the sheet.
They can be as big or as small as you like, but I generally do about an inch, and leave an inch of space in between.
Try to make them the same sizes so you can match them later!
Leave the pans out in the open to sit for at least 20 minutes or until the tops of the macarons dry.
Bake at 280 degrees F for 15 minutes.
Rotate the sheet halfway through baking time to ensure even cooking.
Do not remove from the sheet until it's completely cooled.
When removed, overturn the shells and fill with any filling your heart desires.
For Filling:
Whip the cream separately in a clean bowl till stiff peaks.
In another bowl, whip the cream cheese, sugar, and extract together (with any food colorings) till it's well blended.
Fold in the whipped cream into the bowl till it's well combined.
Smear or pipe it on a macaron shell and top with another.
Notes
The macarons taste much better after sitting in the fridge in an airtight container for about 12 hours. This lets the flavors meld together.
I would also recommend a buttercream filling that may hold up better at room temperature, the cream cheese filling can make it a little soft if you don't eat it within a day or so.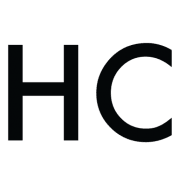 Amrita Song
Amrita Rawat is the author of the blog Chai and Dumplings. Born in India and a lifelong resident of Atlanta, she recently moved to Saint Louis. Her love for food stems in part from its ability to bring cultures together and in part from how darn good it feels to eat a delicious meal. She loves traveling and has eaten her way through cities like Hong Kong, Paris, Budapest, Mumbai, and Shangri-la. Amrita is also a contributor to Sauce Magazine in St Louis.