If you find yourself in the pulsating city of St. Gallen, here are five great restaurants to check out for every traveller out there.
My love-affair with St. Gallen is no secret. The city promises to leave you thinking… 'Is Switzerland more than just a destination for bankers and luxury hotels?' – Michelle Tchea
If you find yourself in the pulsating city of St. Gallen, there are five great restaurants to check out for every traveller out there. A restaurant a hop, skip and a jump away from a UNESCO world heritage site, an eatery with epic views of the greater St. Gallen canton and of course, a city-dwelling restaurant where locals go for the most Swiss experience out there – Fondue!
Image from Bodensee St. Gallen Tourism: St. Gallen has wine, cheese and good eats!
Michelle Tchea takes you on a simple guide on where to eat if you are a culture-buff, history-lover or just self-professed foodie looking to explore a great Swiss city pushing boundaries.
LOKAL – For Culture-seekers
The Lokremise St.Gallen is where culture comes to life in this historical building ones used to make locomotives. More than 100 years old, the restaurant LOKAL is the epicentre of theatre, plays and other unique cultural-activities in St. Gallen. The restaurant is a bit of fun, tables move up and down to play homage to the old warehouse factory, but the food does not play second fiddle to its surroundings. Service is friendly and dishes featuring Swiss favourites like entrecote and also lesser known, bundner capuns are great after an evening show.
Wirtschaft zur Alten Post – For History BUFFS
If you only had time for one great meal in St. Gallen – make it at Wirtschaft zur Alten Post
One of the 'first floor' restaurants in St. Gallen, this restaurant is for history buffs wanting to experience some great traditional eats in the heart of the city. Located just a minute from UNESCO world heritage site, St. Gallen Abbey and Library, this restaurant makes for a delicious pit stop for lunch or dinner ( but book or be disappointed!). Order home-made ravioli or St. Gallen sausage with a crispy rosti. The ambience, service and food in this traditional inn are unique to St. Gallen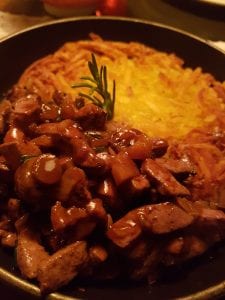 History-meets-great-food – Wirtschaft zur Alten Post
Restaurant Fondue Beizli – For Traditionalists
You really must eat Fondue in Switzerland. What's not to love – having a giant pot of melted cheese adorned with morels, cured bacon and even kirsch to gorge on? Fondue Beizli is where locals head for their ultimate cheese fix. The service is fast and friendly and you should book in advance in this tiny restaurant located in St. Gallen old town. Raclette and also Fondue chinoise are available for this typical Swiss food experience.
Image from Fondue Beizli
Restaurant-Schnabelweid in Santis Park – For Families
This might be the ultimate destination for families with kids. Santis Park is a giant theme-park-like-hotel with water slides, wave-pool, saunas and public pools. The restaurant in the hotel might be in a hotel but local ingredients come out to feed hungry families. Working with local farmers, everything from fresh-cut potatoes, farm-raised beef and locally sourced honey and vegetables are served up. A good destination after a day sliding down a water slide.
Image from Santis Park
Dreilinden – For Hikers And Excellent Views
The philosophy of restaurant Dreilinden is working and promoting local farmers and ingredients. The restaurant offers one of the best views of St. Gallen – panoramic views of the greater St. Gallen canton on a clear day and also a great destinations for hikers with nearby Drei Weieren park and lookout point Fredenberg. The restaurant has daily specials depending on what local farmers provide the chef – entrecote is a must here, it melts in your mouth and leaves you thinking…is St. Gallen Switzerland's culinary city?
Image – Dreilinden Local Producers only found here
Want more on what to do and eat in St. Gallen? Check out Michelle Tchea's stories HERE and HERE
Michelle Tchea
Michelle Tchea is a 4-time bestselling author. Her books include, Building a Perfect Meal, My Little SoHo Kitchen, Signature Dishes (Australia's Best) and Chefs Collective. Her work can be found in other leading luxury travel and food magazines including Travel+Leisure Asia, SMILE, NUVO Magazine and The Telegraph