Award-winning Chef Tobias Funke's Challans
You know that place you look for when you travel to a unknown city for vacation?
Somewhere where all the locals go … with excellent hospitality, well-prepared and executed dishes, local ingredients and a very talented chef
Zur Fernsicht ticks all the boxes for gourmet foodies
Award-winning team and chef, Michelin-star, excellent wine-cellar and well, a promised wonderful time from start to finish.
Michelle Tchea's Chefs Collective shares Chef Tobias Funke's recipe – the leading man behind the wonderful dishes coming out of the kitchen in Heiden, near St. Gallen.
You really must go for yourself – see the view of Lake Constance and enjoy every little bite Chef Tobias Funke serves you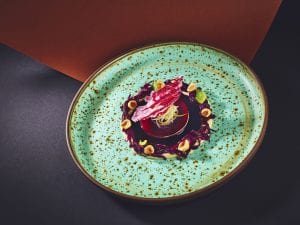 Challan's duck 
Fermented red cabbage, celery 
Piedmontese hazelnuts
Challans duck legs
2 pcs duck leg
250g Mirepoix
1 l red wine
250ml port wine
500ml duck stock
1 tbsp tomato puree
Roast duck legs from all sides and remove them. Roast the mirepoix in the roast residue. Add the tomato puree and roast on. Deglaze with red wine and reduce by half. Add the port wine and reduce by half.
Fill up with duck stock and gently stew the duck legs in it.
Remove the meat from the duck legs, strain the sauce and reduce strongly. Pour the sauce on the duck meat.  
Celery slices
50ml water
2 eggs
250g coarse sea salt
250g flour
1 celery
Knead all ingredients together. Wrap the celery into the dough and cook it in the oven at 180 degrees for 2 hours. Allow to cool. Break the celery out of the dough and cut 1cm thick slices. Make a puree from the cuttings.
Fermented red cabbage stock
See Also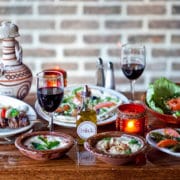 2 pcs red cabbage
Juice the red cabbage and vacuum with 2% salt and ferment for 10 days at 20 degrees.
Boil, pass and thicken with little xantana.
Marinated red cabbage:
1 piece red cabbage
Cut the red cabbage into thin stripes and season with apple cider vinegar and hazelnut oil.
Piedmontese hazelnuts:
50 gr Piedmontese hazelnuts
Roast in the oven at 160 degrees for 10 minutes. 
Michelle Tchea
Michelle Tchea is a 4-time bestselling author. Her books include, Building a Perfect Meal, My Little SoHo Kitchen, Signature Dishes (Australia's Best) and Chefs Collective. Her work can be found in other leading luxury travel and food magazines including Travel+Leisure Asia, SMILE, NUVO Magazine and The Telegraph