Two new bars have opened in Gotham that are both befitting of a lounge that Bruce Wayne or Selina Kyle would grab a cocktail at, and like their alter-egos, truly come to life at night.
J.Bespoke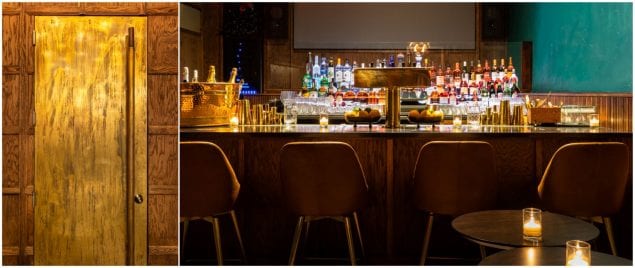 It's the '20s again! So what better way to ring in the new decade than with a new Speakeasy-type lounge that harkens to the roarin' time a century ago when bars had to go into hiding? Brothers Jesse and Eric Jacobs have found the perfect location in NoMad (neighborhood north of Madison Square Park) behind Devoción Cascara + Coffee to open their concealed sports bar: J.Bespoke. After stepping through an unmarked brass door at the back of the café you'll instantly notice that the narrow lounge that seats only 50 is unlike most sports bars. Though there are top-notch flat screens and audio systems throughout the room, the A/V set-ups aren't the prime focus of Gregory Okshteyn's (Studios GO) design concept. Instead of walls bedecked with sports memorabilia, wood paneling is left uncovered to warm the room. Large Art Deco-esque portraits by Shimon Okshteyn watch over revelers while dimly lit high ceilings keep the room intimate without making the space claustrophobic.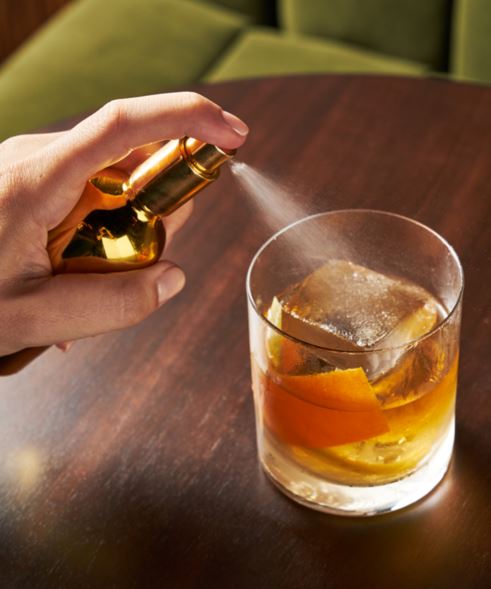 Certainly with an upscale interior the cocktails and bar bites have to complement the surroundings.  The Bespoke Old Fashioned uses Old Forester bourbon and green chartreuse perfume that somehow go perfectly with the deep green walls of the speakeasy. Call Me Bell is a Montelobos mescal cocktail that uses, fresh lemon juice, orange bell pepper and basil to round out the smokiness of the spirit. My favorite was the Nitro Cold Brew Martini which mixes Belvedere vodka, Montenegro amaro, and cold brew coffee from Devoción (the coffeeshop that is literally the front for the concealed lounge). Being mildly addicted to coffee, this cocktail gave me the java I craved, with the vodka I deserved.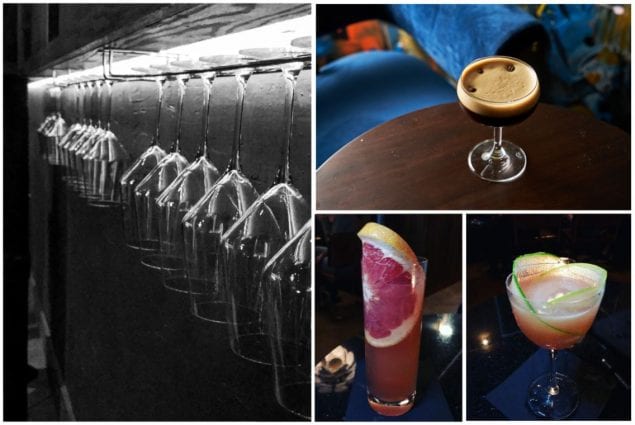 These cocktails were so easy to drink that it's practically necessary to accompany them with the small plate offerings from the kitchen. These include Karaage Fried Chicken marinated in soy-ginger and served with a yuzu kosho aioli and a Spicy Honey Pizza with soppressata, provolone béchamel, house fior di latte, mozzarella, spicy honey & black pepper.

Luckily for neighboring office buildings in the Flatiron district and Chelsea, the posh room can be rented out for corporate events and daytime outings. But when it's not being used for a private event, I imagine a lot of chic professionals will be taking advantage of J.Bespoke's unique charm as a hidden gem to impress friends, out-of-towners and dates.
Bergamo's

Just 2 subway stops north, across the street from Grand Central Station, is another new cocktail lounge that is also hidden to the public until "quitting time": Bergamo's. During work hours Bergamo's caters exclusively to the workers of the 150 tech startups that are housed by the impressive office building: Company. So you can expect the regular crowd to include casually sophisticated creative types who are unwinding as well as networking. Found in Company's lobby level, the lounge is as spacious as J.bespoke is intimate. The roomy 8,530 square-foot space can easily accommodate 275 patrons but is designed by SHoP Architects' lead Corie D. Sharples to evoke comfort, coziness and warm conversation; the opposite of an office setting that most folks will be coming from. With tiled vaulted ceilings, a custom 63-foot walnut bar, and custom lighting, I imagined Edward Hopper would find the room a great background for one of his New York paintings. Persian rugs, Moroccan chairs, leather couches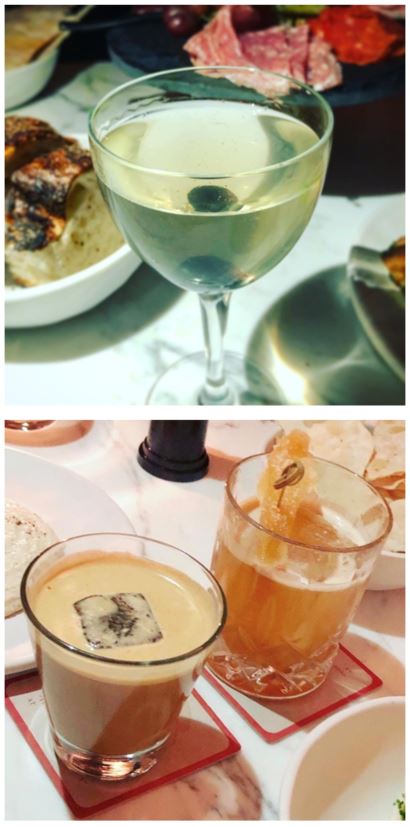 and upscale jungle wallpaper rounds off the eclectic interior. What the design requires of patrons to complete the picture is to garnish the surfaces with classy cocktails and small plates created by beverage director Anthony Merlino and Award-winning Chef Tien Ho.
Aside from the craft beers and variety of wines (including biodynamic and organic options) that are curated by Anthony Merlino, the cocktail connoisseur's beverage program is befitting of the glamorous New York lounge. The barely aged Manhattan Moonshine in the Devil in White cocktail allows the Dolin Blac vermouth and chocolate bitters to be more noticeable than if a traditional whiskey were used. I found the smoky Mezcalero (Montelobos Mezcal, Suze, Cointreau, Cocchi Americano Bianco) tasted as suave and woody as its surroundings. My favorite again was the Espresso Milkshake made from Buffalo Trace Bourbon, Bailey's & Espresso. I'm really loving that more and more bars and lounges have a boozy option for us coffee-addicts!

Bergamo's  has tapped into the award winning talent of Chef Tien Ho (Momofuku's Má Pêche and Ssam Bar) to come up with an equally tasty upscale menu of small plates that both whet and satiate patron appetites. A sure-to-be favorite is the Cacio e Pepe Dip with Sullivan Street Carta di Musica (Sardinian crackers). The dip has a hummus like consistency with all the creamy peppery flavor of the beloved pasta dish. The Charcuterie Board was a perfect amalgamation of tangy, salty and sweet textures that paired well with all the cocktails. My favorite bite (or dozen bites) was the N'Duja Melt with brie & pesto on Pizza Bianca. The toasted Pizza Bianca and the melted cheese helped temper the full-flavored spiciness of the sausage. So good.
With a plethora of lounges in New York City these two new additions to the Midtown Manhattan bar scene will have something new for even the most seasoned revelers. Whether you prefer to have upscale drinks and complementary bites in an intimate setting or with more room to flow, you'll find both J.Bespoke and Bergamo's have put their own unique spin on their spaces.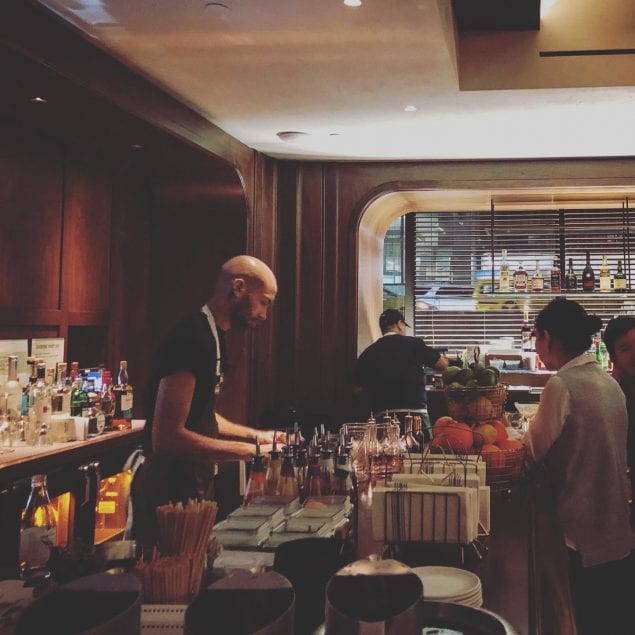 Both have successfully modernized that quintessential Manhattan glamour – a glam that is noticeable without being ostentatious and cozy without being sleepy. Moreover, they've managed to have an air of exclusivity while remaining welcoming…(just leave your superhero/villain costumes concealed while you're there).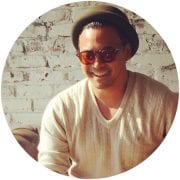 jordi adiao
I learned early in life to embrace your awkwardness... now, are you going to eat your chicken skin?