A former gang enforcer found the right path in life through unconditional love toward his wife and gastronomy and created a Michelin-starred restaurant within one year.
A true love story is usually full of drama. In a movie or a film, the main character finds himself going through the most difficult times of his life before the long awaited happy ending. But in real life that ending is just the beginning of another chapter. This is what Jordnær is to chef Eric Vildgaard; a new chapter, a new opportunity at a life you wouldn't have predicted for him if you met him just five years ago.
Jordnær also took everyone in Denmark by surprise when Michelin awarded the then unknown restaurant in the northern suburbs of Copenhagen a star during its first year of opening. Since then, it has been full throttle on flavors — creating picturesque plates and mouth-watering creations of Nordic, French and Asian ingredients cooked with remarkable harmony. Amongst critics and global diners Jordnær is quickly becoming a darling, and the restaurant was awarded a second Michelin star in February 2020.
The Beginning
The story behind Eric's great dishes, his ways in the kitchen and his ambition and motivation to succeed goes back to his childhood. Eric was a troubled child; one that didn't like going to school and ended up making the wrong friends, just to belong and not to feel misunderstood or out of place. Those decisions shaped his teenage years and made his way to the kitchen a daily battle between doing things right, or going back to being a rebel. 
When you get to know his personal struggles you understand that life is about choices where we have to keep fighting our demons to make the right ones and stay on a positive path. Eric's teenage years and 20s is a tale of going back and forth between being the rebel on a chopper – the intimidating gang enforcer – but also the fragile friend wanting to make a better life for himself through cooking.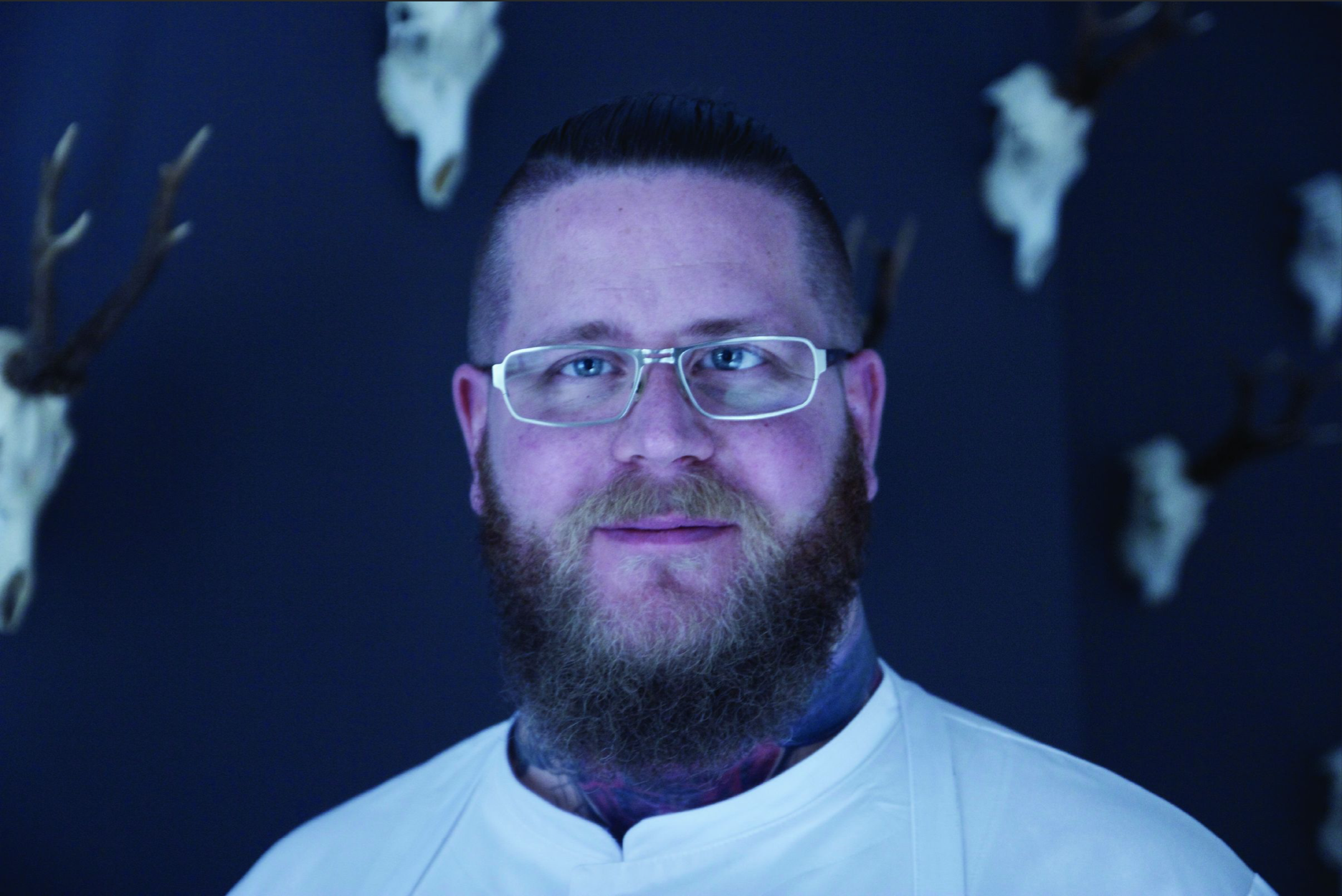 His first approach to that was a sailing trip he took when he was 16 years old. A trip designed to keep young guys like Eric busy and out of trouble. Here he was given the responsibility of preparing daily meals for the ship crew. That experience made him want to enrol in chef school when he got back on shore, but as it happened before, school wasn't for him.
Different jobs kept young Eric busy; one of them delivering meat to the – in Denmark – legendary and Michelin-awarded Søllerød Kro. Every day that he went into the kitchen of Søllerød made him want to be a part of it and after three rejections but still being persistent, he was given the opportunity to work there as an apprentice. But alas…. As before – and just after six months – he became a butcher instead.
Noma to the Rescue
A big brother can be a huge influence on a person's life and Torsten, Eric's brother and René Redzepi's former wingman and head of Noma's R&D for a decade, has been one of the most important voices of reason when it comes to Eric's career as a chef. After his failed attempts at different kitchens, Eric found himself back on the wrong path as a part of a gang in Copenhagen. It was then his older brother called him and asked him to help out at Noma. 
"I started helping out with the functions and after 6 months I was in charge of all them. I think René saw something special in me and that I really loved cooking, so I stayed there for almost three years and went through all the different sections of the restaurant." 
Those three years completely reshaped his perspective of cooking and fine dining. He learned about the importance of the guest, about being a leader, about structure and mostly about appreciating and respecting the purity of quality ingredients. 

Pure: Above – shiso, dried shrimps, seaweed. Below – langoustine tartar, herbs and tomato.

From Darkness to Dawn
"It's easy to go back to what you know, being aggressive, on a chopper and getting into trouble. I was a troubled mind and an outcast from society… a rebel." 
The only constant in chef Eric's life at this point seemed to be the ups and downs and after three intense years at Noma and a few other intense ones on the streets of Copenhagen, the need to regain control came back to him and from there the idea of going back to school to get his chefs diploma. At 28 years old and only in one and a half year (it usually takes four) he graduated with the highest grades in the school's history.
The future once again looked bright and Vildgaard felt the need to give back, so he jumped on a ship again and went sailing, but this time as a mentor and guide to troubled youngsters, very much like himself just a decade back. In the middle of the ocean, he got a call from his big brother Torsten offering him another job – this time a new restaurant named Almanac, created by culinary patron Claus Meyer. Here Eric ended up being the head chef for almost two years. 
And right then darkness once again encircled him:
"The following period of time was really hard for me. I went back to a job I didn't like, both my parents died within 8 months and I felt like everything was going sour; a feeling that led me to staying at home, not wanting to do anything. At that time a good friend saw the state I was in and offered me to come help him out at his services, just for fun, at a restaurant called Fredensborg Store Kro, north of Copenhagen. And there I met my wife. She was the director at the hotel. I fell in love with her and somehow she fell in love with me."
Enough is Enough
When Tina entered Eric's life, everything changed. This was the transformation part of the drama. The montage where the main character goes through a bunch of changes and finally gets his act together in one chapter, and after some time Eric and Tina decided to give a year's notice to the hotel to open up their own restaurant.
"We opened the restaurant two and a half years ago. After 7 months Tina got pregnant again. So all of a sudden we had a baby, a new restaurant with ambitions and a new baby on the way. We received a Michelin star after only 9 months and not long after that we had our son." (Tina and Eric has a combined family of 6 children.)
The Danish chef attributes the amazing change in his life to one thing: love. For him it was an easy decision; he had to choose between the career he always wanted, his family and the love of his life, or nothing. That choice redefined Eric's cooking as well.
"I used the love I had in my life to get through all my issues and I believe love conquers all. In the end we are nothing without love and one of the fundamentals in the cooking we do in the restaurant is based around that. That we love what we're doing. We love our guests, our producers, we love our staff, we love everything that we do.
It's easy to go crazy and do drugs, but it's hard to actually accept love. Give love you can do in many ways and one of the ways I found was cooking. By that I can give a lot of feelings to my guests, so when I cook you a meal it's very personal. All the dishes are made with consideration of my past and the best way to describe my cooking is that it's pure and raw, every plate we do is an odd to love."
But how does a man like Eric leave the past in the past? With a hunger and ambition to be one of the best and have Jordnær become a beacon of sustainable fine dining while making guests happy with every bite they try. Tina and his goal is to leave a mark in the immense gastronomic world, a legacy.
"When people ask me about my past, I don't have an issue about talking about it because it's a big part of who I was and therefore also a part of who I am today. Life is a book where you write pages every day. I have a rough past but I rather look to the future and see what I can become instead of what I was. So the ambition is to be one of the best on the solid foundation of having happy guests. I'm not cooking for myself, I'm cooking for my guests to have a great experience and because I want to share what I have learned."

Jordnær – Danish for Down to Earth
Not purist or dogmatic when it comes to influences from other cultures or flavours, Eric Vildgaard has quickly developed Jordnær's own style, always valuing the same principles; respect for the produce and ingredients, organic and/or sustainable produce, care for the environment and a menu that highlights fish and shellfish as the stars. Their motto is "only the best for the guests" and they never compromise on the quality of every single ingredient that they use.
The name of the restaurant also gives you an idea of what the restaurant stands for. Jordnær can have different meanings in Danish but they chose it – with the help of a friend – as one of those meanings is "down to earth". Their friend explained to Eric and Tina how he thought they are down to earth people and how this name went perfectly with their idea of giving their guests the best experience they can without being pretentious. 
Product is Star
In this day and age it seems like it shouldn't even be mentioned that a fine dining restaurant gives great importance to the produce that it cooks with. But talking to Eric, you realise that there are different levels when it comes to being conscious about quality and sustainability. He has a global approach to it. To him local sustainability is great and necessary, but the answer is in dealing with this issue as a global one too as that's the reality. It's a global issue.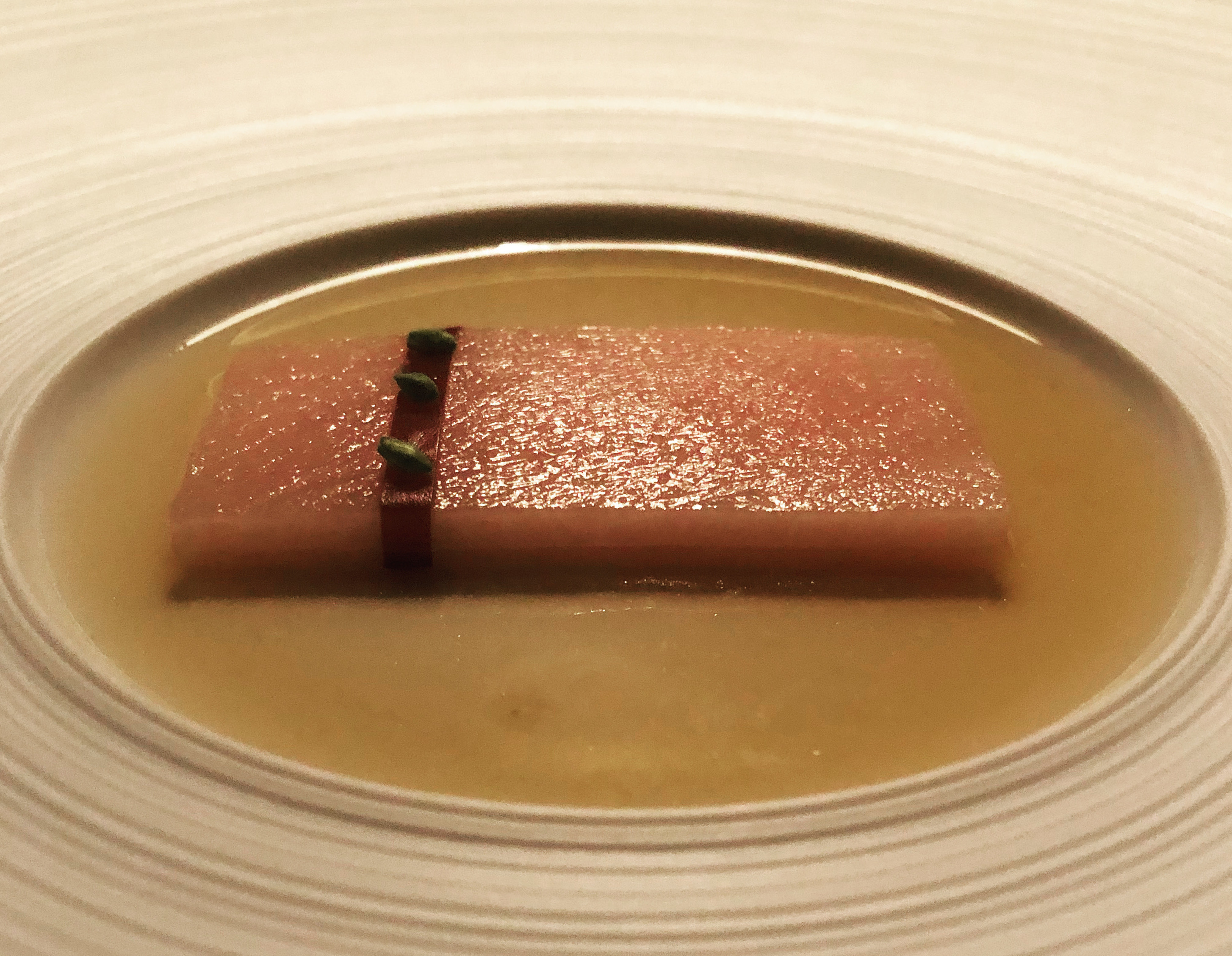 An example? Jordnær use Hamachi-fish from Japan. How on earth is using Hamachi from Japan helping the environment? The answer is greater than the fish itself. They use it, not only because it's an amazing quality product, but because by buying it they support small fish farms working on an alternative to farming bluefin tuna.
"If we look at what's going on with tuna fishing you see the Pacific is on the verge of collapse. So if we can support a producer that farms Hamachi as an alternative to blue fin tuna and on the purpose of one-day farming tuna, then it makes sense for me to use a product from Japan."
Without a doubt the stars of any meal at Jordnær are fish and shellfish. It has always been and Eric doesn't have any intention of changing it. The only time they add more options is during the game season; a time when Jordnær can get animals that actually had a great life before becoming an ingredient; a rule they never break.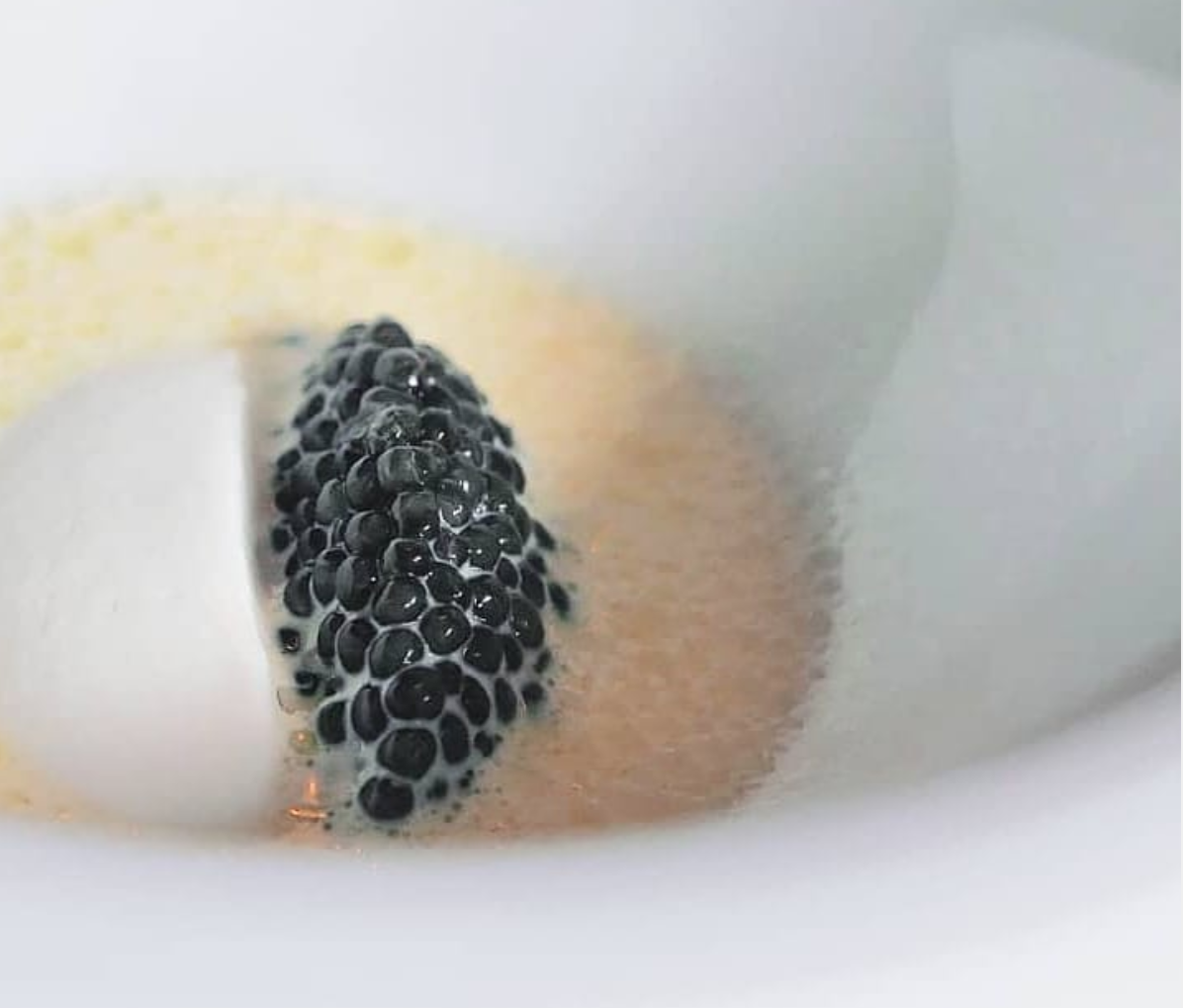 A work of love
Tina's role in this amazing story is indisputable. She's not only Jordnær's maître d' and sommelier, but all the things you don't see she makes happen. She's also the one responsible for making Eric understands the importance of having love in his life. Not only by making him a better man, father and all-around person in the process, but also making him a better chef, confident enough to make his own mark and bring forward his own style in the highly competitive world of Nordic cuisine.
You could easily say that every single dish that comes out of Eric's kitchen is a work of love. Like one of Jordnær's signatures and winner of the best dish in Denmark last year; caviar with cauliflower, double cream and walnut oil. Four amazing ingredients, the best they can find, presented purely without any tricks. The end result is a subtle combination of flavours and textures that makes you feel at home, comforted and happy. Just as if Eric, Tina and the whole team were giving you a big loving hug.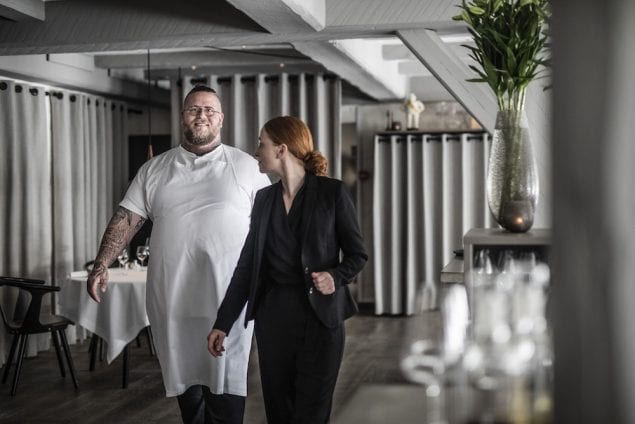 Jordnær – Gentoftegade 29 – 2820 Gentofte – Denmark –  www.restaurantjordnaer.dk
Kristian Brask Thomsen
"A sommelier turns professional bon vivant and culinary ambassador with one of the world's best rolodexes." - Forbes. Founder of Bon Vivant Communications - a global gastro embassy specialising in culinary diplomacy, exclusive dinner parties, cultural marketing, filmmaking and entrepreneurism. Host of DI:JET and Dining Impossible. Creator of star chef world tours. Film Producer of "Michelin Stars - Tales From the Kitchen".