Yogurt Dessert with Pomegranate, Pistachios, and Honey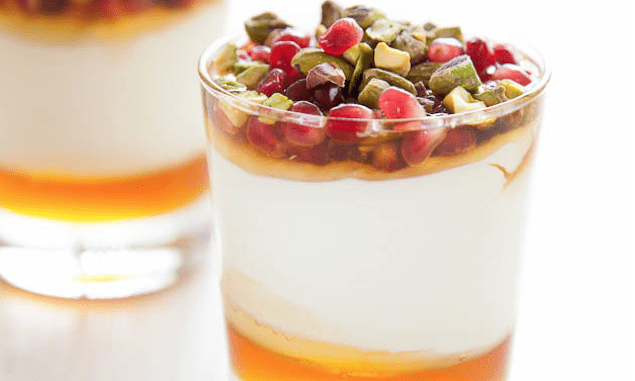 This delicious and simple yogurt dessert is easy on the eyes. With a touch of rosewater and cream, the rich and nutty flavors will impress you, too.
By Simone Van Den Berg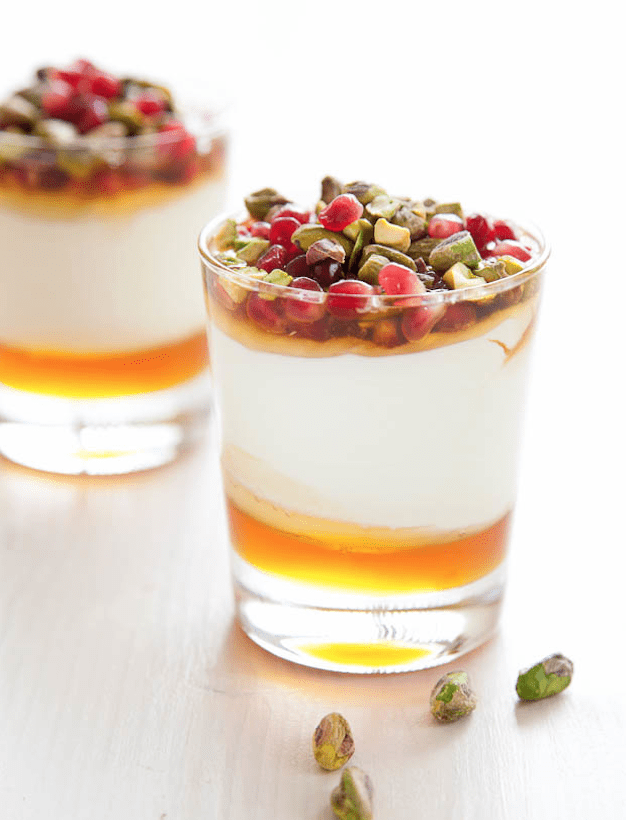 This delicious and easy dessert is one from the old "box". This dessert is quite good and simple to make. Leave out the cream and it will be even better for you.
The little bit of rosewater through the yogurt gives it just that bit of extra flavor and if you don't like it you can always leave it out. It will still be as delicious. Use a good honey and some pomegranate and pistachios and you will seal the deal. It is so easy you can hardly call it a recipe but hey, its delicious so that's what counts!

Yogurt Dessert with Pomegranate, Pistachios, and Honey
This delicious and simple yogurt dessert is easy on the eyes. With a touch of rosewater and cream, the rich and nutty flavors will impress you, too. adapted from Delicious Magazine.
Author:
Simone Van Den Berg
Ingredients
210g greek yogurt
125g Whipping cream
1 handful pistachio nuts (roughly chopped)
a few tablespoon pomegranate seeds
4 tablespoons Honey (approximately)
½ tsp of rosewater
Instructions
Take two glasses and pour some honey in the bottom of the glass. You will want a bit of a layer but not too big as it makes is fairly sweet.
Put the yogurt, the rosewater and the whipping cream together in a bowl and whisk until it is thickening a little bit. You don't want it to be too runny as it will sink into the honey if it is.
Carefully spoon the mixture on top of the honey.
Add another small layer of honey on top of the yogurt and spoon the pomegranate seeds and the pistachio's on top.
Simone Van Den Berg
Simone van den Berg is a Netherlands based freelance food photographer and food blogger. She has a passion for cooking, food and travel, which she shares on her blog Simone's Kitchen and of course right here on Honest Cooking.