Winter Blood Orange and Burrata Salad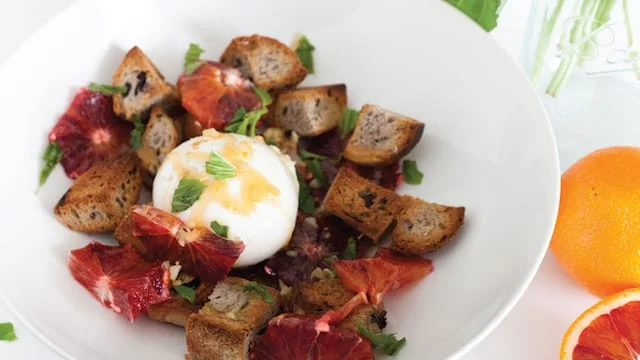 Winter citrus, like blood orange, honey, olive bread and burrata cheese make a vibrant, party-ready salad dish.
By Carlene Thomas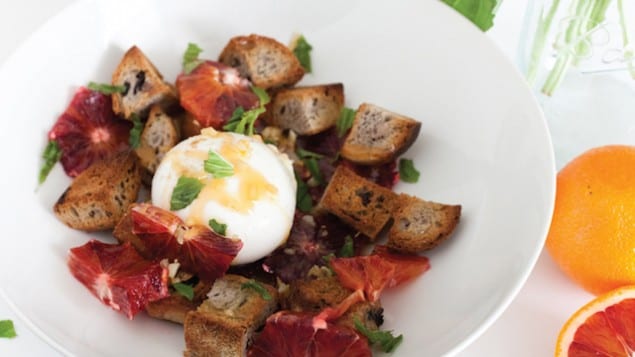 Meet my new winter recipe love affair. I'm calling it the panzanella salad of the frigid months. This winter salad pulls in the glorious winter citrus that abounds, specifically blood oranges, and pairs it with crunchy kalamata olive bread, burrata cheese, honey, cardamom and a generous sprinkle of basil.
This dish is perfect for a party. It's like you brought a cheese platter and morphed it into the only thing better than a cheese platter. Which is clearly two cheese platters. The combination of flavors and textures in this dish is outstanding if I do say so myself. You get creamy burrata paired with crunchy bread bites. You get sweet but acidic blood oranges and a more floral sweet honey. It works. It just so works.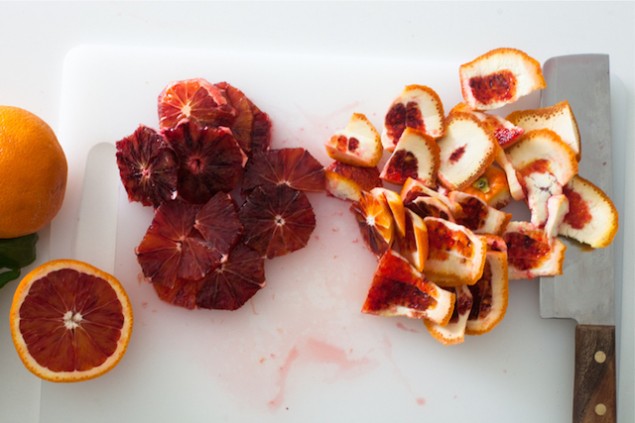 [fve]https://www.youtube.com/watch?v=sOLhLDF3ey0[/fve]
Winter Blood Orange and Burrata Salad
Winter citrus, like blood orange, honey, olive bread and burrata cheese make a vibrant, party-ready salad dish.
Ingredients
3T olive oil
1 garlic clove minced
1 ball burrata
¼ t sea salt
1 T honey (I use Wedderspoon manuka honey)
½ t coriander
1-2 blood oranges
1 T basil, chopped
2 Kalamata Olive Rolls cubed
Instructions
Cube bread and toast. Go more toasted if this dish is going to sit out, go less if you're serving immediately.
While the bread is toasting head olive oil and garlic on medium on the stove until the garlic is lightly browned and softened. Set aside to cool a bit. Cut blood oranges into rings. In a large bowl or platter, place a mix of blood oranges and toast. Place the burrata in the center.
Drizzle with the olive oil garlic mix and then honey. Sprinkle on cardamom and sea salt. Top with fresh basil.
Carlene Thomas
Healthy, curated living from a dietitian nutritionist and recipe developer.