A roux made of flour, red wine and olive oil gives this dish a luxurious creaminess without any milk or butter.
By Carolyng Gomes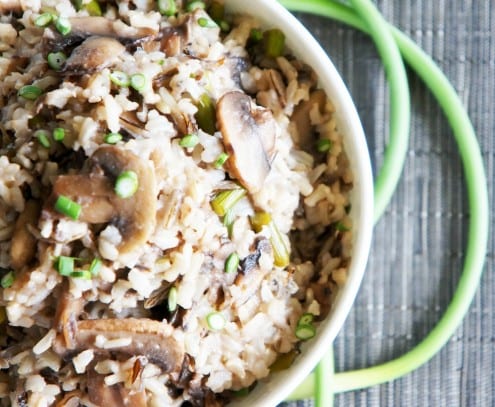 Summer is coming to a close, but there are still a few summer ingredients that deserve a second glance before it's chilis, soups and warm stews to beat the fall chill. One of those ingredients is garlic scapes. If you are lucky enough to still have some around (I spotted some a few weeks ago) then suffice to say I am supremely jealous of you. This rice is creamy, full of tender, juicy mushrooms and subtle garlic flavor. What's not to love?
Now, don't think that if you are, like me, out of garlic scapes and have been for a few months now don't despair! Roasted garlic gives this dish a sweet and mellow garlic taste that pairs perfectly with the wine and the mushrooms. Oh, did I not mention that this recipe had wine? You must have known that wine would come up somewhere! A drink for me and a drink for the pan I always say, keeping that old heart healthy. And the creaminess of this dish doesn't come from actual cream, or butter or cheese. It comes from a roux made of flour, red wine and olive oil. I know that most prefer the taste of real cream, but honestly I feel like it doesn't need it. And for you vegans out there, this is totally up your alley. A dish that is simple to make and delicious that just happens to contain no animal products.
For the carnivorous of the bunch, they won't be missing it. This dish is hearty, colorful and tasty. It's a great way to use up your mushrooms that aren't looking so good, the quarter bottle of wine you forgot about in the fridge and that left over rice you've gotten tired of staring at. This meal is one where you take what's left behind in your fridge and turn it into a new, gourmet meal that can be ready in minutes. A champion in the kitchen, keep this recipe on tap. It's so versatile you could use it every day of the week.
See Also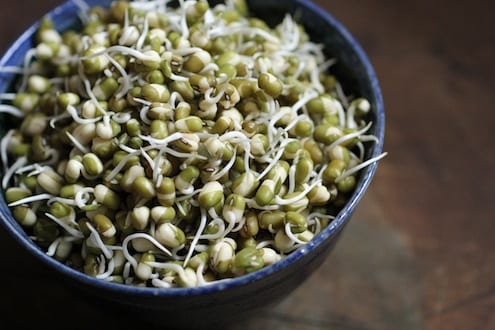 Print
Vegan Garlic Scrape and Mushroom Rice
A roux made of flour, red wine and olive oil gives this dish a luxurious creaminess without any milk or butter.
Author:

Carolyng Gomes

Prep Time:

5 mins

Cook Time:

20 mins

Total Time:

25 mins

Yield:

4

1

x
Category:

Main
1 tbsp

olive oil

8 oz

mushrooms, fresh cremini

2

garlic scapes

1 tbsp

flour, all purpose

¾ cup

wine, red

1 tsp

sea salt

¼ tsp

red pepper flakes

2 tsp

fresh ground black pepper

3 cups

wild rice, cooked
Instructions
In a sauce pan on medium-high heat add olive oil.
Thinly slice mushrooms, about ? inch thick, and transfer to sauté pan.
Slice garlic scapes ¼ inch thick. Add ¾ of the sliced scapes to the pan. Set remainder to the side.
Add flour and stir until mushrooms are reduced in size and flour begins to bubble.
Slowly drizzle in red wine, stirring continuously until a creamy sauce forms.
Lower heat to medium-low. Add salt, red pepper flakes and black pepper to sauce.
Once sauce has come to a simmer, fold in cooked wild rice.
Finely chop the remaining garlic scapes.
Transfer creamy rice to a serving bowl and garnish with garlic scapes.
Looking for the perfect mushroom sauce for steaks? Check this lovely recipe out.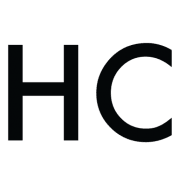 Carolyng Gomes
Carolyng loves to eat, loves to cook and loves to eat more. To her a recipe is more a list of suggestions, saving time doesn't mean sacrificing on flavor and when in doubt, a splash or two (well, a nice pour) of wine never hurts. Welcome to her Cocina Latina, where South American and Latin fusion dishes are always on the menu.