There are two main kinds of naengmyeon. Bibim naengmyeon is served with a spicy red pepper sauce.
By Jacqui Gabel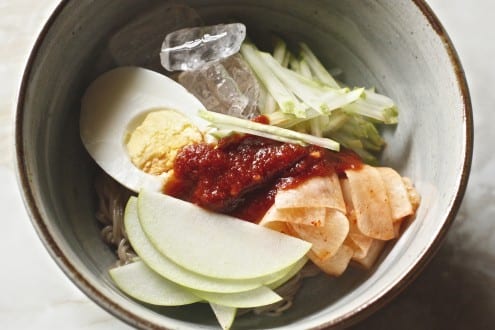 To tuck into a bowl of cold, sour, spicy buckwheat noodles is to confront a mood of heat-induced apathy, fists swinging, though what you'll really want to do is dance. Come summer, a good naengmyeon restaurant in Seoul is packed with long queues that extend out the door and around the block. On a sultry day, naengmyeon stimulates, refreshes, and leaves your lips tingling.
There are two main kinds of naengmyeon: wet and dry. Mainly, the difference between them is mul, naengmyeon's icy sour broth and bibim naengmyeon's red pepper sauce. Bibim naengmyeon, or mixed naengmyeon, resembles bibimbap, or mixed rice, in that the components are thoroughly mixed with gochujang-based sauce. Often bibim naengmyeon is served with a small side of cold broth and added by the spoonful to the bowl of noodles, where the noodles in mul naengmyeon arrive to the table already flooded in the same cold broth.
Though naengmyeon was originally reserved for the wealthy citizens of Northern Korea, it became widespread throughout the peninsula following the Korean War. These days, naengmyeon is easy to find and affordable in South Korea, so not many people make it at home. But you can. And it's not at all as daunting as the ingredient list might suggest.
Naengmyeon's noodles are rod-shaped with a girth between capellini and spaghetti and a length said to signify longevity. Many restaurants will snip them tableside to make them easier to eat, and you could do the same at home.
Incendiary, sour, sweet, and salty, a well-balanced sauce is key, and herein lies the bulk of the recipe's workload. The payoff, however, extends beyond that first bowl of naengmyeon, as the excess sauce is versatile and will take you through the week. Use it in fried rice, scrambled eggs, or toss with raw vegetables for a quick, spicy side dish.
The measurements below are a guideline. Do adjust to your personal taste. Hye Rae taught me to adjust with more sea salt instead of soy sauce, which darkens and thins the sauce, and what you want is a redder sauce with a thicker consistency. Do the same if your sauce needs more saltiness. When we made this together recently on a very hot day, she sliced fresh watermelon (optional) and fanned it out next to the half slice of hardboiled egg (mandatory). Sounds a little strange, but the mix of crisp, juicy fruit with soft, stretchy noodles was excellent. In other words, don't skip the apple at the end.
bibim = mixed
naeng = cold
myeon = noodles

Bibim Naengmyeon
Cold, spicy buckwheat noodles, a venerated year-round dish in Korea, and especially refreshing during summer
Ingredients
For the pickled radish:
2-inch piece of Korean or daikon radish
1 tablespoon salt
½ teaspoon gochugaru
½ teaspoon apple vinegar
½ teaspoon sugar
For the sauce:
½ small onion, peeled and roughly chopped
½ apple, peeled, cored, and roughly chopped
2 tablespoons water or more
2 tablespoons gochujang (red pepper paste)
1 clove garlic, minced
2 teaspoons soy sauce
1 teaspoon gochugaru (red pepper powder)
1 tablespoon apple vinegar
1 teaspoon toasted sesame seeds
½ teaspoon honey
¼ teaspoon salt
For the rest:
1 package fresh buckwheat naengmyeon noodles (or substitute dried)
1 egg, hard-boiled, peeled, and sliced in half
½ an apple, sliced
½ a cucumber, cut into matchsticks
ice cubes
Instructions
To get started, pickle the radish. Peel and slice radish into thin rectangles. Mix with salt and let sit for 30 minutes. Rinse with cold water and drain. Then mix in gochugaru, vinegar, and sugar.
In the meantime, mix the sauce. If you can make it in advance and let it rest for thirty minutes or so, the flavors will bloom. Puree onion, apple, and water until completely smooth. Add more water by the teaspoon if the sauce is too thick to blend. Add the remaining sauce ingredients and mix thoroughly. Taste, and adjust with more salt, honey, or vinegar.
Then, cook the noodles. Bring a pot of water to boil and drop in one bunch of fresh buckwheat noodles. Cook for 40 seconds. Drain and rinse with cold water for thirty seconds until the noodles are chilled. If you use dried noodles, just follow the cooking time on the package.
To assemble, put a fistful of cold noodles at the bottom of each bowl. Top with pickled radish, cucumber, apple, half the hard-boiled egg, and a couple of ice cubes. Add two or three tablespoons of sauce to the middle. Mix well.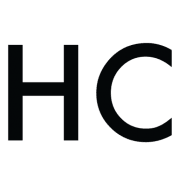 Jacqui Gabel
Jacqui Gabel hails from Minnesota and lives in Seoul. Her motivation to travel stems from a yearning to learn through food, and she is particularly interested in what people eat for breakfast. Jacqui has waitressed, taught kindergarten, designed pantyhose, and sold wine and costume jewelry. Once a week, she visits her friend Hye Rae's Seoul kitchen, and they show each other a thing or two of what they know. If the recipe is Korean, she learned it from Hye Rae. Jacqui loves to cook and feed, and she writes about travel, food, and identity on her blog.