A long-standing tradition of Spanish-Basque regions, Txoko is a gathering of friends of family where they cook tapas together, try new recipes and pair it all with favorite wines. Here's how to do it.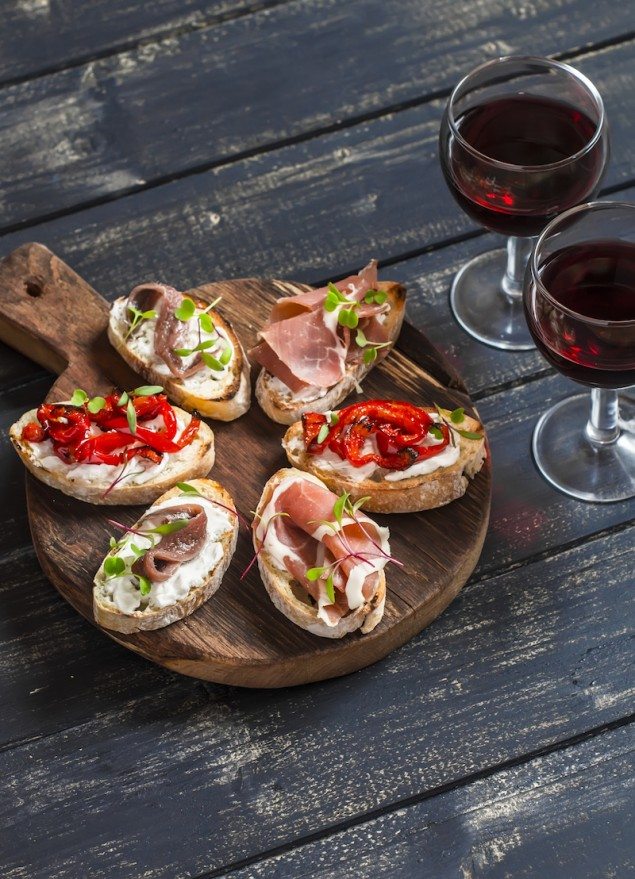 It's the perfect time of year to try a new food gathering. Pull out your patio furniture, call your friends and family and tell them to bring their favorite Spanish wine a new appetizer or snack recipe to try. However, tell them to bring the ingredeints for the recipe, instead of having everything prepared. Half the fun of this Txoko is cooking together and trying new things. At the end, you will have a slew of small pintxos, or small bites and snacks, and you will feel inspired in your culinary world.
Not sure what wine to serve with the variety of flavors and foods? Check out this one!

Created out of a love of good food, good wine, and great Txoko, this Bodegas Beronia was made. Being so food friendly, this Tempranillo wine is now a favorite from the Rioja region. It's lively, juicy, and brings herbal aromas and fruity flavors to the palate. It's perfect with traditional pintxos like chorizo, Manchego, patatas bravas, jamon and more.

Gilda
A perfectly easy bite that pairs flawlessly with this wine
Ingredients
12 picked guindilla peppers
4 salted anchovies
4 pitless olives
olive oil to drizzle
4 wooden skewers
Instructions
Cut the stalks from the guindilla peppers.
On the wooden skewer, alternate the peppers with the anchovy and finish with the olive.
Drizzle with olive oil and serve.