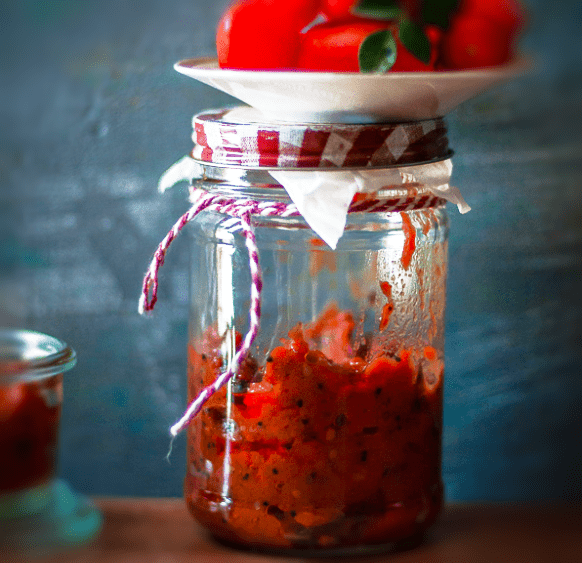 Summer tomatoes are supposed to be bursting with flavor. This pickle serves just right for the season.
By Radhika Penagonda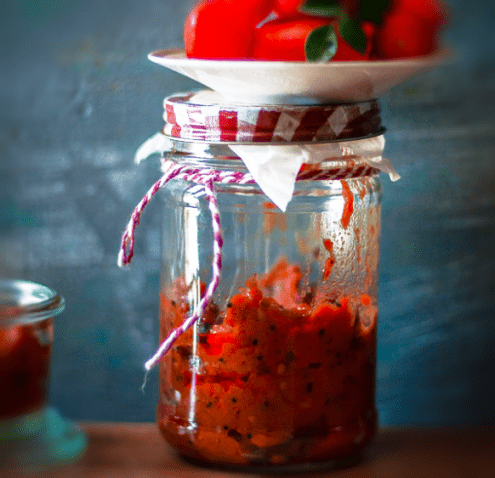 This recipe comes from my Mom-in-law who is an excellent cook and her repertoire, versatile.
Tomato Pickle
Summer tomatoes are supposed to be bursting with flavor. This pickle serves just right for the season.
Author:
Radhika Penagonda
Ingredients
12 medium sized Roma tomatoes or about 3 lbs, finely chopped (top sliced off)
¼ cup + 2 tbsp peanut oil
1 tsp mustard seeds
2 tbsp methi / fenugreek seeds to roast and grind
2 tsp roasted and ground fenugreek seeds
about 10 curry leaves, torn
¼ tsp hing / asafoetida
¼ tsp turmeric
a tsp size tamarind (seeds removed)
1-1/2 tsp red chilli powder
3 tsp salt
Instructions
In a heavy bottomed skillet, dry roast fenugreek seeds over low-medium heat until fragrant and brown. Be careful not to burn. In a spice grinder, grind it to a fine powder when cooled and set aside.
Heat oil in a wide, heavy bottomed pan. When the oil is hot enough or shimmering, drop in the mustard seeds. When they begin to splutter, sprinkle hing and toss in the curry leaves. When curry leaves stop spluttering, add turmeric quickly followed by chopped tomatoes and the tamarind piece. Cook uncovered on high heat, stirring intermittently until tomato is well cooked. Season with salt and red chilli powder, stir well and continue to cook until the whole thing lumps together and oil leaves the sides of the pan, about an hour.
Finish off by sprinkling roasted and ground fenugreek/methi powder, stir to mix well and keep aside to cool. When completely cooled, transfer to a clean, dry glass jar with an airtight lid.
Serve with steaming hot rice and a drizzle of ghee or as an accompaniment for Dosa, Idli, chapathi and the like.
Notes
Finely chopped tomatoes cook faster. If you are very particular about the seeds and skin, strain the seeds and peel the skin before finely chopping. Remaining ground methi can be used in curries. Sprinkling just a bit adds flavor and aroma. The pickle depends on the sweetness or tartness of the tomatoes. After tasting, if you find it too spicy or salty or sour, put the pan back on the stove and just stir in some powdered jaggery. Repeat to adjust the spices to taste.
Radhika Penagonda
Radhika Penagonda is a vegetarian food blogger, ardent photographer and enthusiastic cook who loves to explore new ingredients and believes strongly in eating with our eyes first. Passionate about home-made food prepared from natural ingredients, minimally processed and close to nature, she shares through her blog how home style or not 100% vegetarian food can be lip smacking tasty and simply delicious.