Shallots have a more subtle flavour than onions and when they are cooked they are almost sweet.
By Reena Pastakia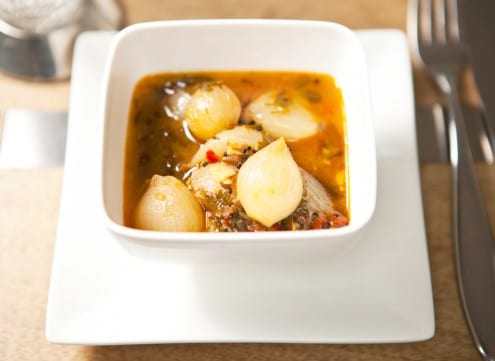 The tamarind paste provides sour elements that are balanced by the garlic, ginger and red chilli.
Shallots in a Tamarind Sauce
Shallots have a more subtle flavour than onions and when they are cooked they are almost sweet.
Ingredients
1 tablespoon light tasting vegetable oil
0.5 teaspoon cumin seeds
0.5 teaspoon mustard seeds
15 fenugreek seeds
10 curry leaves (fresh or dried)
2 cloves garlic - crushed
10 grams root ginger - peeled and grated
1 red chilli - finely chopped
15 shallots - peeled
1.5 tablespoons tamarind paste
375 millilitres boiling water
0.5 teaspoon chilli powder
1 teaspoon coriander-cumin powder
0.25 teaspoon salt
7 grams jaggery or brown sugar
Small handful chopped coriander leaves
Instructions
Heat the oil in a pan.
Add the cumin seeds, mustard seeds and fenugreek seeds and fry for a minute or two.
Add the curry leaves, crushed garlic, ginger and red chilli and stir.
Now add the shallots and let them fry on a low heat for 10 minutes stirring occasionally. Take care not to let any of the ingredients burn.
Meanwhile mix together in a bowl the tamarind paste, boiling water, chilli powder, coriander-cumin powder, salt and jaggery or sugar.
When the shallots have fried for 10 minutes, add the tamarind mixture to the pan. Mix well and bring to the boil.
Place a lid on the pan and simmer for 15 minutes or until the shallots are tender but have not lost their shape.
Add the coriander leaves for a final few minutes of cooking.
Serve hot with flat bread, rice or jacket potatoes.
Reena Pastakia
Reena grew up thinking Indian cooking was a dark art where the quantities of spices required in each dish were innately known to a chosen few. It was only after she married an Englishman with a voracious appetite for Indian food that she started phoning home for cooking tips. She started her blog (coconutraita.com) in an attempt to document her family's recipes and make Indian cooking accessible to all.