The Art Of Strudel And A Modern Sour Cherry Version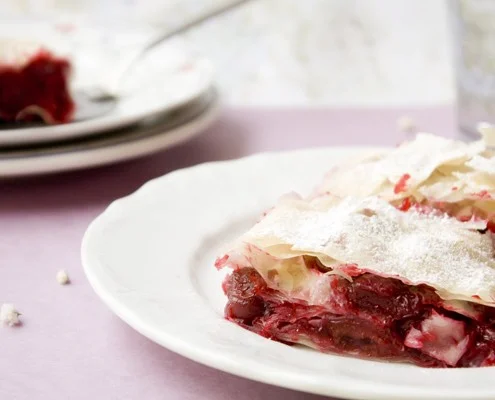 Here at Honest Cooking we're all about honest and straightforward food, and Tamara Novacoviç's strudel is a perfect example of just that.
Text And Photo By Tamara Novacoviç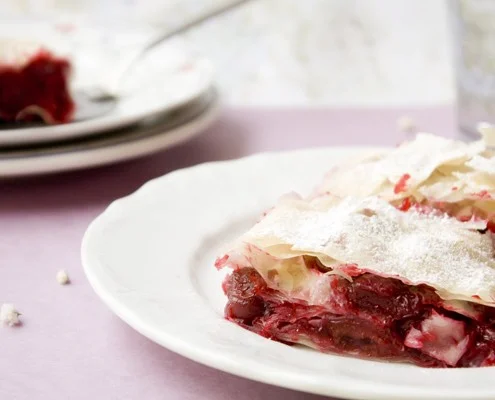 Strudel is a type of layered phyllo pastry with sweet filling inside. It is a traditional pastry in the whole area formerly belonging to the Austro-Hungarian empire. In Croatia we like our strudel very much and make it often. In Croatian it is called strudla or savijaca. Don't mistake this for walnut or poppy seed strudel (roll), which is made with a different type of yeast bread-like dough. There are two delicious components that constitute this traditional sweet treat and that I would like to write about: phyllo dough and the filling.
Although I'm giving you the recipe which uses store bought dough, I would like to mention that home made strudel dough is a labor of love, a paper-thin creation that provides an elegant, multilayered crispness. The art of making this dough goes a long way back into the history of traditional households. The dough needs to be very elastic and is worked vigorously, rested, and then rolled out and stretched by hand very thinly. Purists say it should be so thin that a newspaper can be read through it-I actually saw a woman making such thin dough once. First thing you need is an old country, reliable recipe and patience. In traditional households, women made this strudel all the time. Sometimes several women worked on the dough: the ladies placed white tablecloths on tables and dusted the cloths with flour. First, the dough was kneaded until the air pockets were real small (if they're large, the dough will tear). A piece of dough was placed on top and the gentle stretching began. When the dough reached the end of the tables, they had to let it dry out a little or else the filling would poke holes in it. I watched this dough being made once and even tried making it, but gave up (yes, after only one attempt).  I honestly believe once you master it (a few trial and error experiences are inevitable), it is not such a difficult mission, but I somehow gave up and developed a habit of making this strudel with store bought dough. Such is the dough in this recipe. I once read that brushing hot, baked strudel with warm milk makes the store bought dough juicier, a bit softer and more homemade-like. Click this link if you'd like to see the real traditional way of making phyllo dough.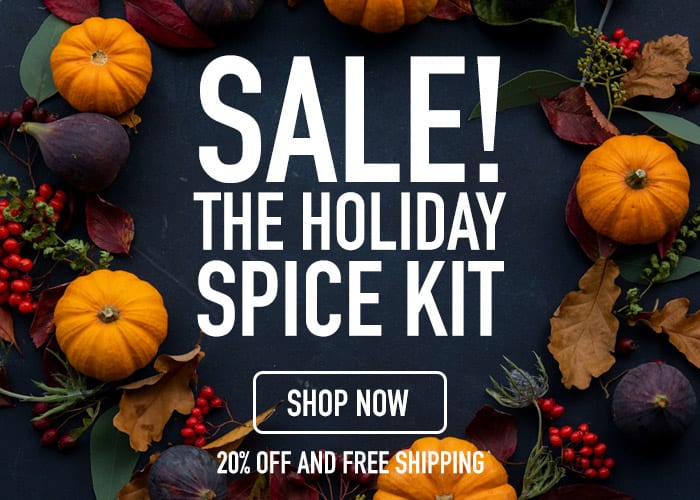 The second thing I would like to mention is the filling. Most common fillings are grated apples with cinnamon and raisins or cottage cheese with sour cream and raisins. However, sour cherries are also often used and they are my absolute favorite and number one. I make this strudel with both fresh and frozen ones. This was one of the first sweets I learned to make.  I got the recipe from my mom and have been using it ever since. It uses vanilla pudding powder for the filling, it absorbs cherry juice and gives it a beautiful flavor. Usually, bread crumbs are used, but we definitely like it better with vanilla pudding.

The art of strudel and a sour cherry version
Juicy on the inside, crisp on the outside, both sweet and tart, seductive and flavorful version of traditional sour cherry strudel!
Recipe Type:
Baking, Dessert
Ingredients
9 sheets of phyllo dough
31 oz (900 g) sour cherries (pitted, fresh or frozen)
2.8 oz (80 g) vanilla pudding powder (2 packets)
5 oz (150 g) sugar
1 tsp vanilla extract
some powdered sugar for serving
some oil or butter for the dough
some warm milk for the dough
Instructions
For the filling, combine cherries (if frozen, thaw them and drain the juice) with sugar, vanilla and pudding.
Take 3 sheets of phyllo dough and brush each sheet with oil or butter. Stack 3 sheets on top of each other and arrange sour cherry filling on top of the third sheet, leaving a 1-inch unfilled border on all sides. Fold the sides in first, roll the dough. You will get 3 rolls. Brush them with some more oil or melted butter.
Preheat oven to 180 Celsius. Line baking sheet with parchment paper. Put strudel on it and bake for about 40 minutes. While hot, brush with some warm milk, this way the crust will be softer.
Let cool and sprinkle with some powdered sugar before serving. You can serve with with some vanilla ice cream.
Tamara Novakoviç
Tamara Novakovic is a passionate self-taught cook, food blogger, freelance food writer and photographer behind bite-my-cake.blogspot.com. Her life journey has led her through Faculty of Humanities in Zagreb, Croatia to discovering passion for making cakes. She is currently a weekly food columnist for Croatian newspaper V magazine and food magazine Repete.