The King Of Pigs is back with one of his favorite ways of turning pork and fat into delicious comfort food.
Text And Photo By Lars Hinnerskov Eriksen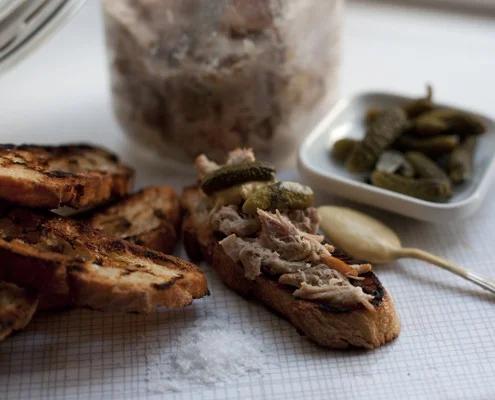 When it comes to comfort food, some dishes are highly influenced by season. Soup is a soothing booster for our winter-ravaged bodies while nothing epitomises summer as nibbling on strawberries and freshly-shelled peas.
And then there are some dishes which transcend weather and season, and provide a universal sense of unbridled joy and satisfaction no matter where and when you tuck in. One of these is rillettes. You can eat as part of a hearty winter lunch to line your abdominal area with an extra layer of insulating fat for the freeze, or it can take center stage in a picnic basket served on a scorching hot summer day. It is the ultimate testimony to the almost transcendental power of pork fat.
As with many simple recipes, there is a plethora of ways to approach the subject matter. Some choose to brine the pork first, some cook it in a pot, others chug it in a roasting tin, and the spicing can range from juniper berries to nutmeg. And of course pork is just one of many meats – and  fish – that is suitable for rillettes. Especially the fatty flesh of duck and salmon lend themselves very nicely to this treatment.
See Also
It was never my intention to slag off pork belly in my previous column for this blog. Pork belly is the Pig God's gift to man and the perfect cut for rillettes. Depending on how fatty the belly is (and you want as fat as possible – 50/50 meat and fat if you like), you can also mix it up with a bit of pork shoulder.
I have immense faith in the belly I get from my local butcher, a fabulous old school place in Copenhagen called PE Larsen, so I choose to keep it simple and let the fat do the talking. A bit of thyme and bay leaf is the perfect match for the unctuous shredded pork.

Rillettes served with cornichons, mustard and toasted sourdough bread
Author:
Lars Hinnerskov Eriksen
Serves:
One hungry chef or about 10 for a starter
Ingredients
3 lbs pork belly (the really fatty kind) skinned and boned
1 liter of water
Bouquet garni (thyme, rosemary and bay leafs work well)
6 peppercorns
4 cloves of garlic
Rock salt and pepper to season
Slices of pork fat for sealing
Instructions
Cut the pork belly into squares, about 2 inches.
Let them simmer with the water, bouquet garni, peppercorns, garlic and a sprinkling of salt in a large pan under a lid.
Make sure the pan doesn't dry out so the meat starts to caramellize. Add a bit more water if necessary.
After about five hours the meat and fat should be tender enough for you to tear it into strips, without disintegrating into a mush.
Let it cool down and season with salt and pepper.
Place it in a bowl or on a large chopping board and use two forks to shred the meat and fat into strips. At this point it is unbearably tempting to transfer the pork into your mouth rather than a bowl. This is perfectly fine but try to keep most of it for the final product.
You can now add the mixture of fat and meat to small ramekins or a pickle jar. Press it down as much as you can and seal the top with a couple of slices of pork fat. If you are using individual ramekins, try to place something heavy on top to tighten the mixture.
Place in the refrigerator. It's ready to eat after a couple of days and will keep for several weeks. However, I would be very surprised if anybody can let it sit for that long.
Serve on sourdough toast with cornichons, rock salt and French mustard.
Lars Hinnerskov Eriksen
Lars Hinnerskov Eriksen lives in Copenhagen where he writes about food and football for the Guardian newspaper. Prior to that he spent 10 years in London where he studied journalism, worked on the Guardian's newsdesk and enjoyed a passionate love affair with British food culture (stop sniggering at the back) and the pub.