Enjoy this thai red curry recipe from Priya Mahadevan. An awesome and simple dish for a slow weekday night.
By Priya Mahadevan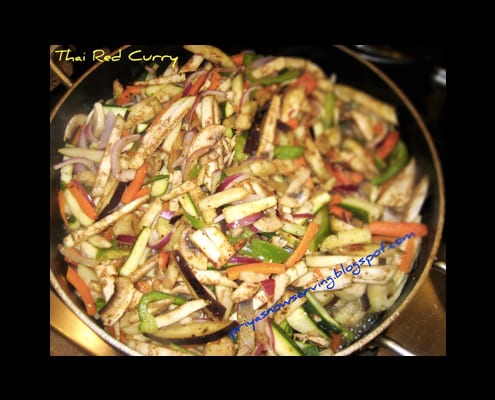 I have made the Thai Green curry on man occasion and I've made the Thai Red Curry too, but just never got around to blogging it. So, here it is… enjoy!

Thai Red Curry
Enjoy with some No Yolk Noodles.
Ingredients
All veggies of choice (I used carrots, zucchini, yellow squash, Eggplant, mushrooms, onions, green bell pepper)
3 green chilies
Tofu – i pack extra firm cubed
Asian Spice Mix
Peanut sauce
Spicy Szechwan Stir Fry sauce
½ tsp of Tamarind pulp (Lakshmi Brand)
1 tsp sesame seeds (white)
1 tbsp Sesame Oil
Instructions
Cook some egg noodles, drain and keep
In a wok, on high heat, heat 1 tbsp of sesame oil.
Splutter the sesame and add the veggies and cook for a few minutes
Mix all the spices and sauces
In a cup of warm water mix the tamarind pulp and add to the veggies.
Add all of it the veggies. Add the salt and let it simmer.
Remove from flame.
Add to noodles and enjoy a wonderfully healthy meal which also tastes fantastic.
Priya Mahadevan
Priya Mahadevan is a writer and food blogger with a background in journalism & communication. Priya's mission with her food blog is to blow the myth that healthy cannot be tasty. She was a political and feature correspondent for a prominent Indian newspaper in the 90s before moving to the US. She lives in Virginia with her husband and 3 beautiful children. You can find her world of vegetarian recipes at http://priyasnowserving.blogspot.com.