Enjoy this wonderful vegetarian hyderabadi dum biryani recipe from Preethi Vemu.
By Preethi Vemu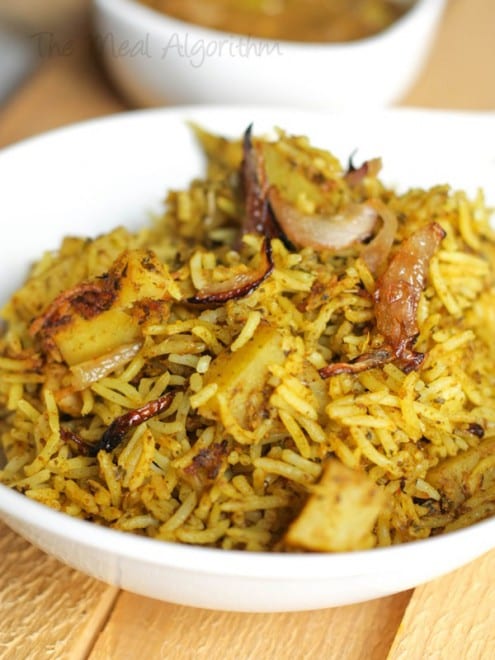 Vegetarian Hyderabadi Dum Biryani
Enjoy this wonderful vegetarian hyderabadi dum biryani recipe from Preethi Vemu.
Author:
Preethi Vemu, adapted from her friend Deepu
Ingredients
Potatoes - 3 , peeled, cube and sautéed in 1½ Tbsps of ghee till light brown
Onion - 1 large, finely sliced
Coriander leaves - 1 Tbsp, chopped
Mint leaves - 1 Tbsp, chopped
Ghee - 2 Tbsps
Oil - 1 Tbsp
Thick curd/yogurt - 1 cup
Green chillies - 4, make a small slit in them
Ginger garlic paste - ½ Tbsp
Red chilli powder - 1 Tsp (or to taste)
Turmeric powder - ¼ Tsp
Coriander powder - ½ Tbsp
Salt - as required
Biryani Masala powder - ¾ Tbsp [I use Everest Shahi Biryani Masala]
Saffron – a pinch
Milk – ½ C
To cook rice
Basmati rice - 2 cups
Cloves - 3
Cardamoms - 3
Cinnamon stick - ½"
Marathi moggu – 1 (optional)
Bay leaf - 1
Mint leaves - 5-6
Oil - ½ Tbsp
Salt - ¾ Tbsp
Water as required
Instructions
In a bowl, add green chillies, mint leaves, coriander leaves and ginger garlic paste, red chilli powder, turmeric powder, coriander powder, biryani masala powder and salt and combine well. Add the sautéed potato cubes and yogurt and combine. Marinate for 30 min.
Cook basmati rice in lots of water along with bay leaves, cloves, cinnamon, cardamom, marathi mogga, cardamom, mint leaves, oil and salt till its half cooked. Strain the water and spread the rice on a large wide plate.
Heat 1 Tbsp oil + 1 Tbsp ghee in a vessel, add sliced onions, sauté for 8-10 min till caramelized. Remove and keep aside.
Take a wide deep vessel to prepare the biryani. Add drizzle some oil all over, add the marinated potato cubes along with the rest of the marinade and spread out in the vessel. Add a cup of water and cook till the potatoes are fork tender and the gravy thickens.
Next spread the rice over the potato layer, pour ½ Tbsp of ghee all over the rice, spread the caramelized onions (keep aside a Tbsp of caramelized onions for garnish) over the rice layer. Next sprinkle coriander leaves and pour the saffron milk over the rice.
Place lid and over the lid place a heavy weight (you can put a vessel containing water on this lid, but be careful). Cook on medium high flame for 3 min. Remove the vessel from fire and place a iron tawa over low flame. Place back the vessel on the iron tawa and cook on low flame and cook biryani for 15 min. Turn off heat and do not remove lid for 5 min.
Remove lid, combine gently, remove onto a serving bowl. Garnish with chopped coriander leaves and caramelized onions and serve hot with raita and/or curry of your choice.
Preethi Vemu
Preethi loves tea, animals, food and her Kindle. When she is not busy being a geek, she dreams about seeing her name in print media some day . An avid reader and an amateur food photographer, Preethi lives in Hyderabad, India with her husband who is subjected to all her culinary experiments.