Sugar-Free, Gluten-Free Apricot Cake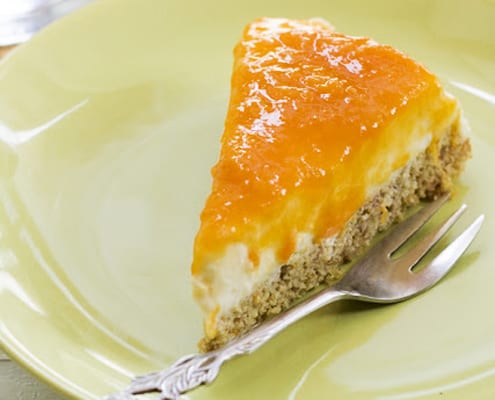 All the sweetness in this healthy cake comes from honey for a guilt-free treat.
By Tamara Novakoviç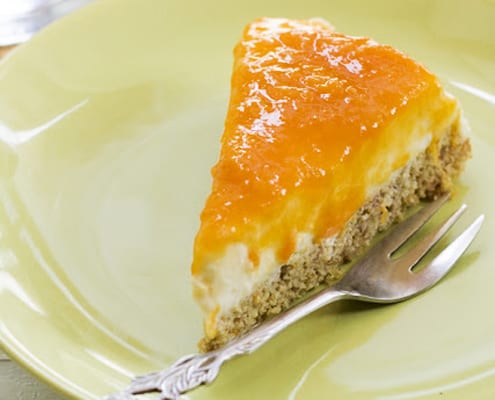 Healthy apricot cake
All the sweetness in this healthy cake comes from honey for a guilt-free treat.
Ingredients
Sponge
4 eggs
1 tsp baking powder
2 oz (60 ml) honey
6.7 oz (190 g) almonds
some warm milk plus rum (optionally)
Filling
17.6 oz (500 g) Greek yogurt
0.3 oz (10 g ) powdered gelatin
1 lemon
1 tbsp vanilla extract
3.3 oz (100 ml) honey
10 oz (300 ml) whipping cream
Topping
10 apricots (fresh or canned)
1 tbsp rum
1 tsp vanilla extract
2 oz (60 ml) honey
Instructions
Separate whites from yolks and mix whites until stiff peaks form.
Finely ground almonds combine with honey and mix with yolks until foamy. Add the whites mixture.
Preheat oven to 356 F (180 C). Line springform pan (10.2 inch or 26 cm) with baking paper. Spread the mixture evenly into it. Bake for 30 minutes. While still hot, pour warm milk combined with rum over the sponge. Let cool completely.
Combine yogurt with honey, vanilla, lemon zest. Whip cream and add to the previous mixture. Combine well. Dissolve gelatin according to package instructions and add to the filling.
For the topping, wash apricots and cook them for a few minutes. Then peel the skin off. Half them and cook with honey on low heat until they let their juice out and the mixture thickens. In the end, add vanilla. Remove from heat and blend into puree. Let cool completely, then spread over the filling.
Let the cake in fridge over night. Serve the next day.
Tamara Novakoviç
Tamara Novakovic is a passionate self-taught cook, food blogger, freelance food writer and photographer behind bite-my-cake.blogspot.com. Her life journey has led her through Faculty of Humanities in Zagreb, Croatia to discovering passion for making cakes. She is currently a weekly food columnist for Croatian newspaper V magazine and food magazine Repete.